The Little Sign that Couldn't
Opinion
OPINION — Last column I promised to offer my suggestions for reducing gun crime in America, and I will, but there's a problem with that. The issues we face can't be dealt with in 800 words. When I started trying to decide in what order to address the areas that need fixing, I realized there are way too many problems to address in one column. You could write a book about the issues in the country, and many have. So my solutions will have to be condensed, and will still take more than one article.
First of all, gun crime is related to guns only tangentially. If guns actually killed people, then the bloodiest, most dangerous places in the country would be gun stores, gun shows, shooting ranges, police departments, and military armories. Those places have more guns than anywhere else, yet fewer crimes occur there than anywhere else.
Secondary places to avoid would be states and/or counties with the most lax gun laws, where more citizens per capita are armed on a daily basis. In fact, those places see less crime, and fewer homicides, than the places where gun ownership is most difficult and highly controlled by the Gubmint. The facts prove that gun ownership is not the cause of crime, even gun crime. Most gun crime is, in fact, committed using guns that are not legally owned, so legal gun ownership is not the problem.
If guns caused gun crime, it would be logical to assume that people who have concealed carry permits, and carry guns around all the time, leave a trail of victims wherever they go. Actually, concealed carry permit holders are, statistically, the least likely of all citizens to commit crimes of all types, including gun crimes. According to the Crime Prevention Research Center, police officers in Texas and Florida commit seven times as many misdemeanors and felonies as concealed carry holders in those states. Citizens without permits to carry commit 37 times as many crimes as police officers.
So guns are obviously not the problem, since the people who have the most guns are committing the fewest crimes, and by far the fewest homicides. Some claim the solution is to ban all guns, or certain guns, but gun bans only work on people who obey the laws. Criminals don't obey the laws. If we really want to save lives, we have to do better than trying to take tools away from people.
There are two approaches necessary to reduction of gun crime in America. One is short term, and the other is long term. We can't ignore either, and Gubmint only plays a major part in the short term solution. If we depend on Gubmint, and only address short term issues, the big picture will never go away. And if we only take a long term approach, it will be years before we see results.
Gun crime is a symptom of a much larger disease, and the necessary short term changes address only the symptom of gun crime. According to Medical News Today, the leading cause of death in America is heart disease (gun deaths are not on the list, except obliquely, in regard to #10, suicides). But heart disease is not only a physical problem. It's also the reason we have to have a long term approach to gun crime. All the evil committed by humans comes from the heart (meaning the mind). We'll address those issues later, but we'll start with the short term changes that need to be made.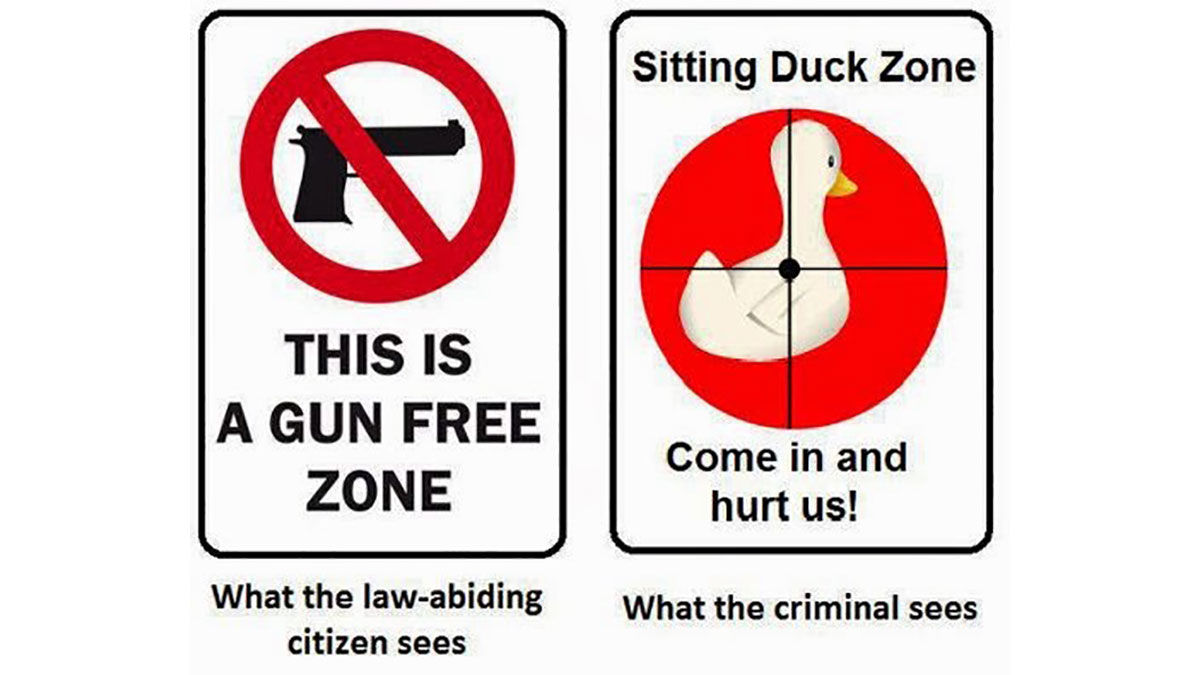 To begin with, gun free zones are a joke. A friend told me he was dropping off his seven-year-old son at school, and the boy asked about the Gun Free School Zone sign out front. He said, "Daddy, how does that keep anybody from bringing a gun to school? It's just a sign."
Obviously, it doesn't. Schools need armed guards, preferably people who don't appear to be guards. The guards need to be well-trained, not just vetted and approved. Ex-combat veterans could fill that need perfectly, and plenty of them need jobs. Teachers, if they are willing to complete extensive training (MORE training than most police officers receive) could also be used, in some situations. The one thing I can guarantee is that deranged people will keep shooting up schools. The only way to stop it is with superior force. A sign is just an invitation to commit carnage.
Gun free zones should be abolished, with few exceptions. Sporting events, polling places, airport terminals, and bars are probably not good venues for excited people to carry guns, but those places should definitely be protected by armed police officers, because signs don't work. There is no reason to ban guns from federal buildings, post offices, hospitals, restaurants, universities, or churches.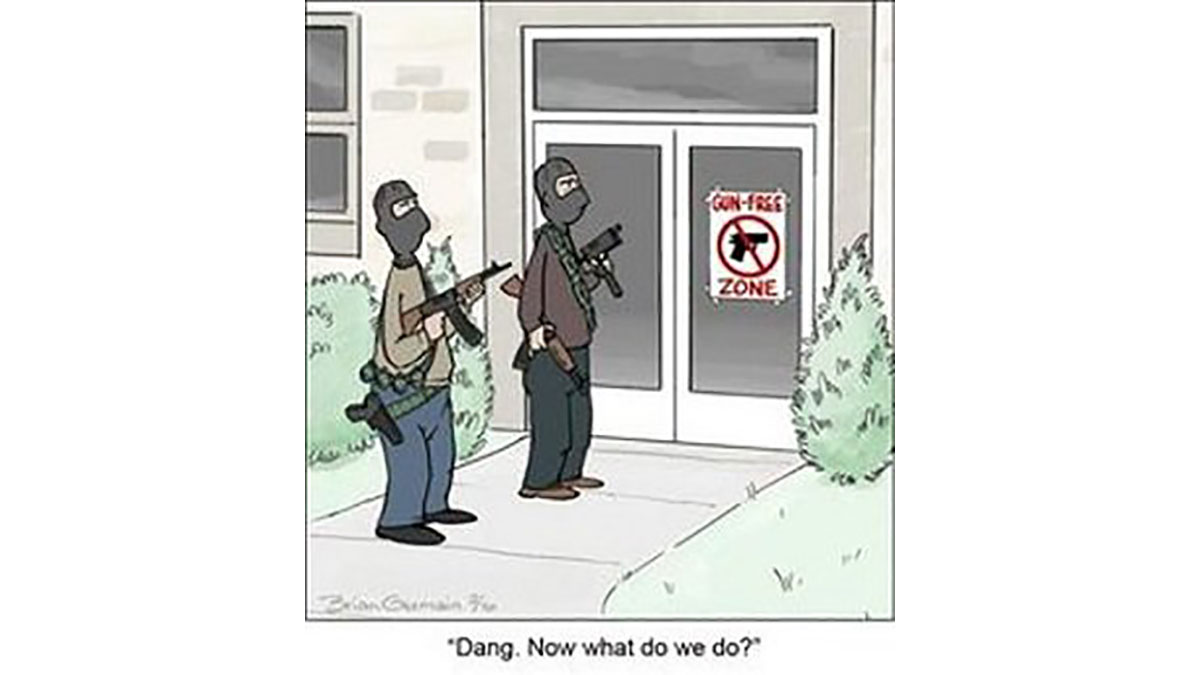 The NICS database is another area that needs improvement. The system is only as good as the information fed into it, so if criminal and mental health records aren't updated constantly, it doesn't work. Prohibited persons must always be prosecuted when they try to buy guns, which doesn't happen at present.
So, short term, we should use common sense, and protect our schools with well-trained, plain-clothed armed guards, and allow people to carry guns almost everywhere else, if they haven't forfeited their constitutional rights through their actions.. Not everyone will agree with this plan, but that doesn't negate the fact that it would lower the homicide rate drastically.
Next, we'll look at the long-term plan, which is far more complex, but no less necessary. If you didn't like this week's column, you'll hate next week's . . .
Get more stories like this by signing up for our daily newsletter, The LIVE! Daily.