SAN ANGELO— The Hive was Alive last night at the Junell Center when the Irion County Hornets took on the Buena Vista Longhorns, 64-38.
In the first quarter, the Hornets jumped out to a 17-5 lead with a big quarter, and game, from Trevin Coffell. Coffell had eight points in the opening quarter and Wyatt Morris added five points. Tyler Henderson and Bo Morrow also put up four points combined.
For the Longhorns, Jaydn Huertas sank a three pointer while Jackie Jurado and Bradyn Huertas each had one points.
Into the second, Morrow and Coffell had six points apiece and Henderson added two to the board go give the Hornets 31 going in at the half while the Longhorns, needing to play catch up, only scored eight in the second. Caden Valez added five points while J. Huertas made a two-point shot.
At the half, the Hornets led big 31-12.
Things got interesting in the third quarter where both teams combined for 37 points. Coffell had nine points in the opening of the second half and Jordan Harrison added six. Morrow and Henderson added four points combined.
J. Huertas got hot in the third, scoring nine points, including one three-point shot, Jurado and Valdez added four combined and Alexander Porras put five points up.
After three, the Hornets still led big 50-30.
In the final quarter, Henderson and Coffell each had four points, Morrow had five and Harrison had one while the Longhorns could only muster eight points, four apiece from Jaydn and Braydn Huertas.
At the end, the Irion County Hornets became Quarterfinal Champions over the Buena Vista Longhorns 64-38.
They will take on the Benjamin Mustangs in the next round.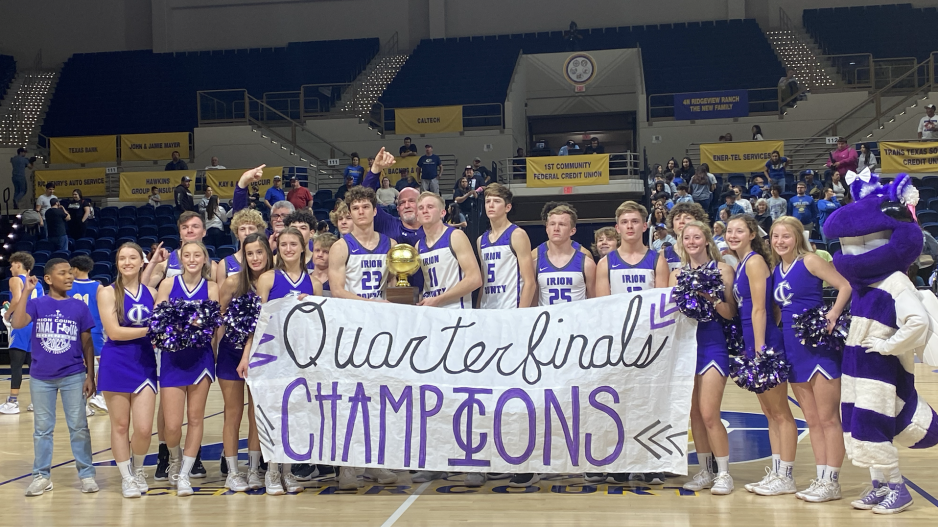 They will take on the Benjamin Mustangs in the next round.
Most Recent Videos