Top 5 Concho Valley Running Backs to Watch in 2019
SAN ANGELO, TX -- As the summer continues to heat up, so does the stock of area running backs.
As we near the start of football season, we will continue to take a look at players at each position group that you should keep an eye on in the fall.
Last week, we started with quarterbacks. This week, we highlight the five running backs we think you should keep an eye on this season.
Klay Klaerner, 5-9, 185, Sr., Mason
Above: Mason's Klay Klaerner (41) tries to avoid two Refugio tacklers. (LIVE! Photo/Sam Fowler)
Klaerner is a bruising running back and made his name well-known after emerging as one third of Mason's lethal three prong rushing attack with Otto Wofford and Jake Cockerham.
Klaerner led the team in rushing with 1,734 yards and 24 touchdowns last season. Teams simply had no answer for the wrecking ball wearing the 41 jersey.
That has led to an offer from Division I school Valparaiso in Indiana and another offer from Division II Northwestern Oklahoma State.
Cockerham and Wofford have since graduated and it's Klaerner's show on the ground. If teams can't find an answer for Klaerner, a 2,000-yard season is not out of the realm of possibility.
Cooper Bean, 5-11, 190, Sr., Ballinger
Ballinger will likely be a dual threat team, walking that fine line of balance in their ground and passing game.
With Edgar Nunez leading the team in rushing last season, teams will likely be keying on him. Bean will be needed to force teams to play honest against the Bearcats.
Bean rushed for 534 yards and 10 touchdowns on 92 carries last season for Ballinger. Expect his workload to increase this fall. 
Chase Rios, 5-9, 170, Jr., Wall
Rios blew up in 2018 after starting the year on junior varsity. After coach Houston Guy moved him up, Rios rewarded the decision by becoming Wall's leading rusher.
The All-Concho Valley selection rushed for 926 yards and 12 touchdowns last year. He will likely be the focal point of Wall's triple option offense out of the backfield this year.
Rios could easily surpass the 1,000-yard plateau in 2019.
Kris Jackson, Jr., Central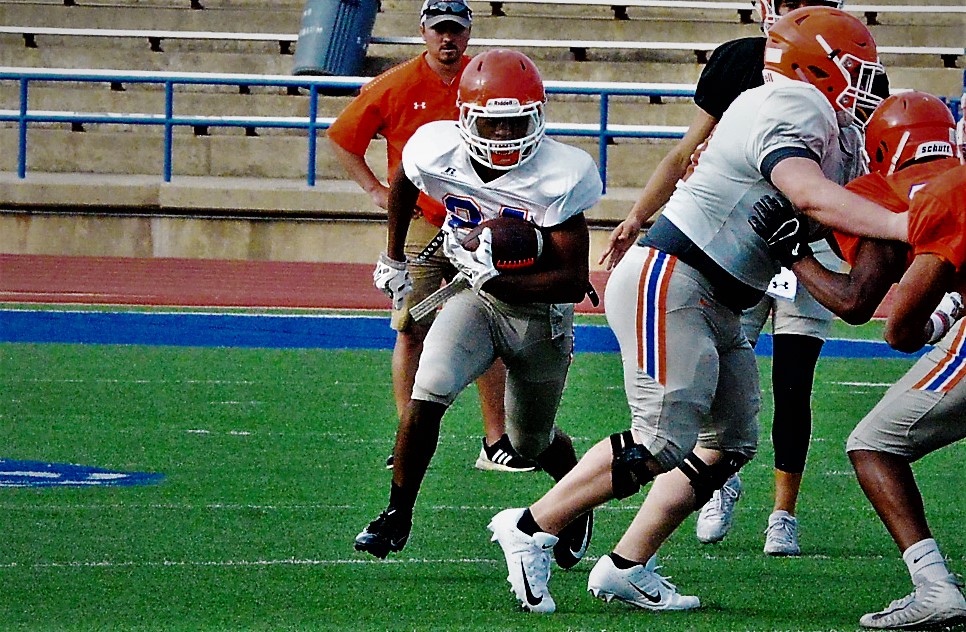 Above: Central's Kris Jackson runs off tackle in their spring game. May 23, 2019 (LIVE! Photo/Sam Fowler)
Jackson is set to make his varsity debut with the Bobcats in 2019.
During Central's spring practices, Jackson impressed coaches and media members alike with his ability to recognize holes and make tacklers miss.
His workload is likely going to be more than anticipated with the injury to senior Bobby Pena. Pena is anticipating a return in late October or early November, but will be absent for the first part of the season.
That means Jackson could see a high number of touches out of the backfield for the Bobcats this season. If he can establish dominance as a runner, he will give Central an additional weapon with Malachi Brown.
Alex Sosa, 5-9, 140, So., Reagan County
During his first year of high school, Sosa rushed for 420 yards in 10 starts to help Reagan County get to the playoffs. With a full year under his belt now, you can expect those numbers to climb in 2019.
Sosa becoming a true threat out of the backfield will give the Owls a one-two punch with Jacob Gallegos (5-10, 200) also ready to break out in 2019.
Get more stories like this by signing up for our daily newsletter, The LIVE! Daily.