Top 5 Concho Valley Quarterbacks to Watch in 2019
SAN ANGELO, TX -- Football season is a couple of months away. Fall practice starts on Aug. 5 for most schools and games start on Aug. 30.
But here at San Angelo LIVE!, we can't wait for football season. So, we're kicking off our summer coverage by highlighting players at each position that you need to keep an eye on this fall.
Our first list is the five quarterbacks you might need to know:
Above: Wall's Mason Fuchs (9) takes a snap against Sonora on Sept. 20, 2018. (LIVE! Photo/Sam Fowler)
Mason Fuchs, 6-0, 155 Lbs., Sr., Wall
The 6-foot senior was tasked with opening up Wall's offense in a way that hadn't been done before under head coach Houston Guy. Fuchs did that by going 53-of-98 passing for 1,124 yards and 11 touchdowns. He is the first QB under Guy to throw for over 1,000 yards in Wall's triple option offense. In his first year under center for the Hawks, Fuchs also proved to be a stout rusher as well. He racked up 645 yards and 13 touchdowns on 136 carries for the Hawks to help them to the regional semifinal playoff with Brock.
Kevan Covarrubiaz, 5-11, 181 Lbs., Eldorado
Eldorado's senior signal caller is ready to get back on the field. After suffering a second knee injury in 2018, Covarrubiaz is ready to make the most of his senior season. He's taken his time in the offseason to develop as a passer. In his three games played in 2018, Covarrubiaz was second on the team in rushing with 395 yards and six touchdowns on 47 carries. He had two games over 100 yards rushing. He completed 41 of his 73 passing attempts for 402 yards and one touchdown. At the Sonora 7-on-7 state qualifying tournament on Saturday, Covarrubiaz displayed his progress as a passer to help guide Eldorado to their first-ever state 7-on-7 tournament.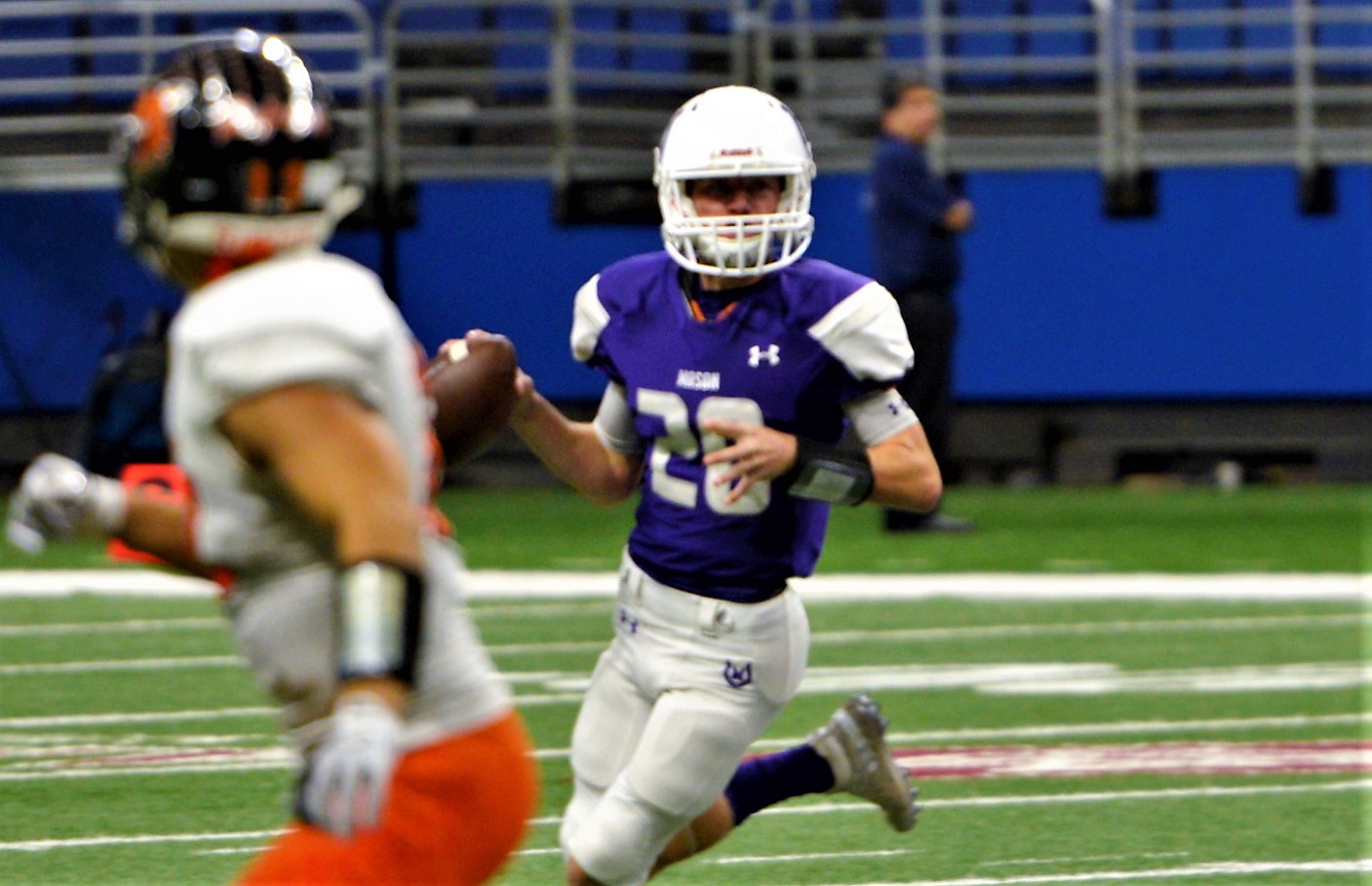 Above:  Mason's Whitt Bierschwale (20) rolls out to pass against Refugio in the regional final. Dec. 7, 2018 (LIVE! Photo/Sam Fowler)
Whitt Bierschwale, 6-0, 150 Lbs., Mason
The shoes that Bierschwale has to fill will likely be pretty big. Texas State baseball pledge Otto Wofford set the new all-time passing record at Mason with 2,084 yards. But Mason isn't looking to rebuild. With a large core of returning players from their 2018 state title season, they're looking to defend their crown. Bierschwale looked good in the time he did play last season. In the regional final with Refugio, with Wofford ejected from a targeting call, Bierschwale set out to direct Mason's offense and used an old school, eight-minute scoring drive to strangle their regional rival and get back to the state semifinals. If he can match some of Wofford's magic as a gunslinger, he could see Mason back to Arlington.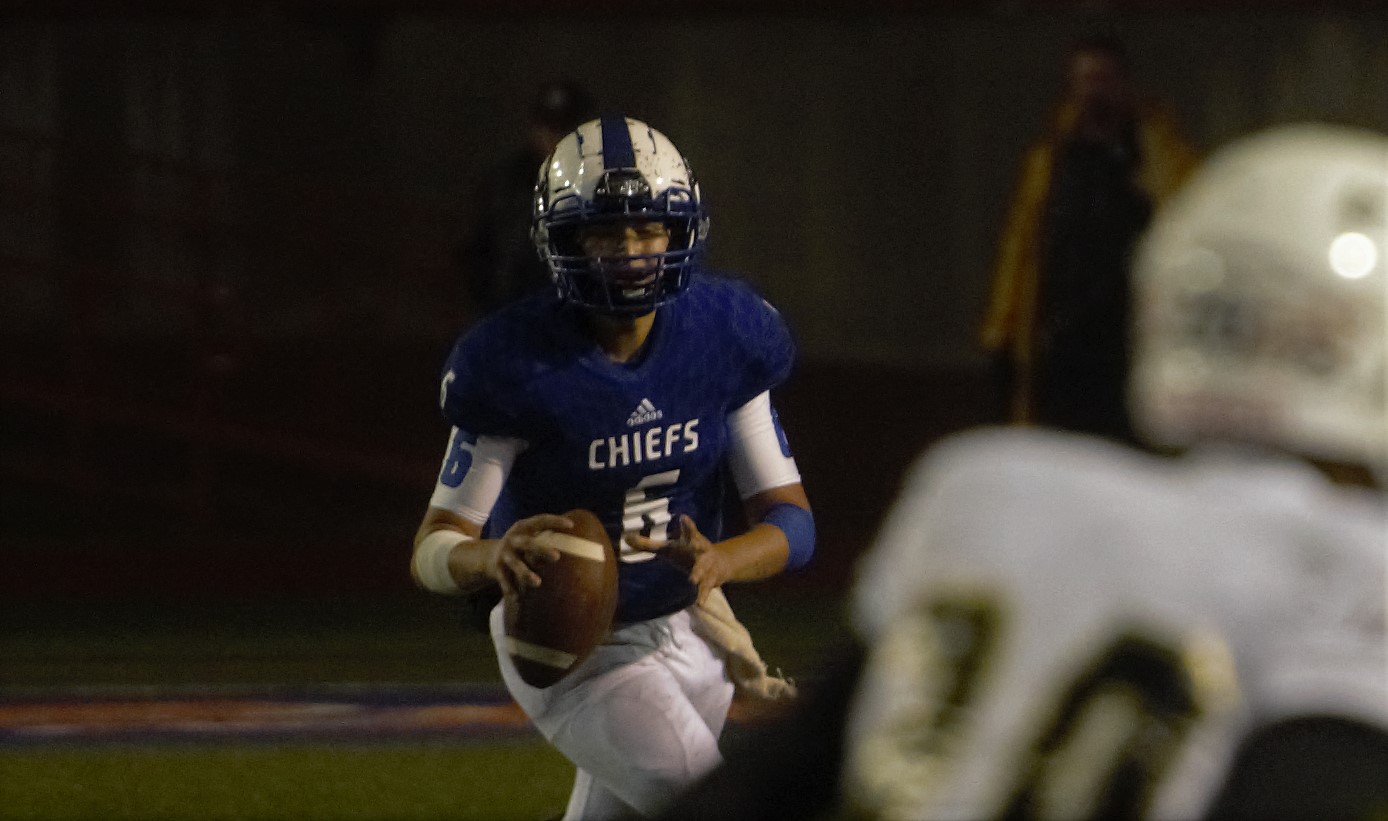 Above: Lake View's Albert Rodriguez (6) looks downfield to pass against Big Spring. Nov. 8, 2018 (LIVE! Photo/Sam Fowler)
Albert Rodriguez, Jr., Lake View
Rodriguez is the future of Lake View's offense and looks to be the first true passer in the Hector Guevara era. Guevara had Henry Nickias for one year and the current Angelo State Ram threw for 1,909 yards and 19 touchdowns in 10 games in 2017. However, the junior was 81-of-169 passing for 1,168 yards and 11 touchdowns in six games during 2018. Had he played all 12 games for the Chiefs, that number would've been 2,336 yards. That's what Guevara wants in his air-it-out offense. Rodriguez's emergence behind center for Lake View helped the Chiefs to their first playoff win in four years.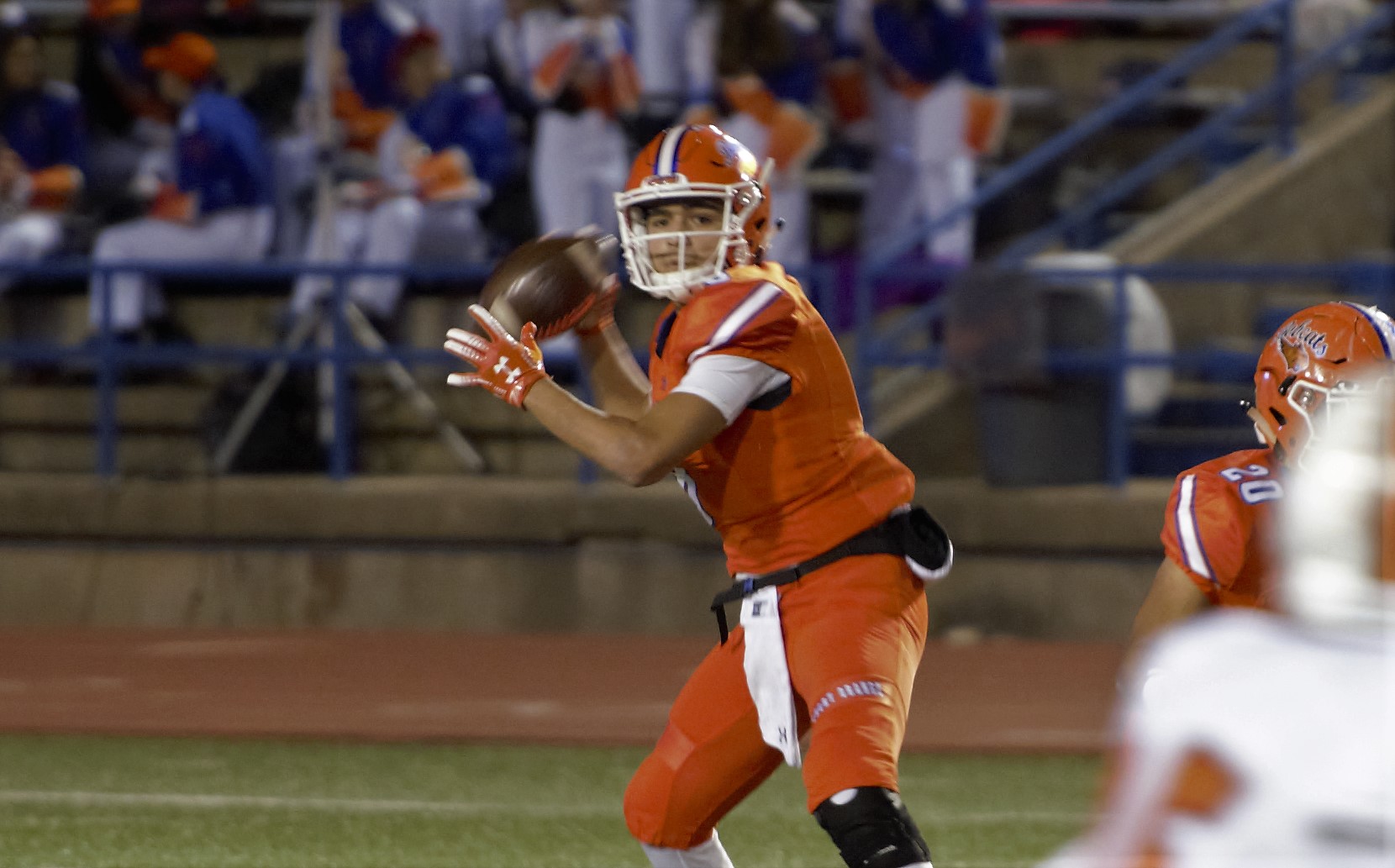 Above: Central's Malachi Brown (8) looks to pass against Haltom. Nov. 9, 2018 (LIVE! Photo/Sam Fowler)
Malachi Brown, 5-10, Jr., Central
After being thrown into the fire in 2018, Brown looks ready to lead the charge for Central's district title challenge in 2019. He's bulked up this offseason and has had a full offseason to learn the ins and outs of Central's offseason from a quarterback's perspective. That didn't stop Brown from posting over 1,000 yards rushing and passing for the first time since Braden Hucks in 2014. That helped a Central team riddled with injuries advance to the playoffs. If they can stay healthy, it should be interesting to see what the Bobcats can do with a mature Brown taking the snaps.
Get more stories like this by signing up for our daily newsletter, The LIVE! Daily.