Top 10 Sports Stories of 2018: 6-10
SAN ANGELO, TX-- By this time next week, we will have welcomed a new year and all the promise that comes with it.
With the end of the year inching closer, we wanted to take a look back at the top 10 sports stories we covered in 2018, because we were there. We'll start with the fifth through 10th top stories.
10. Changing of the Guard at Miles Brings District Title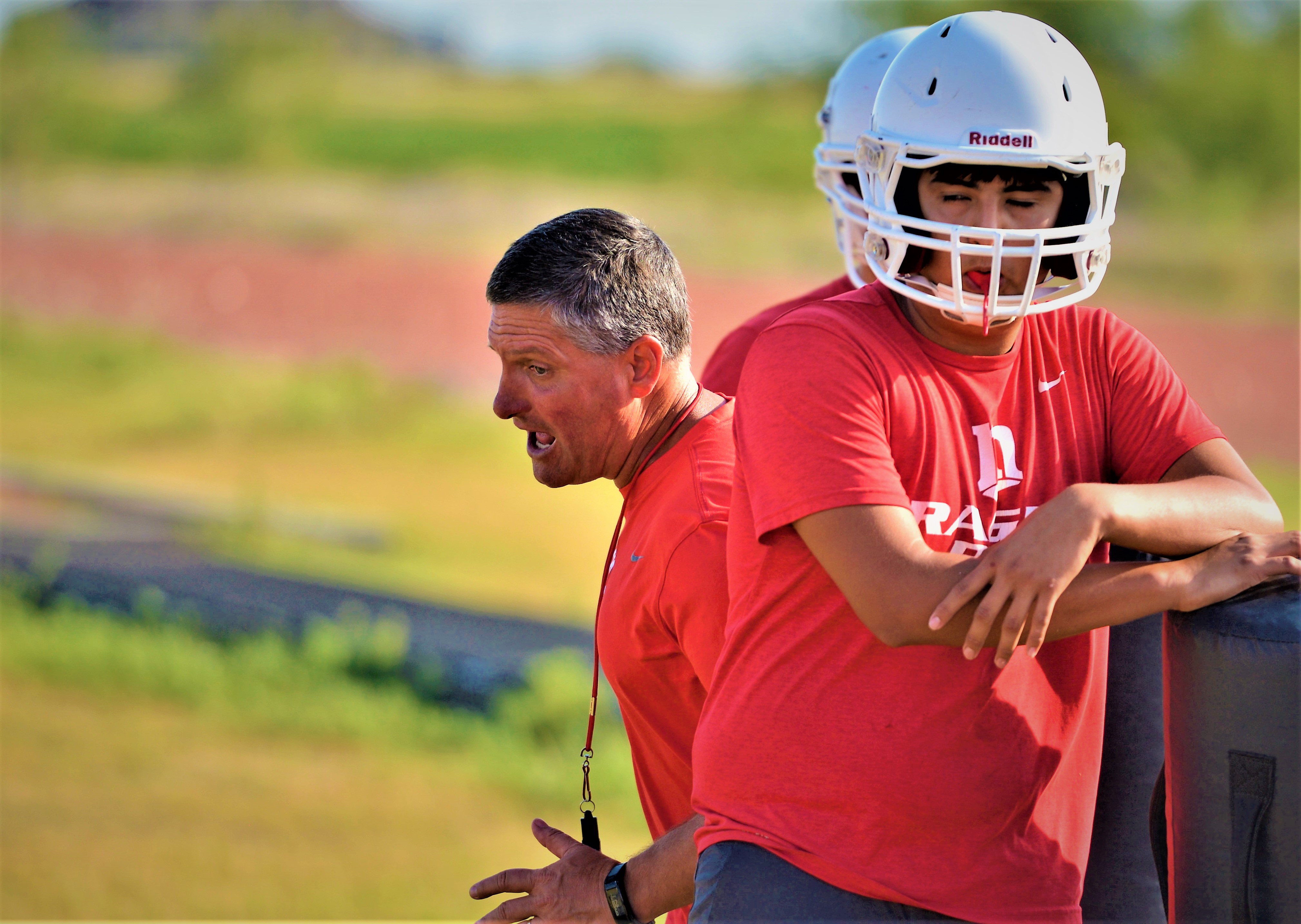 Above: Miles head coach Charles Boles demonstrates technique to his offensive linemen. Aug. 8, 2018 (LIVE! Photo/Sam Fowler)
In February of 2018, Chad Currie handed in his resignation after serving five years as the AD and head football coach of the Miles Bulldogs. That led to the hiring of Charles Boles and things couldn't have gone better for the Bulldogs in his first year.
Under Boles direction, Miles went 7-4 and clinched a share of the District 8-2A DII title with Christoval and Eldorado. It was their first district championship since 2000, when the Bulldogs went 9-2 under Roy Evans. The Bulldogs had statement wins over Munday and Christoval this year.
Miles had 14 players earn all-district honors for their 2018 season. Their season ended with a 52-0 loss to Hamlin in the first round of playoffs.
Former Central Bobcats Davis Martin and Josh Sawyer were drafted during Major League Baseball's First-Year Player Draft this past June.
Martin, out of Texas Tech, was selected in the 14th round by the Chicago White Sox. Sawyer, out of Texas, was selected by the Chicago Cubs in the 16th round.
It's believed that those two are the only San Angelo natives to ever be drafted in the MLB Draft.
Sawyer's name was called out of high school by the Blue Jays in 2013, but he elected to go to Austin instead. 
Sawyer was assigned to the Chicago Cubs affiliate in the Arizona Fall League. He was activated on Sept. 21, but was never used in a game.
Martin finished the year in Montana with the White Sox's Rookie-A affiliate, the Great Falls Voyagers of the Pioneer League. Between the Arizona League and Pioneer League, Martin appeared in nine games and had a combined ERA of 4.29. Great Falls won the 2018 Pioneer League championship.
Irion County struggled on the football field this season, going 2-8. That came after the school board voted to stick with 11-man football at UIL's realignment in 2018.
After that dismal season, the Hornets decided to move down to the six-man ranks starting in 2019.
Since there isn't a realignment in 2019, the Hornets will play what is known as an outlaw schedule. They will not be eligible for playoffs and will not have any district opponents.
With their move to six-man, also known as Class 1A, their football team will join the rest of their sports in playing at the state's lowest classification.
Junior QB Kevan Covarrubiaz was excited about the 2018 season. He was set to return to the field after missing all of 2017 with a knee injury.
That excitement almost turned to disbelief when he was sidelined with another knee injury after the third game of the season. Almost.
Instead of pouting, he turned into a coach for his brother, freshman QB Korbin Covarrubiaz. That selflessness worked out for the better of Eldorado, as the Eagles went on to win four of their five district games and a share of the district title with Christoval and Miles.
In eight games behind center for Eldorado, the young Eagle was 98-of-170 passing for 1,366 yards and 14 touchdowns. Covarrubiaz also added 395 yards and six touchdowns rushing.
Eldorado gets both of them back next year and it's going to be pretty scary.
6. Lake View Breaks 18-game Losing Streak and Wins First Playoff Game in Four Years
By their 3-9 record, you wouldn't think Lake View had much success this season. You're wrong. Those three wins started a fire on the north side of San Angelo.
The first win came in a 35-0 drubbing of Fabens in week 1. The second came in their season finale against Big Spring, their first district win since 2015.
After that Big Spring win, the Chiefs carried their momentum into the playoffs. Against Clint Mountain View, the Chiefs were deadlocked at 21.
Lake View would lose their Area Round playoff to Wichita Falls Hirschi the next week.
Get more stories like this by signing up for our daily newsletter, The LIVE! Daily.