TxDOT: Major Road Construction Scheduled This Week
SAN ANGELO, TX — The Texas Department of Transportation said on/off-ramps on the Houston Harte Expy./Loop 306 will be closed most of this week for construction from Bryant to 0.4 miles south of Sherwood Way. "All Westbound and Eastbound on and off ramps at U.S. 87, Central, Jefferson Street, Arden Rd., Garfield Street, Howard Street, Glenna Street, and Sherwood Way will be closed next Tuesday, August 8 through Friday, August 11 for Overlay," TxDOT stated in a press release. Comfort Inn and Furniture Row will be accessible via Northwest Dr.
The closures are part of the ongoing re-pavement project that has lasted several months.
At the Chadbourne St. exit off the eastbound lanes of the Houston Harte Expy, TxDOT crews plan to repair railing near the exit ramp. Temporary closures of the Chadbourne off-ramp should be expected.
In addition to the ramp closures, Houston Harte Expy. will continue have one of the two lanes each way closed for pavement repair.
The Sherwood Way area at Walmart and the new H-E-B under construction will see construction crews working on installing new curbs and gutters on the outside lane of the southbound off-ramp from Loop 306 to Sherwood Way/U.S. 67. This is part of the transformation of Sherwood Way announced in November 2015. See drawing: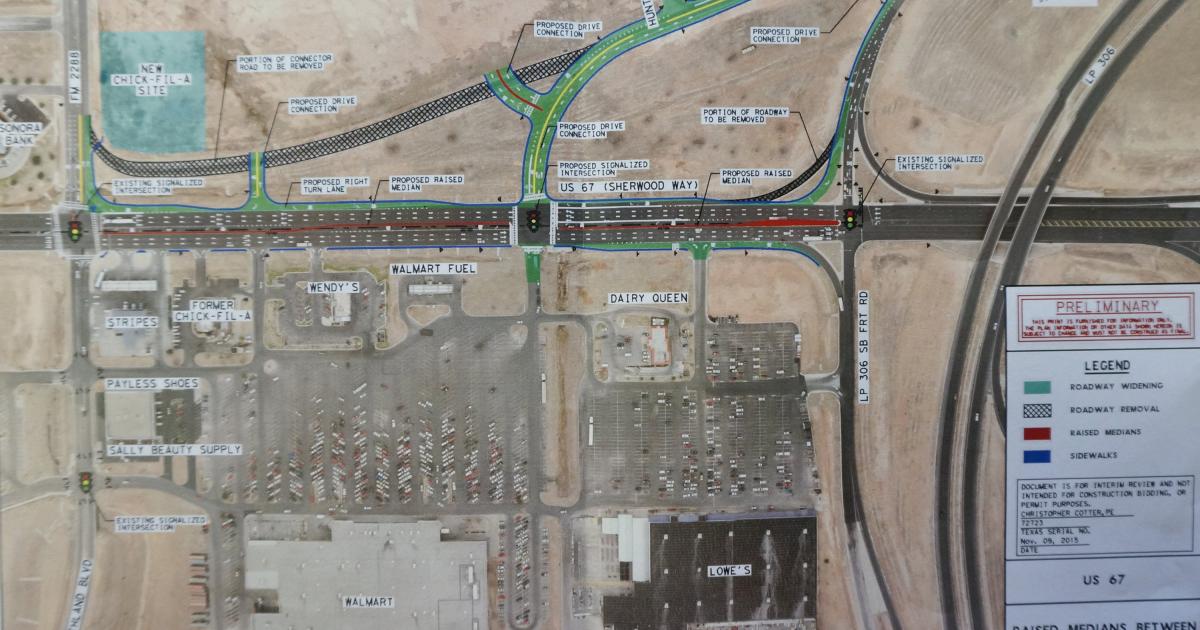 Above: Click for a high-res pic of the map of the proposed traffic flow changes. (LIVE! Photo/Joe Hyde)
Starting Wednesday, August 9, traffic signals at the intersection of FM 2288 and Sherwood Way will be shut off. Stop signs will control traffic there instead. Crews will be finishing the new right turn lane from Sherwood Way/U.S. 67 south to FM 2288 at that intersection this week. TxDOT states the construction should be complete the next day, August 10.
Get more stories like this by
signing up for our daily newsletter, The LIVE! Daily
.