SAN ANGELO – West Central Texas including the Concho Valley and the City of San Angelo are headed for another drought with extended periods of below average rainfall and above average temperatures.  
The San Angelo area has seen below average rainfall for several months now and the current forecast calls for an extended dry period with elevated fire weather danger.  
According to the National Weather Service office in San Angelo, increasing south winds and low humidity levels will result in elevated fire weather conditions Saturday afternoon.  
For the next seven days, elevated fire weather danger will be the main concern in the extended forecast.  Strong winds and dry conditions will combine to create an increased danger of wildfire spread Sunday through Wednesday of next week.  
Experts in the past have said that West Texas exists in a condition of drought broken up only by infrequent periods of abundant rainfall.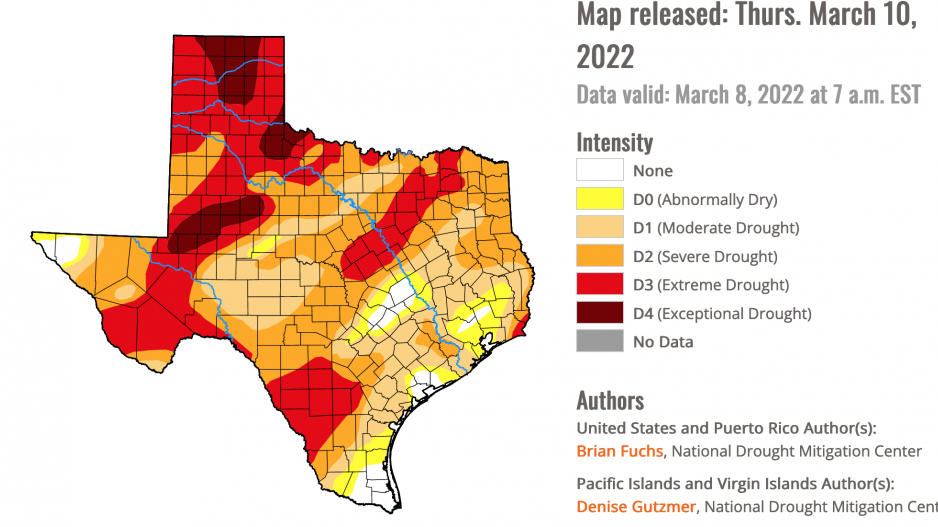 According to the National Weather Service, drought is a deficiency in precipitation over an extended period. It is a part of normal climate variability in many climate zones. The duration of droughts varies widely. Drought can develop quickly and last only for a matter of weeks, exacerbated by extreme heat and/or wind, but more commonly drought can persist for months or years.
There have been at least three major U.S. droughts in the last 100 years. Two of these, the 1930s Dust Bowl drought and the 1950s drought, each lasted 5-7 seven years and covered large areas of the country with significant impacts. Although hurricanes and tornadoes are more dramatic, droughts are among the most costly weather related events and the most far reaching. From 1980–2020, there were 285 weather/climate disaster events with losses exceeding $1 billion (CPI-Adjusted) each to affect the United States.
Drought may require safety precautions just like other weather hazards. Dry conditions often lead to brush fires or wildfires. Local officials may ask that you not burn brush or trash during dry conditions and comply with other safety precautions. In extreme fire conditions, officials may issue mandatory evacuation orders to protect your life. Always follow these directives. They could save your lives and the life of your family.
Most Recent Videos