OPINION — In the northeast corner of the DFW Metroplex, Collin County Judge Chris Hill took the lead in Texas by rescinding his local disaster declaration made March 16, 2020. At 10 a.m. Friday morning, Feb. 26, 2021, Hill ended his county's emergency orders with the final sentence of a new order that read, "I hereby rescind and cancel the Declaration of Local Disaster for Public Health Emergency for Collin County."
Collin County, with its 1.035 million population (2019) and home to the City of McKinney, reported 292 new Covid-19 infections Friday, the same day the order was rescinded, according to the Texas Department of State Health Services. Fatalities in Collin County from Covid have dropped to just a trickle, low single digits since Feb. 3.
Judge Hill said he made his decision because Covid hospitalizations have fallen below 10 percent of Collin County hospital capacity and he noted that the entire Collin County Commissioners' Court is behind him, according to The Texan.
Hill told The Texan he drafted the order rescinding the emergency declaration on Sept. 24 last year, but did not publish it then because he was warned some municipalities, residents and businesses may lose eligibility for CARES Act funding. A few weeks later, on Oct. 9, Collin County bars were opened at 50 percent while judges in sister counties in the Metroplex kept bars closed. On that day, Governor Greg Abbott had issued an executive order stating that re-opening bars and increasing capacity at restaurants was at the discretion of county judges.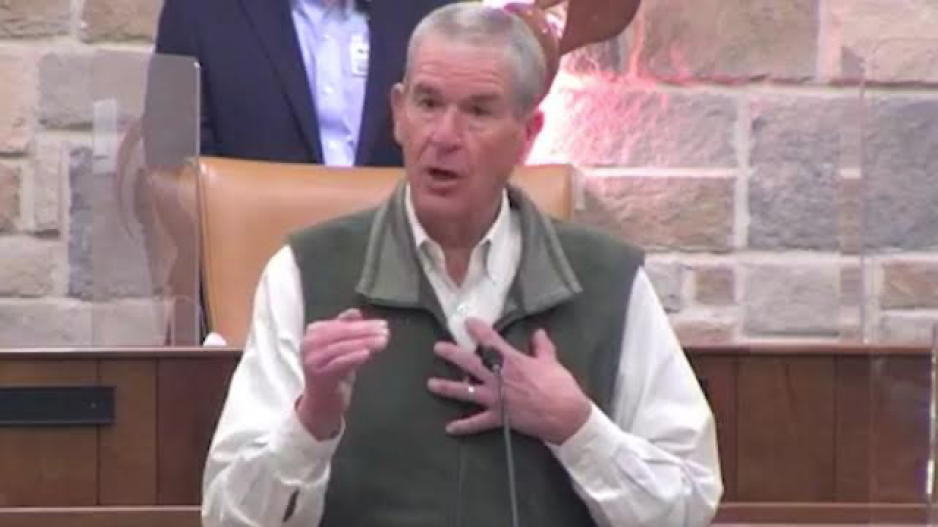 Tom Green County Judge Steve Floyd should consider rescinding the Covid emergency here, too. Covid-19 hospitalizations and new infections have dwindled to a trickle here where only 14 new cases were added to the rolls on Friday, Feb. 26. Only 16 are hospitalized, down from over a 100 hospitalizations during the peak of the pandemic just months ago.
In his October declaration, Governor Abbott put rising hospitalization rates at the forefront as the reason to shutdown local economies. His order noted that should a trauma service region's percentage of Covid-19 patients rise above 15 percent of total hospital bed capacity, bars should be ordered closed and the capacity at restaurants reduced. Tom Green County's medical facilities account for the vast majority of hospital beds in the multi-county trauma service area that envelopes the Concho Valley. There are 846 staffed hospital beds in our region. With 16 hospitalized for Covid-19 as of Feb. 26, those patients make up only 1.9 percent of capacity. Our region has held Covid-19 hospitalizations under 4 percent capacity for a week. In neighboring regions like Abilene and Midland/Odessa, the Covid hospitalization rate has been at around 4 percent. Even Lubbock has low hospitalization rates, just above 5 percent until Friday when it dropped to 4.37 percent.
Remember why in March a year ago the lockdowns were initially mandated? The reason for destroying the most robust economy in the world was to provide time and space for our hospitals to obtain PPE, ventilators, and staffing to handle a large influx of patients. Do you remember "15 days to stop the spread"? Now, not 15 days later, but nearly 325 days — almost year — later, at 1.6 percent Covid-19 hospitalizations and shrinking, isn't it time to remind our leaders why we had lockdowns to begin with?
In addition to the very low hospitalization rates, the vaccine is now widely administered. The Texas Tribune reported that there are 72,801 vaccine doses administered each day across Texas and as of Feb. 25, 5.8 percent of all Texans have been fully vaccinated against Covid-19.
Vaccination rates are not the full picture. Across the state, there have been 2.3 million Covid-19 cases and an additional 353,630 probable cases, and those who have had Covid now have natural immunities and antibodies.
By adding together the 1.7 million vaccinated Texans with another 2.7 million recovered from Covid and with natural immunity, it totals 4.8 million who are known to not be at risk. How many more have recovered from Covid-19 but were never tested?
In Tom Green County, the health department reported Friday, Feb. 26, that 16,324 county citizens have recovered from Covid-19 over the past year while Shannon is vaccinating more than 3,000 citizens a week (and that's just Shannon), according to State vaccine allocation reports. The number of Tom Green County residents who are with known immunity to Covid-19 is approaching 30-40 percent of its 117,000 population. How many more have recovered from Covid-19 but never tested?
At a press conference in Corpus Christi Thursday, Feb. 25, Governor Abbott said he was thinking about lifting all statewide orders concerning Covid, to include ending the mask mandate.
Not only are the chances of catching Covid falling fast, the chances of anyone under 65 dying of Covid-19 are extremely small. Seniors can continue to socially distance. Opening up our economy, ditching the masks, and getting back to work will save more lives than cowering in corners clutching to a bottle of Purell while avoiding our neighbors.
Judge Floyd can help Abbott make that decision but joining Collin County's judge in leading the state by signaling to Abbott that we need to be repealing Covid restrictions. The crisis now isn't Covid, but how the shutdowns harmed almost every local business in the county except Walmart and H-E-B. The Texas economy demands a new tactic in leadership. Will Judge Floyd get Tom Green County to lead the state by calling for an end to the Covid madness here now? Will the Tom Green County Commissioners' Court stand behind Judge Floyd if he does?
Let's get back to work!
Video Coverage of the 2021 San Angelo Rodeo