I'm Your Huckleberry
Opinion
OPINION — My wife, Jocelynn, and I live in a house. It has a roof, walls, doors, and windows, to keep the nature outside, where it belongs. Works pretty well, most of the time. So a while back we realized we needed more dirt in our lives, and we decided to go camping. We chose to go to Colorado, because besides the opportunity to access dirt, Colorado offers the added benefit of the possibility of being eaten by bears. Not that we wanted to become bear food, but a little excitement makes life interesting.
Our first stop was Glenwood Springs, where John Henry 'Doc' Holiday died of tuberculosis in 1887, and remains dead. We hiked almost a mile up a remarkably steep trail to the remarkably picturesque Glenwood Cemetery so we could take a gander at Doc's gravestone. I wondered whether they used a wagon or carried the caskets up the hill afoot. If they carried them, and I lived in Glenwood Springs back then, I think I'd hide whenever anyone died, to avoid the honor of being a pallbearer. I was winded just walking up to the cemetery. I can't imagine having to pack the guest of honor along.
There's also a Doc Holiday museum in Glenwood Springs, which contains a vintage dental chair, although it probably wasn't Doc's personal chair. I sat in it so Jocelynn could take my picture, which is probably against the rules. Don't tell anyone. The museum also has a sign on the wall that explains Doc's most memorable and quoted statement from the movie 'Tombstone.' Back then they evidently called the handles on caskets 'huckles.' When Doc told Johnny Ringo, 'I'm your huckleberry' he meant 'huckle bearer.' So Doc was offering to be one of Ringo's pallbearers. Maybe the Tombstone cemetery was easier to access than the one in Glenwood Springs.
The cemetery trip didn't completely exhaust us, so we decided to hike four miles up No Name Creek Trail, to see the remarkably picturesque waterfalls there. If a creek is named 'No Name,' does it have a name, or not? I'm still confused about that, but the hike was fun, if you enjoy excruciating pain, suffocation, and perspiration. We survived, barely, and decided hiking in Colorado should be taken in small, extremely infrequent doses, if at all.
We figured fishing would be more relaxing, so we headed down to the Frying Pan River near Basalt and spent an idyllic afternoon not catching fish. Fly-fishing is a chancy thing at best, trout being persnickety eaters, but you'd have a hard time finding a more pleasant endeavor at which to fail. I did manage to hook one rainbow, which we fried that evening back at camp, and decided the fish might be more useful left in the water. I'll henceforth stick with catfish, thanks.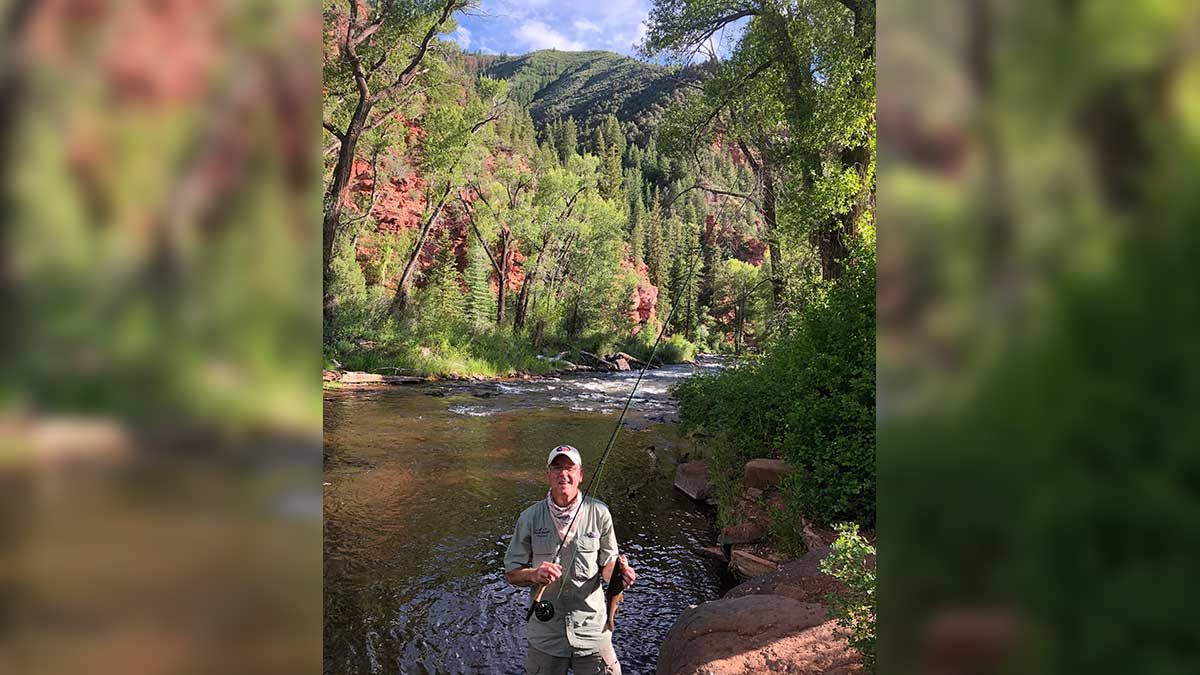 Above: Fishing in the Frying Pan River in Colorado. 
After a few days at Glenwood Springs we headed south to Ouray by way of the Black Canyon of the Gunnison National Park, so we could practice racism and white supremacy. According to ABC news, visiting a national park is racist, because they're 'stubborn bastions of self-segregation.' I'm a little vague on the details, but just about everything is racist these days, so I'm not actually surprised. I'm also not very good at being a racist, as I didn't manage to oppress anyone, personally, at the park. Maybe next time.
And we didn't have time to be bigots, anyway, since one of our main goals for the trip was to recreate a nineteen-year-old picture of ourselves, at a remarkably picturesque spot just south of Ouray. A local had helped us find the location of the old photo, in which Jocelynn and I were standing in front of my '97 Jeep Wrangler. Although I still have it, the old Jeep is getting a little tired, so we took my wife's four-door Wrangler on this trip. I did, however, managed to find the same chocolate chip desert camo BDU pants and ugly orange T-shirt I wore in the original picture. I'm like Josh Deets. I'm not one to quit on a garment just because it's got a little age.

Above: The recreated nineteen-year-old picture of ourselves. 2001 on left; 2020 on right.
I had to set the camera on an ice chest and use the timer, but the new picture came out pretty good. Jocelynn and I look exactly the same as we did in the old photo, except for looking totally different. And old. Well, I look old. She looks pretty much the same. We plan to go back and recreate the image again in another twenty years, provided I can keep up with my pants that long.
Ouray is probably my favorite place in the world to visit, nestled as it is in a remarkably picturesque valley of the remarkably rugged and beautiful San Juan Mountains. It would be a fantastic place to live, if you enjoy being buried in snow seven months out of the year. But it's paradise during the summer, except for the possibility of being eaten by bears.
I think John Muir nailed it when he wrote, "The mountains are calling and I must go." Maybe he ate too many trout from the Frying Pan River . . .
Get more stories like this by signing up for our daily newsletter, The LIVE! Daily.