Brave Men
Opinion
OPINION — Most Texas historical markers are located along the highways of the Lone Star State. You see them as you drive by, but few actually stop and read them. They commemorate events that occurred before most of us were born, and hardly seem relevant to many people today. They're random snippets of ancient history, relegated to lonely stretches of road in a land that has miles and miles of lonely stretches of road. They're easy to ignore, and easier to forget once we're past.
One such marker, however, is honored annually, and the events that engendered its installation are recalled, not by traveling Texans on a dusty roadside, but by people who benefitted immensely from those events three quarters of a century ago. The marker would look familiar to any Texan, since it has the Texas seal at the top, accompanied by the words 'The State of Texas,' and raised letters which antiseptically tell a story of amazing heroism in a previous lifetime. The marker sits in what was once a German observation bunker, on a cliff overlooking a beach halfway around the world from Texas. The place is called Pointe du Hoc, and the French haven't forgotten the sacrifices made there on behalf of freedom. They hold a ceremony every year to honor the man whose name is inscribed on the plaque – James Earl Rudder.
Above: In November 1988, Governor Clements placed a plaque at Pointe du Hoc in Normandy, France to commemorate the 1944 seizure by Texan Lt. Col. James Earl Rudder and the U.S. Army's 2nd Ranger Battalion of German artillery on the cliff. (Clements Center). The plaque reads:
"On June 6, 1944, Lt. Col. James Early Rudder (1910-1970), a native Texan, led companies D,E, and F of the United States Army's 2nd Ranger Battalion in the capture and neutralization of the German coastal battery at Pointe du Hoc. Accomplishment of the mission, which included scaling the point's rocky cliff, was seen as crucial to the success o the Allied Forces' invasion of Normandy and eventual liberation of France. The original 225 Rudder's Rangers fought two and one half days before relief. 90 men survived the mission." -Presented by Governor William P. Clements Jr.for the people of Texas November 29, 1988. The picture of the plaque was taken on Sunday, June 14, 2015 during the Clements Center's first Maymester in London program excursion to Normandy.
Born in Eden, Texas in 1910, Rudder lived a life of honor and devotion to duty matched by few. After graduating from Texas A&M University, Rudder served as a second lieutenant in the US Army Reserves. Called to service in 1941, he ended up on a beach in Normandy on 6 June 1944 as a Captain in the U.S. Army Rangers, in command of three companies of the 2nd Ranger Battalion. A German heavy gun installation located on a promontory at Pointe du Hoc commanded the high ground over the beach, and Rudder's Rangers were tasked with taking it out. Even in the midst of a war that saw amazing heroism on all sides, during a battle that bristled with bravery, the assault Rudder and his men made against that redoubt still stands out.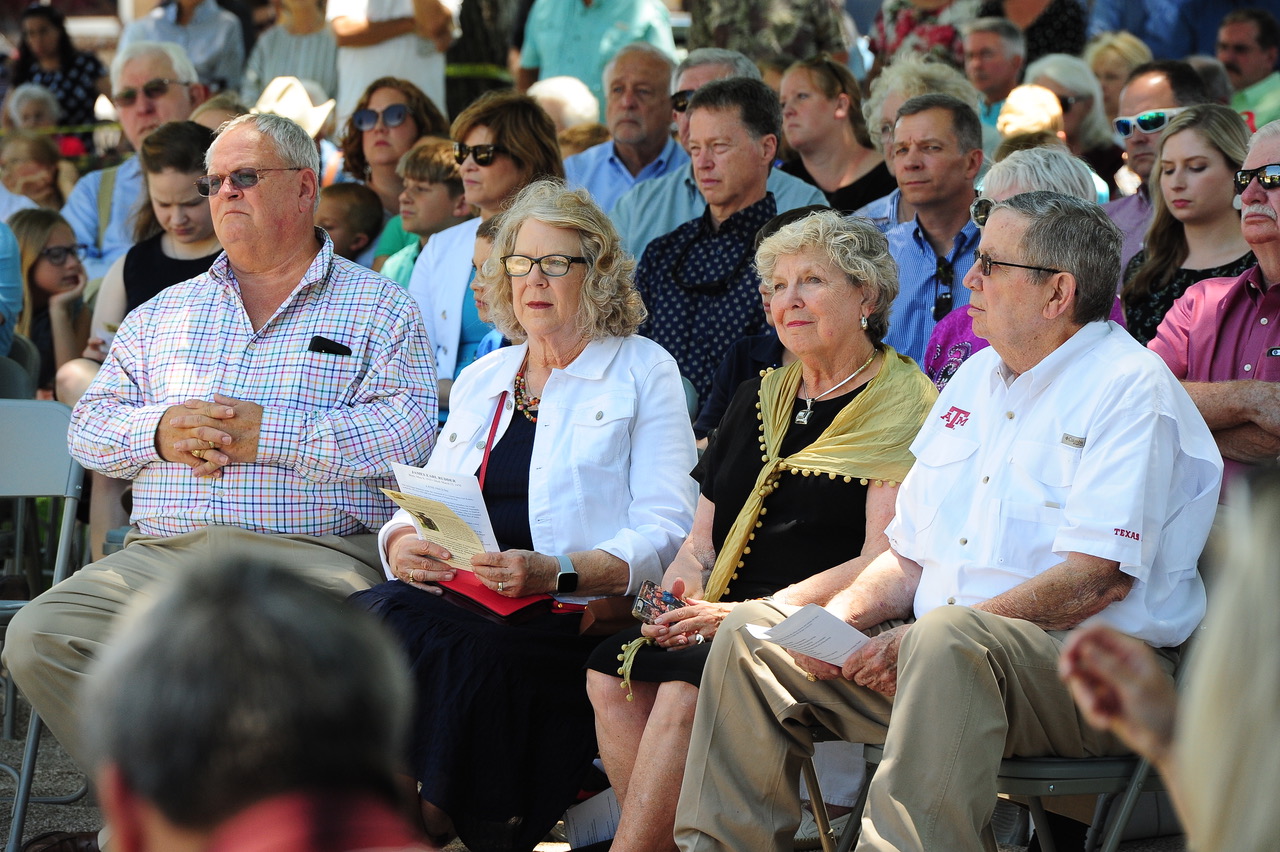 Above: At the dedication to Earl Rudder at the Brady Square last week. Seated are Rudder's children, Anne Rudder Erdman (gold scarf), James "Bud" Rudder and Linda Rudder Williams (white jacket).  (Brady Standard-Herald)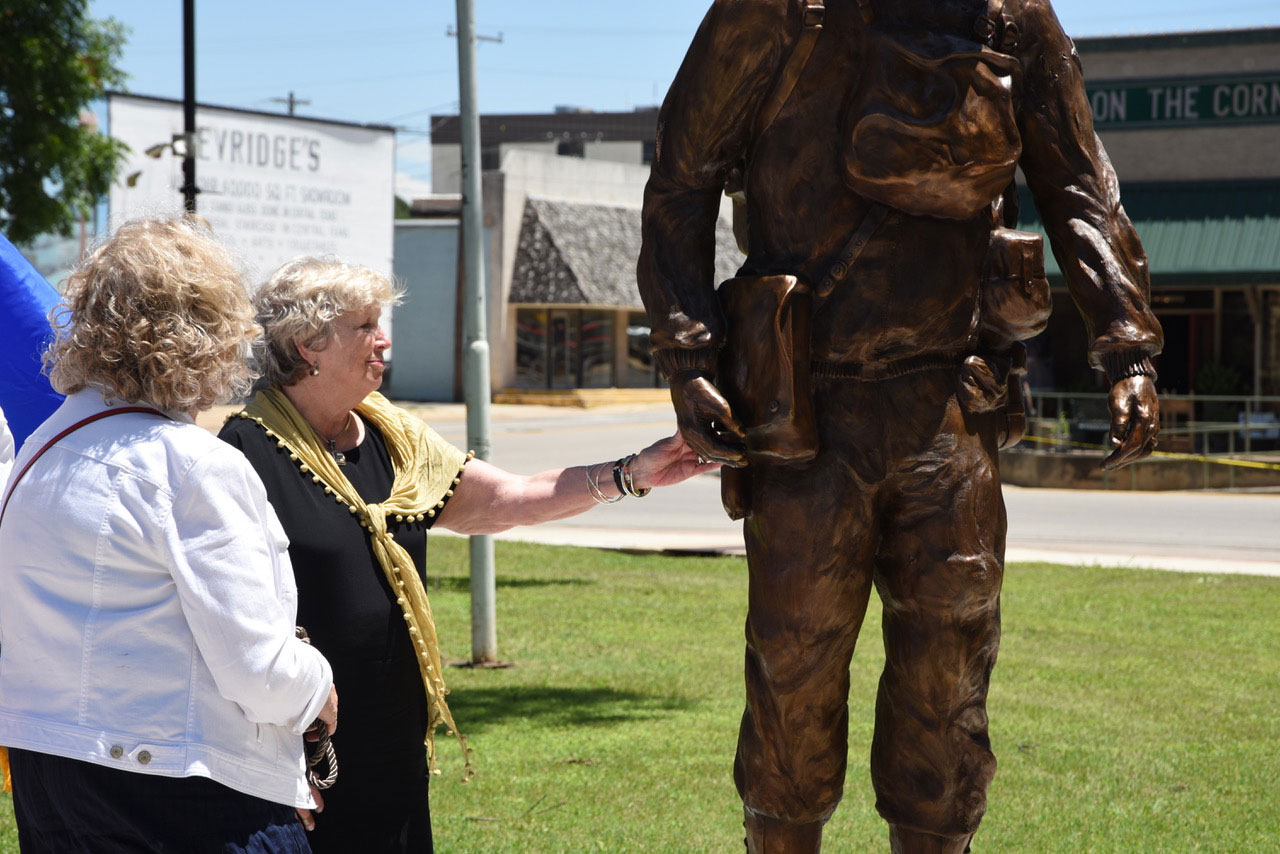 Above: At the dedication to Earl Rudder at the Brady Square last week. (Brady Standard-Herald)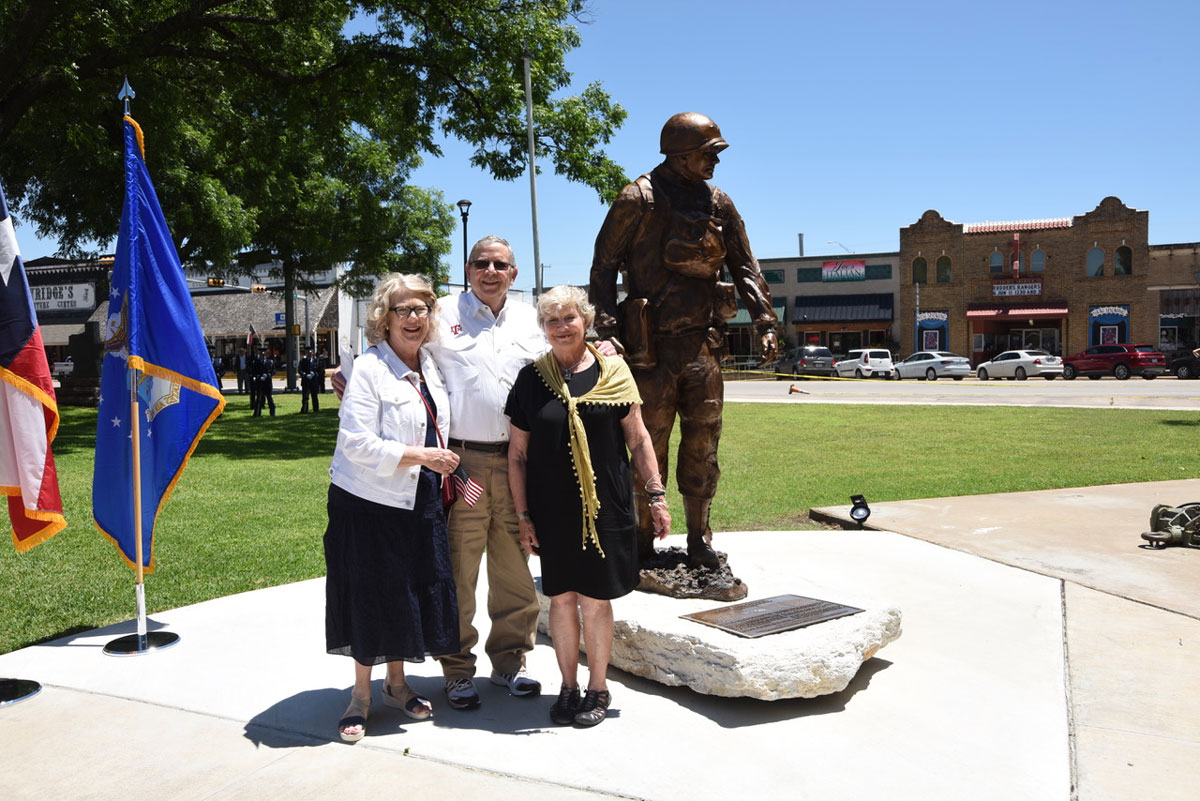 Above: Rudder's children, Anne Rudder Erdman (gold scarf), James "Bud" Rudder and Linda Rudder Williams (white jacket).  (Brady Standard-Herald)
The rocky cliff was 100 feet tall, and the Rangers were under heavy enemy fire during the entire climb. They made it up the cliff, took out the German guns, and then held the position for another two days before they were reinforced. Rudder commanded 225 men at the outset of the attack. In the end, 90 of them survived.
On a shelf in my office sits a jar of sand, with a single stone in it. My friend, Brad Haddix, brought me that sand from the beach at Normandy a few years ago. I've not been there myself, but at least once a month I look at that sand and wonder what it must have been like for the men who went ashore on that beach 75 years ago. I wonder if they realized they were risking, and giving, their lives so the rest of us would be allowed to enjoy the freedom we have today.

Above: The statue of Earl Rudder in Brady Square, Brady, Texas. (Brady Standard-Herald)
I know they believed in the cause for which they fought. Many, if not most, of them were volunteers, citizen soldiers who had taken an oath and signed a form to enlist in the armed forces of the United States for the duration of the war plus six months. They did that because they were unwilling to allow others to fight and die for them, unable to farm their responsibilities out to the next guy. They would much rather have stayed home, but they realized safety is an illusion, and the only liberty worth having must be worth dying for. Many of them did.
After the war, plus six months, those citizen soldiers went home and went back to work on farms and ranches, in offices and stores, driving trucks and building houses. All were shaped by what they had seen and done during the war to some extent, but most put it behind them and got on with their lives. Earl Rudder became the mayor of Brady, served as Texas Land Commissioner, and the president of Texas A&M, among other things.
My friend, John Jefferson, was a student and a member of the Corps of Cadets at A&M while Rudder was president and Commandant of the Corps. He told me the cadets decided to hold a walk-out in protest of something or other at one point, and they had assembled in a gymnasium. Rudder heard about it and showed up. When he walked in you could hear a pin drop. He faced the cadets and said, " I understand you have a complaint. If anyone would like to address it, now is the time." No one said a word. After a minute Rudder turned and walked out, and that was the end of that.
Seventy-five years after D-Day a statue was erected beside the courthouse in Brady, Texas to commemorate the life and achievements of Earl Rudder. There was already a statue of him at A&M, and U.S. Hwy 190/Tx Hwy 6 is named the Earl Rudder Freeway. There's a high school named after him in Bryan, a middle school named after him in San Antonio, a state office building named after him in Austin, and a ship named after him in Galveston, among other things.
But my favorite tribute to Earl Rudder, although I've never seen it, sits on a cliff overlooking a windy beach by the English Channel, where brave men turned the tide of history by giving their lives for others. That's what sacrifice means . . .
Get more stories like this by signing up for our daily newsletter, The LIVE! Daily.