This Signals the Impending Doom of Beto O'Rourke
Opinion
SAN ANGELO, TX — Two events on Tuesday signal a rough road ahead for Beto O'Rourke's path to victory for United States Senate over incumbent Republican Senator Ted Cruz.
First, the upset win by Republican Pete Flores over Democrat Pete Gallego in Tuesday's runoff election in the heavily Democrat and Hispanic 19th Senatorial District of Texas wasn't even close.  Flores easily won by six percentage points, 53 percent to 47 percent.
Second, the latest Quinnipiac University poll shows Cruz up over O'Rourke by nine points among likely voters.  
Gallego, who grew up in Alpine, conceded the Texas Senate race by 9 p.m. Tuesday in the district that stretches from San Antonio to New Mexico and runs along the Mexican border.   The Senate seat had been held by a Democrat for 139 years. The last 19th District Texas Senator was Democrat Carlos Uresti who was convicted on 11 federal felony charges relating to his alleged involvement in a Ponzi scheme that defrauded investors out of hundreds of thousands of dollars. He was sentenced to 12 years in federal prison in June.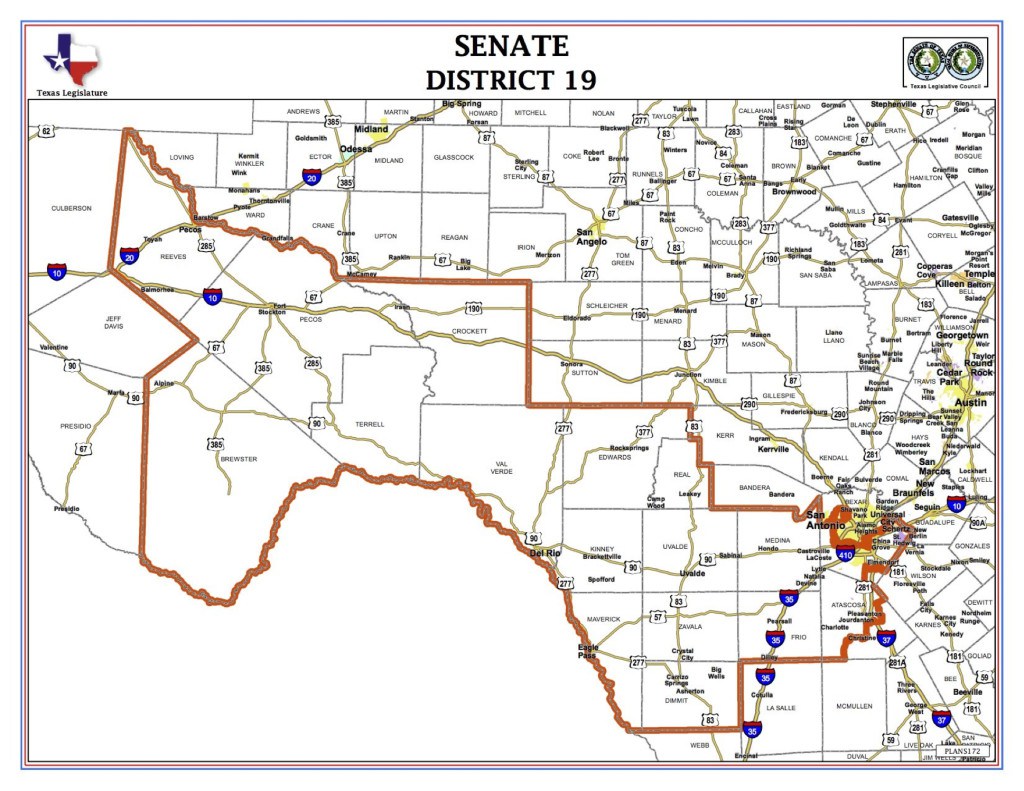 Above: Texas Senate District 19  (Texas Senate graphic)
Tom Green County Republican Party Chairman Jeff Betty says those two factors show Texas Republicans will fare well in November.  "Texans statewide rallied to support Pete Flores in his campaign to replace Democrat State Senator Uresti following his conviction.  Pete Flores will represent the growing western half of San Antonio and the surrounding counties well."
Betty continued, "A retired law enforcement officer, Flores will end the corruption as he ends the stereotype that Democrat candidates can assume Hispanic Texans will vote for them.  Texas and San Antonio will benefit from his honesty and work ethic. Additionally, I think this election and the latest poll showing Cruz with a dominant lead makes it clear that the upcoming election will be a good one for Republicans here in Texas."  
Flores placed first in a field of eight candidates in a special election July 31.  Gallego was second and the two met in Tuesday's runoff. Flores will serve out the remaining two years of Uresti's term.  He was endorsed by both United States Senators from Texas, John Cornyn and Ted Cruz. He was also endorsed by Texas Governor Greg Abbott and Lt. Governor Dan Patrick who was with Flores last night in San Antonio for the election results.  
Patrick said, "Seven weeks from tonight, I have a message for the Democrats that Pete Flores and his hard work delivered here: All this talk about a blue wave? Well, the tide is out."
In a written statement, Gov. Abbott said, "Pete's strong law enforcement background will be invaluable to the Legislature as we work to combat human trafficking and provide greater protections for our peace officers."
Statewide headlines called Flores' win an upset.  The Texas Tribune described the race this way; "In ads, Flores depicted Gallego as a tax-loving liberal and "career politician" desperate to return to power. Gallego countered with his long-running message that he would be a safe, reliable choice for the district in the wake of the tumultuous period that precipitated Uresti's resignation."
Two polls have diverging conclusions on the race for U.S. Senate between Cruz and O'Rourke. The Quinnipiac poll, mentioned above, of 807 likely voters was taken over landline and cell phones. The poll has Cruz with a healthy 9-point lead. Meanwhile, an Ipsos poll has O'Rourke leading Cruz 47 to 45 percent. The Ipsos poll was taken online between Sept. 5 and Sept. 17. It asked between 992 and 1,039 Texans online who'd they'd likely vote for and attempted to measure if they'd likely got out and vote.
According to Ipsos Vice President Chris Jackson, his poll was attempting to measure enthusiasm to vote, and that may estimate how many voters will likely turn out for their candidate. O'Rourke's supporters measured high enthusiasm, certainly more than Cruz's supporters, according to Jackson's poll.
Tuesday night, in the 19th District Senate race held in a borderland district that leans Democrat, the Democrat's favorite son, Pete Gallego, got stomped. Where were the enthusiastic Democrats? The results of this election doesn't bode well for Mr. O'Rourke, whose hometown of El Paso sits immediately west of that district.
O'Rourke and Cruz have agreed to three debates.  The first televised debate is Friday from 6 to 7 p.m. and will be televised in San Angelo on KSAN.  
Get more stories like this by signing up for our daily newsletter, The LIVE! Daily.