This Lost Boy Found Himself 50 Years Ago Thanks to the Boys Ranch
Opinion
OPINION — June 5 is a very special day in the boring and mundane life of Grady Kerr. It was 50 years ago to the day that my life took a monumental turn. But first, some history.
I was a tall, skinny, awkward, confused nerd of 14 (way before nerds were "kewl"). My parents had been divorced a few years and the courts had split up my 18-year-old adopted brother and me. He had gone to live with our mother and step-father, and I went to live with Dad.
We lived in a one bedroom, high-rise apartment building near downtown Fort Worth, not far from his job at General Dynamics.
I was a good kid – never really got into trouble, unknowingly wore high-water pants. I was deep into Astronomy, NASA and, of course, The Beatles.
Music was already a focus of my life. At the bowling alley I can still recall sitting at the foot of the jukebox. Dad bowled in a league so all of us "orphaned" kids would hang out there listening too and singing along with The Beatles. I was fond of the the harmony part.
It was the summer of '68. I was shy, goofy, and too young to be a hippy or available for the Vietnam War draft. And, I was totally terrified of girls.
Best I can figure, my Dad didn't feel he could raise me well enough on his own. Divorce and single parenting wasn't popular yet, so we had visited a few homes for boys. One was in central Texas (I forget the name) and one was near San Angelo. We both agreed on a special place called West Texas Boys Ranch.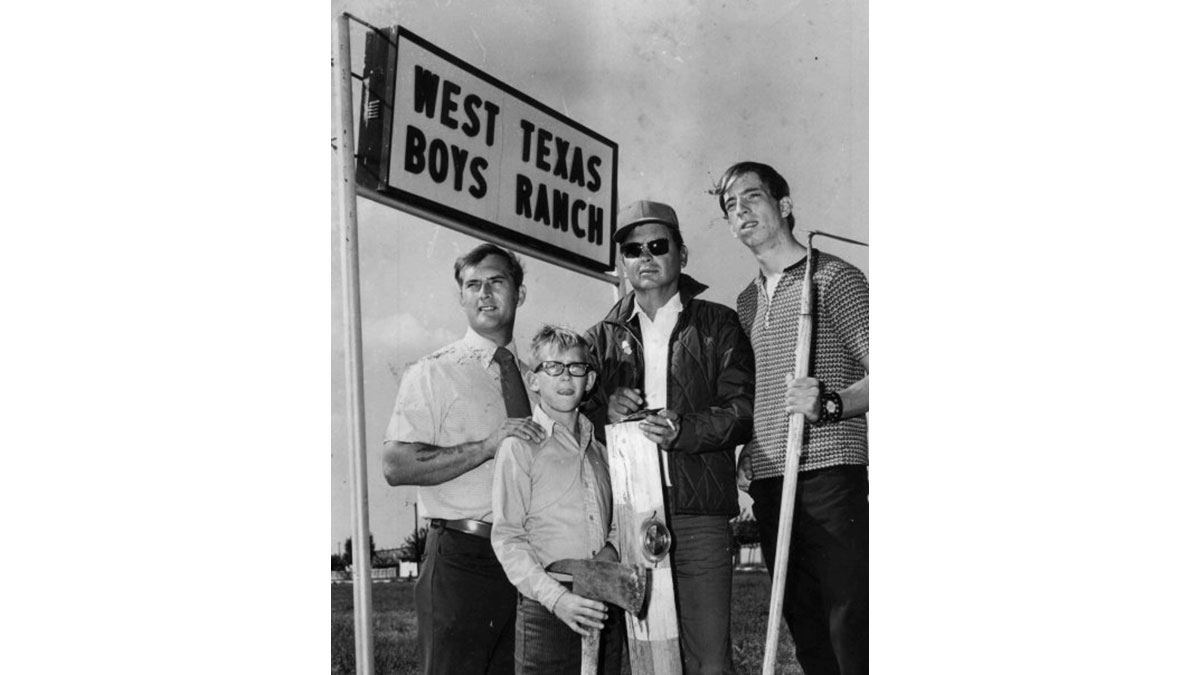 Above: PR Shot of the entrance with Dave Gotshall, Benny Friend, Joe Ratliff, and Grady Kerr.  (Contributed/Grady Kerr)
So, it was June 5, 1968 when three Historic Things happened in my life.
Historic Thing Number 1 - That morning my dad drove me the 243 miles to San Angelo where we met the WTBR staff, signed some papers, said our goodbyes and he drove off leaving me behind. I would live at the Ranch for the next six years, throughout all of my junior high and high school years at Lee Middle School and San Angelo Central High School.
Now remember, I was a city boy. I can honestly say I don't think I had EVER seen a real horse in person before. There was no shortage of livestock at this ranch. There was also no shortage of boys. Overnight I had 60 new brothers. Some were there due to divorces like me. But several were there because they got into too much trouble and had the choice of Boys Ranch or being locked-up in a juvenile jail. We had no shortage of bullying, fights, and even initiations. All of this was new to me so I had to learn to survive pretty quickly.
To my surprise my first night (Historic Thing Number 2) they loaded us all into busses and took us into town to see … BUCK OWENS and his Buckeroos. I still have the child ticket. It cost a staggering $1.00 and it was worth every penny!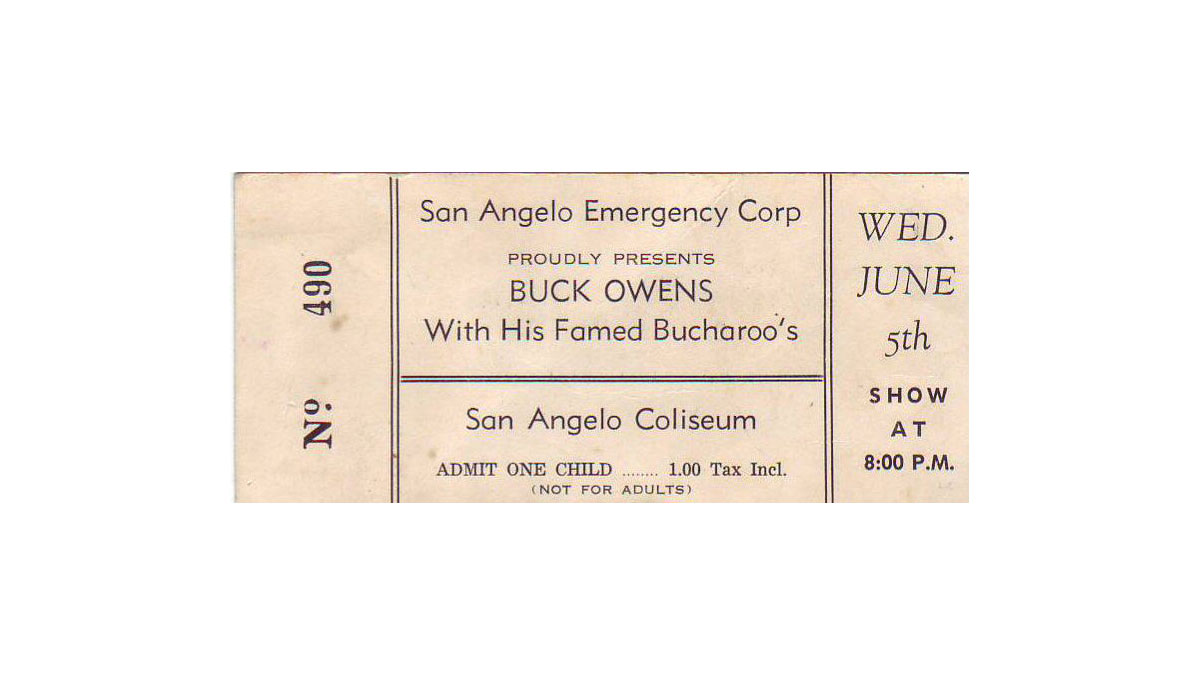 Above: Buck Owen's Ticket - $1
About the same time (Historic Thing Number 3), out in Los Angeles, Robert Kennedy was shot and killed. I was too young to understand the real significance, or that I once lived only 30 miles away from Dealey Plaza five years before.
So here I am out in the middle of nowhere, with strange people, strange smells and watching Buck Owens sing I've Got a Tiger by The Tail.
I was sure I had.
So, 50 years ago today, my new life began. It took on very unexpected turns. There's a great deal more to the story but this was the pivotal date it all started.
Every year, especially this year, I make it a point to call the Boys Ranch and thank them. They are still actively helping boys like they helped me. Try as they might, the current WTBR staff really can't truly appreciate what all they did for me.
The moral of the story is that the Boys Ranch staff did the same for me as they've done for thousands of other lost boys throughout their 70 plus year history.
How can one saying "thanks" be enough?
I'll always be a RANCH BOY.
Get more stories like this by signing up for our daily newsletter, The LIVE! Daily.