Bigsuit
Opinion
OPINION—After God delivered the Israelites from Egyptian slavery, and they spent 40 years in the Sinai Wilderness (because Moses refused to stop and ask for directions), they finally crossed the Jordan River and entered Canaan, the Promised Land. And God told them to kill or drive out every person in there, or else there would be problems, because those people were all immigrants from California. The Israelites didn't do what God said, and they had issues with the Canaanites from then on.
Californians are still causing problems here in the U.S., too. It's kind of a tossup between the Floridians and the Californians as to which bunch is the wackiest. I think proximity to so much salt water is bad for the brain.
But even California is not crazy enough for some people. Take, for example, Claudia Ackley, who sued the state in San Bernardino Superior Court in January. Now, suing the state of California, in itself, is not strange. The reason Claudia sued is the strange part.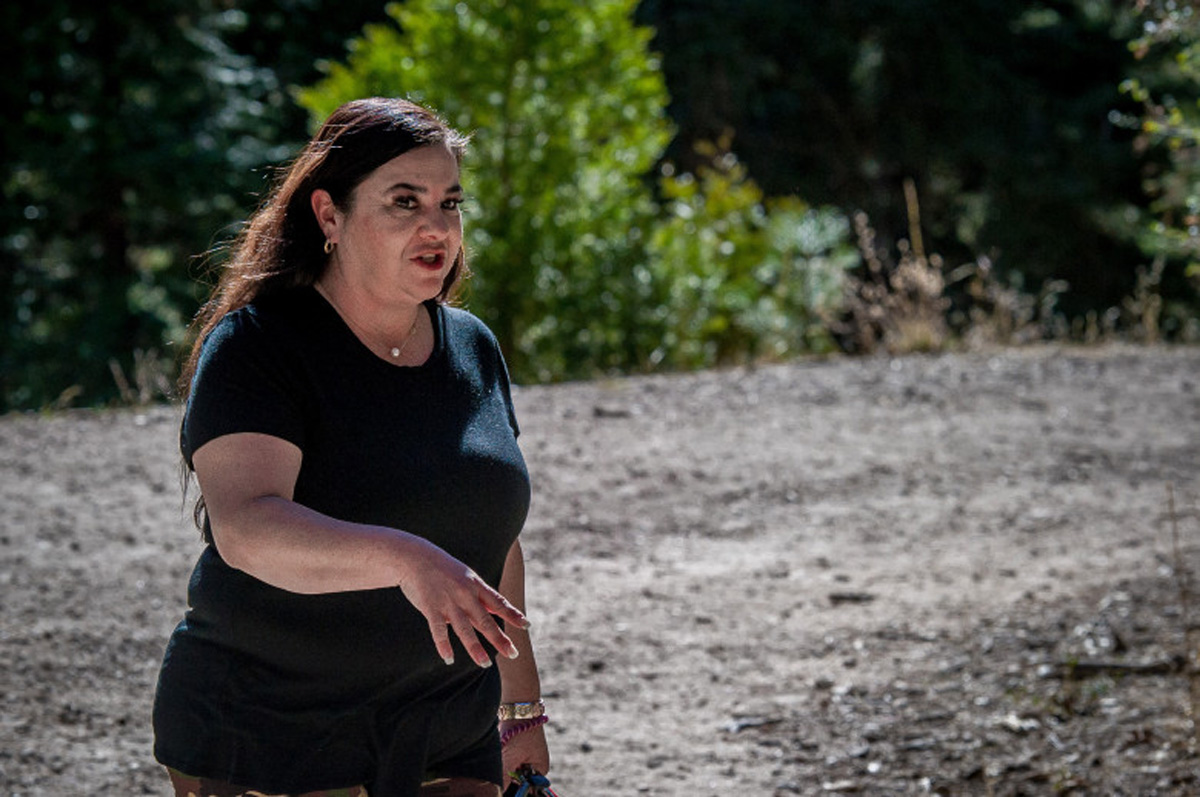 Above:  Claudia Ackley, who sued the state in San Bernardino Superior Court in January. (Kendal Hemphill)
In March of 2017 Claudia and her two young daughters were walking down a hiking trail by Lake Arrowhead, in the Big Bear area, when they saw a sasquatch. Seriously. Claudia's daughters were ahead of her on the trail, and they stopped and started at something, and when Claudia caught up with them she saw it, too. She said, "I ran into a sasquatch – a bigfoot. We were face to face. He was 30 feet up in the tree."
OK, right away we have a problem. The story I read in the San Bernardino Sun did not mention that Claudia is 30 feet tall, and Claudia's account does not mention her climbing the tree. So it's difficult to picture how she could have come 'face to face' with the creature she saw. Or maybe 'face to face' means something different in California. Most terms do.
Claudia claims the animal was 'barrel-chested, with a head three times the size of a human's, and appeared to weigh about 800 pounds.' Claudia seems impressively good at estimating size and weight. She also said, "He looked like a Neanderthal man with hair all over him. He had solid black eyes. He had no expression on his face at all. He did not show his teeth. He just started at the three of us."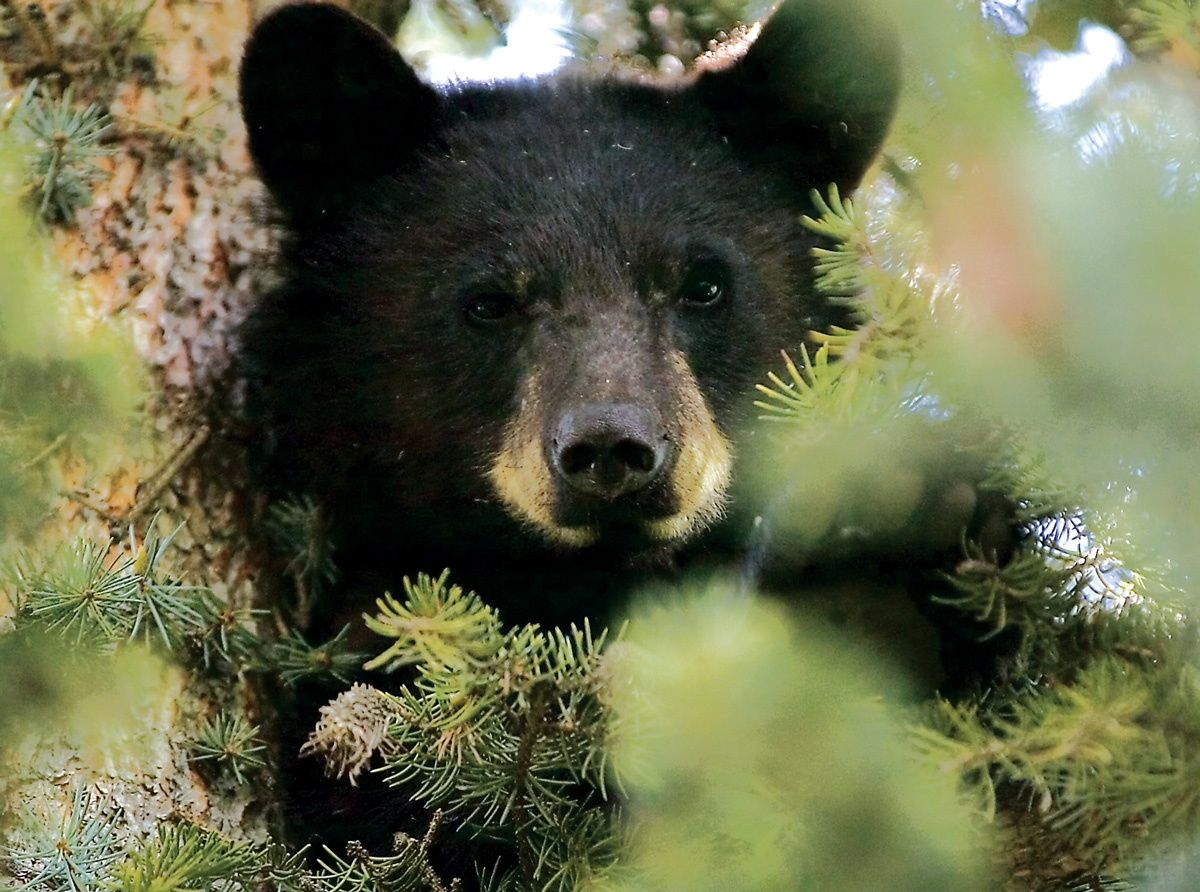 Above: This is a bear. The picture is here for your reference, in case you didn't know what a plain 'ol bear looked like. (Kendal Hemphill)
When Claudia recounted her story to forest rangers they told her she had seen a big bear in Big Bear. There are lots of bears there and, being bears, they basically don't exhibit facial expressions. They also have black eyes. So, a bear. Unless you're an excited, impressionable person, and have been a bigfoot enthusiast for two decades, and you really really really want the bear to be a bigfoot. Then it's a bigfoot. So, a bigfoot.
When Claudia saw this bigfoot, she followed the normal protocol for a typical sasquatch encounter. She said she made a howling 'whoop' sound. And the bigfoot reacted in textbook fashion, for a sasquatch being whooped at, and rocked back and forth in the tree. Maybe that's how she knew, for sure, what it was.
But the forest rangers refused to budge, being intelligent human beings who are able to dress themselves, and Claudia got mad. She teamed up with Todd Standing, who happens to be a documentary filmmaker. One of Todd's documentaries is 'Discovering Bigfoot,' which is on Netflix. Together, Claudia and Todd have sued California, claiming the state is derelict in its duty by not acknowledging the existence of the sasquatch species, despite a 'mountain of documented and scientific evidence.' They claim this has had a 'chilling effect on the study of the sasquatch,' and caused it to be considered illegitimate and relegated to the category of paranormal research. Bummer.
Now, I'm a little confused about this 'mountain of documented and scientific evidence.' I've seen some blurry photographs of something purported to be a sasquatch, impressively backed up by some blurry video footage of something purported to be a sasquatch. There have also been numerous sightings attested to by people who are probably held in high esteem in their respective trailer parks. But that's about it. Maybe sasquatch really does exist, but if so I guess he's just a naturally blurry critter.
Claudia also claims, in the lawsuit, that California's refusal to acknowledge sasquatch has damaged her 'livelihood, public image, and credibility.' Personally, I doubt that. I'm thinking everyone who knows Claudia has already formed an opinion of her public image and credibility, and I'm thinking those opinions are such that nothing she does can make those folks think any less of her. But that's me.
Although she revisits the location of the sighting periodically, and leaves gifts for bigfoot on a nearby discarded tire, such as apples, Fritos, and Coke, she hasn't seen it again. Still, she's insistent the state of California should pass legislation protecting sasquatches, because so many of them have been killed recently by hunters. Or something.
Personally, I hope Claudia runs into bigfoot again. And next time, I hope she manages to take a blurry photo of it. Because those are always convincing . . .
Get more stories like this by signing up for our daily newsletter, The LIVE! Daily.