Dead Sea Strolls
Opinion
         You can't sling a cat in Israel without hitting a historic site, where something happened during Bible times. There are over 6,000 sites identified as historic, so far. The Jews could save some time and money by putting up signs where nothing happened, instead of the other way around. But that wouldn't be near as interesting.
         There is absolutely no way to cover a ten-day trip to Israel in a few columns, so I'm going to hit a few highlights and call it good. I'm seriously considering putting together a website with a lot more information and pictures about the trip. My problem is that I have no idea how to do that. So maybe I'm not seriously considering it. Not really.
         Our early time was spent in the northern part of Israel, in the Golan Heights area, and we came within a few yards of the Lebanese border. There are signs along the border fence that warn of the land mines scattered here and there. It's not a good idea to go wandering around there unless you're tired of having legs. It's the only place in the Arab world where the women are allowed to walk several steps in front of the men.
         The old city of Dan is there, and there's a gate called the Canaanite Gate, which is about 4,000 years old. Abraham likely rode a camel or donkey or something through that gate. Saul likely traveled through that gate, on his way to Damascus, before he saw that light and quit killing Christians. I would like to personally point out that I did not knock down that gate. In case anyone asks.
         We visited a spot near Dan where there used to be an altar that Jeroboam, king of Israel, set up. He put a calf made of gold there, according to 1 Kings 12:28-29. I would like to personally point out that I did not make off with the golden calf. It was already gone by the time I got there. In case anyone asks.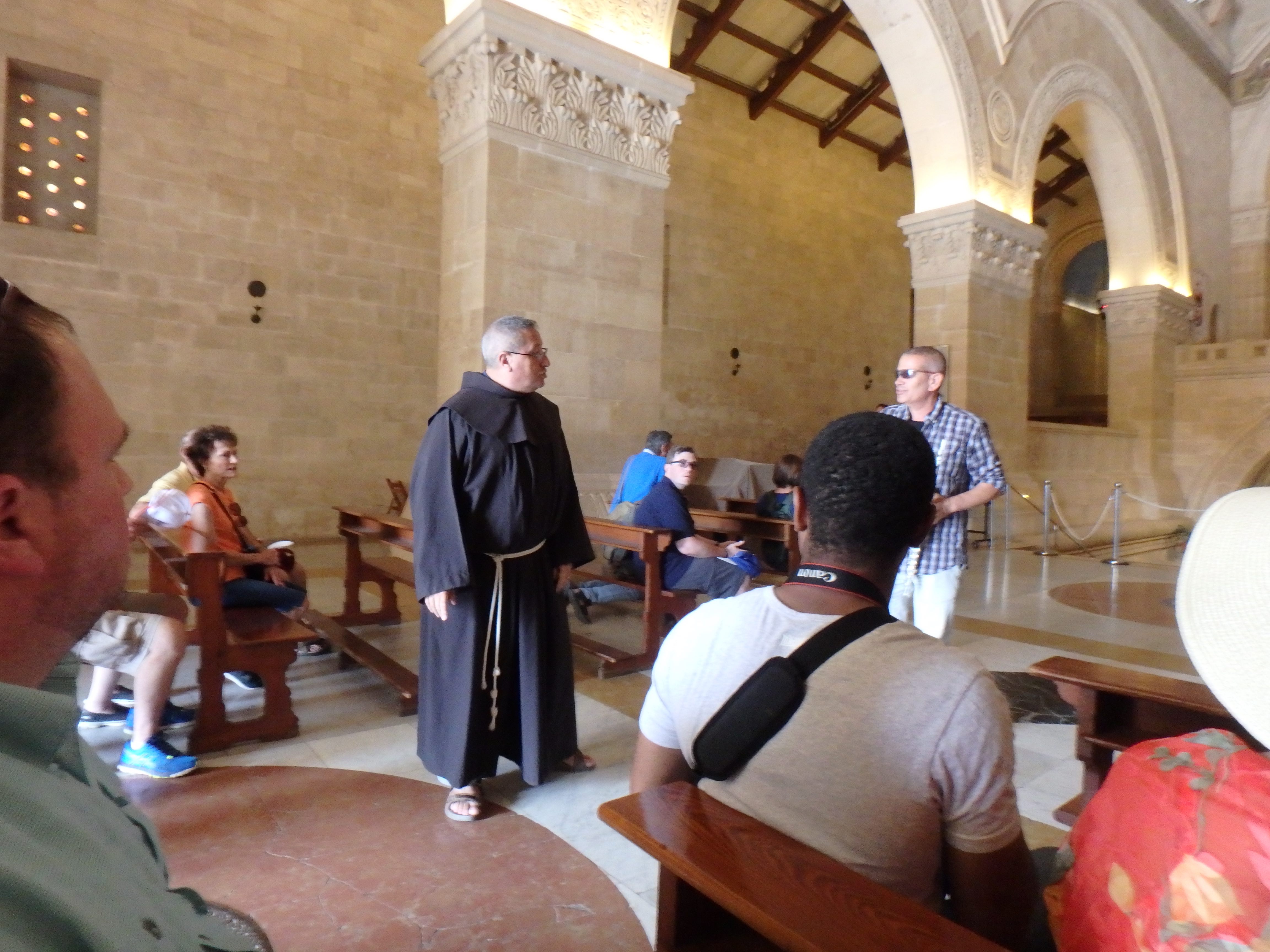 There's now a Catholic church on top of the 'mountain' from which some believe Jesus ascended into heaven. We visited the church, and promptly got chewed out by a priest, because our guide, Yossi Paz, was playing a flute in there. The priest said we didn't look Catholic, anyway, so we were welcome to go someplace else. I guess it's not always easier to get forgiveness than permission.
         Nazareth, where Jesus grew up, was a city of about 200-400 at the time, but it's a lot bigger now. They've got an interpretive village there called Nazareth Village, which they say looks just like Nazareth looked in Jesus' time. We visited an old synagogue there, and I read some Hebrew off the scroll in there. Or I would have, if I could read Hebrew. I did not get off with the scroll. In case anyone asks.
         Probably the most significant archaeological site we visited in the north was Beth She'an, which was a city of about 70,000 people in Jesus' time. There's a huge theater there that seats about 7,000 head, and a bathhouse next door. The city was Helenistic during Jesus' time, so it was full of Greeks. They held some pretty sketchy plays at the theater, and then the folks would go next door to the bathhouse to relax.
         The interesting thing about Beth She'an is that the rich guys who lived there would sit around in the bath house, and the warm water would condense on the flat ceiling, and drip on their heads, and mess up their hair. They didn't like that worth a shekel. So they got to thinking that if the ceiling was domed, the water would run off to the sides, and not drip on their heads. So they invented the Roman arch, which revolutionized architecture for centuries. All because they wanted to save their dos. Really.
         After the Golan Heights we headed south, and spent a couple of days at a kibbutz called the Kalia Hotel. It sits right next to the Dead Sea, in the Qumran area. The caves where the Dead Sea Scrolls were found are right behind the hotel, but there really isn't much to see there. And in case anyone asks, I didn't find any scrolls. At least none with pictures.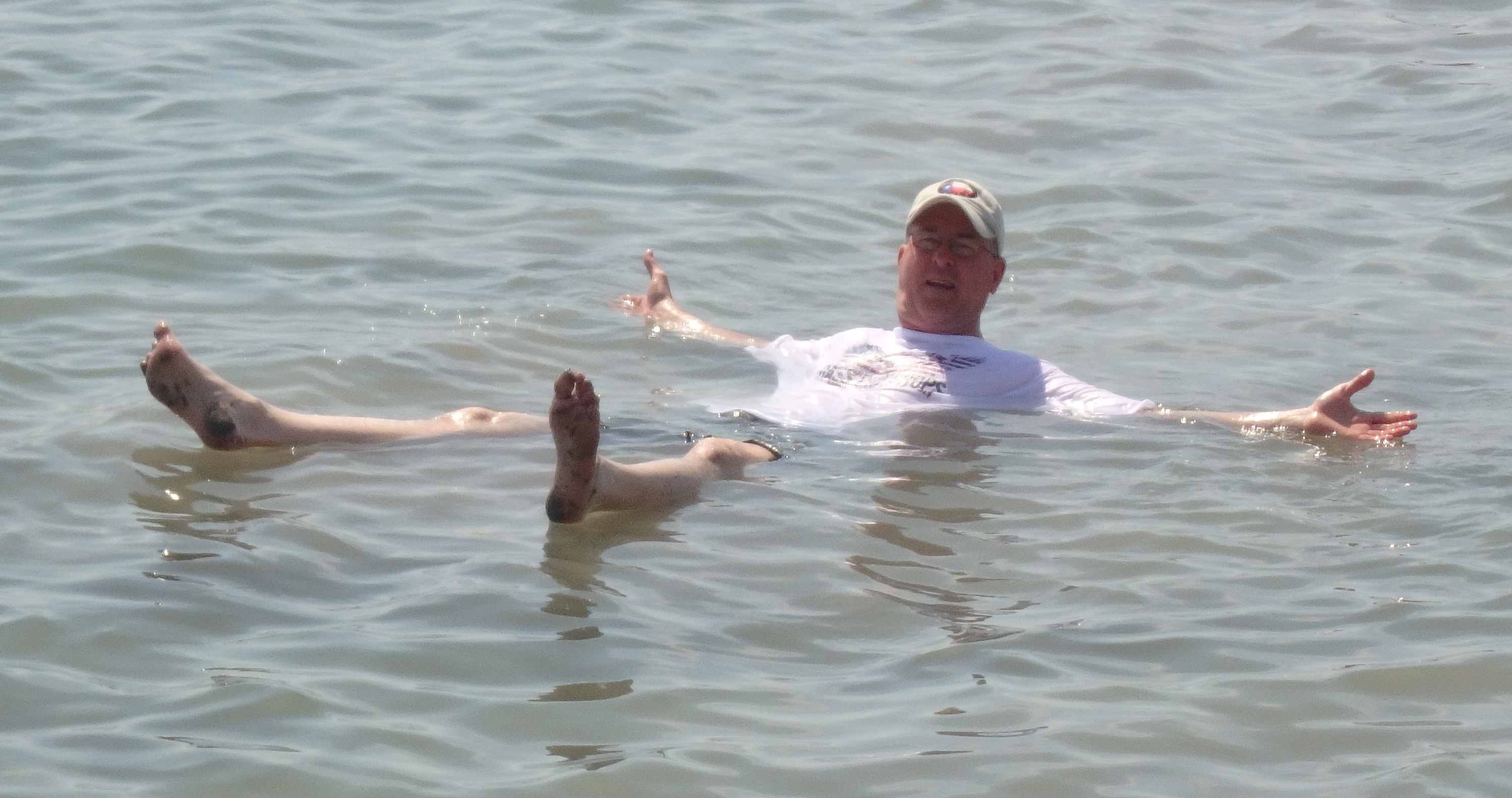 No trip to Israel is complete without a dip in the Dead Sea, so we spent an afternoon at Kalia Beach. The air all around the Dead Sea is full of bromide, which makes you mellow, which is good, since getting any of the water in your eyes is a Bad Thing. If you're mellow you don't worry about it. Much. Drinking the water will kill you deader'n David's donkey, which is an old Jewish expression I just made up.
         The funny thing about Kalia Beach is that they have a lifeguard there. Now, you can't sink in the Dead Sea, unless you swim with a Chevrolet in your back pocket. The water is thick as camel's milk. I guess the lifeguard is kind of like the Maytag repairman – not needed, but there just in case.
         And in case anyone asks, I didn't push the lifeguard stand into the Dead Sea. As far as you know . . .
Kendal Hemphill is an outdoor writer and minister in Sheridan, Arkansas, who plans to wrap up the whole Israel thing next week. As far as you know. Write to him at [email protected]
Get more stories like this by signing up for our daily newsletter, The LIVE! Daily.