SAN ANGELO – Nearly 50 suspects were booked into the Tom Green County Detention Facility over the past weekend.
San Angelo LIVE! Makes no assumptions or representations about guilt or innocence of anyone on the booking report. Individuals charged with crimes are presumed innocent until proven guilty. Information on the site should not be used to determine any person's actual criminal record.
The San Angelo Police Department, the Tom Green County Sheriff's Office, and the Texas Department of Public Safety made 47 arrests including the following:
Tabitha Hutson was arrested for assault that caused bodily injury to a family member on Jul. 31 at 5:06 p.m. Her bond is set at $1,500.
Destini Casey was arrested for harassment of a public servant, class c assault against a peace officer, resisting arrest, and possession of drug paraphernalia at on Jul. 30 7:26 p.m. Her bond is set at $16,674. 
Arriele Ramirez was arrested abandoning and endangering a child with intent to return, leaving a child in a vehicle, and 10 MISC CPFs on Jul. 30 at 7:10 p.m. Her bond has not been set at this time.
There are currently 503 inmates at the TGCDF as of Monday morning.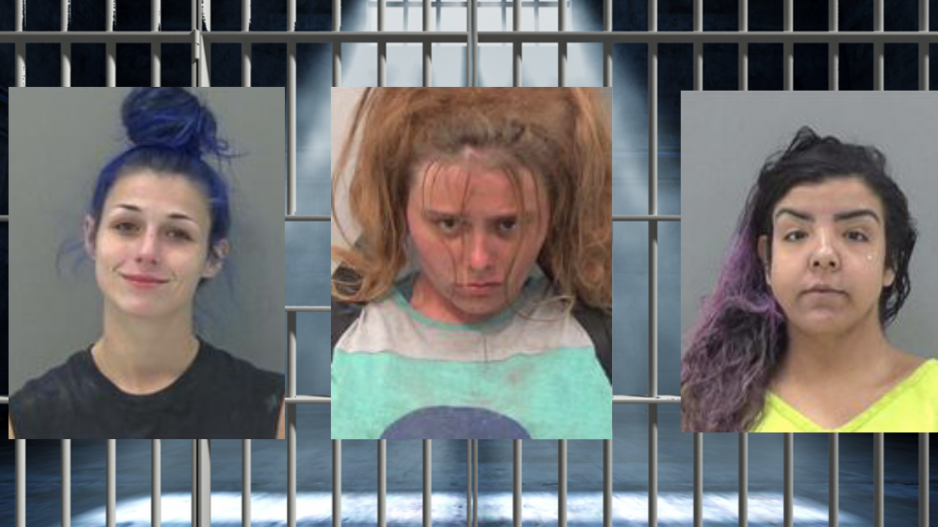 The following were booked into the Tom Green County Detention Facility over the past 72 hours:
SANCHEZ, SHAWN 
Booking #:
440710
Booking Date:
07-30-2022 - 4:29 am
Charges:
55999999 POSS/DEL DRUG PARAPHERNALIA
MISC FTA X 1
Bond:
$1264.00
---
MYERS, HEATHER 
Booking #:
440709
Booking Date:
07-30-2022 - 4:18 am
Charges:
41999999 PUBLIC INTOXICATION
Bond:
$442.00
---
MUNOZ, AARON 
Booking #:
440708
Booking Date:
07-30-2022 - 3:36 am
Charges:
54040028 DRIVING WHILE INTOXICATED W/CHILD UNDER 15YOA
Bond:
No Bond
---
PENA, JOSE 
Booking #:
440707
Booking Date:
07-30-2022 - 1:39 am
Charges:
MISC CPF X 1
Bond:
No Bond
---
CORTEZ, JESSICA 
Booking #:
440706
Booking Date:
07-30-2022 - 1:19 am
Charges:
23990178 THEFT OF SERV >=$100<$750
Bond:
$500.00
---
JIMINEZ, MICHAEL 
Booking #:
440705
Booking Date:
07-30-2022 - 12:17 am
Charges:
35990247 POSS CS PG 1/1-B <1G
MISC US MARSHAL HOLD
Bond:
No Bond
---
ARELLANO, LUIS 
Booking #:
440704
Booking Date:
07-30-2022 - 12:11 am
Charges:
41999999 ALCOHOL - DUI
Bond:
$534.00
---
ESCOBEDO, CAITLYN 
Booking #:
440703
Booking Date:
07-30-2022 - 12:04 am
Charges:
35620008 POSS MARIJ <2OZ
Bond:
$1000.00
---
HEDRICK, STEVEN 
Booking #:
440702
Booking Date:
07-29-2022 - 10:19 pm
Charges:
23990009 *MTR* THEFT PROP<$1,500 2/MORE PREV CONVIC
35990014 *MTR* POSS CS PG 1 <1G
Bond:
No Bond
---
CASTRO, ADAM 
Booking #:
440701
Booking Date:
07-29-2022 - 10:15 pm
Charges:
41999999 PUBLIC INTOXICATION
Bond:
$462.00
---
MEDINA, ALEXIS 
Booking #:
440700
Booking Date:
07-29-2022 - 10:12 pm
Charges:
35990014 *MTR* POSS CS PG 1 <1G
Bond:
No Bond
---
BARRERA, GLORIA 
Booking #:
440699
Booking Date:
07-29-2022 - 9:38 pm
Charges:
54999999 DRIVING WHILE LICENSE INVALID
54999999 SPEEDING-10% OR OVER 40 MPH
MISC VPTA X 2
Bond:
$2966.00
---
RODRIGUEZ, MIKE 
Booking #:
440698
Booking Date:
07-29-2022 - 7:59 pm
Charges:
54040009 DRIVING WHILE INTOXICATED
Bond:
$1000.00
---
GRANADOS, BLANCA 
Booking #:
440697
Release Date:
07-29-2022 - 8:43 pm
Booking Date:
07-29-2022 - 6:45 pm
Charges:
MISC MARSHAL HOLD
Bond:
No Bond
---
granados, hugo 
Booking #:
440696
Release Date:
07-29-2022 - 8:43 pm
Booking Date:
07-29-2022 - 6:33 pm
Charges:
MISC MARSHAL HOLD
Bond:
No Bond
---
GRANADOS, HUGO 
Booking #:
440695
Release Date:
07-29-2022 - 8:43 pm
Booking Date:
07-29-2022 - 6:30 pm
Charges:
MISC MARSHAL HOLD
Bond:
No Bond
---
FRENTZ, KRISTINA 
Booking #:
440694
Booking Date:
07-29-2022 - 5:36 pm
Charges:
32.41 ISSUANCE OF BAD CHECK ICON
MISC COMM X3
Bond:
$2100.00
---
AGUIRRE, ANTHONY 
Booking #:
440693
Booking Date:
07-29-2022 - 5:31 pm
Charges:
11990015 SEX ABUSE OF CHILD CONTINUOUS: VICTIM UNDER 14
Bond:
No Bond
---
REYNA, FRANCISCO 
Booking #:
440692
Booking Date:
07-29-2022 - 3:01 pm
Charges:
38990026 VIOL BOND/PROTECTIVE ORDER 2+ TIMES W/I 12 MO
38990027 VIOL BOND/PROTECTIVE ORDER
Bond:
$175000.00
---
WIRTZ, JUSTIN 
Booking #:
440691
Booking Date:
07-29-2022 - 1:25 pm
Charges:
35620008 POSS MARIJ <2OZ
35990249 POSS CS PG 1/1-B >=4G<200G
52120009 UNL POSS FIREARM BY FELON
Bond:
$1000.00
---
CRUZ, NATHAN 
Booking #:
440690
Booking Date:
07-29-2022 - 1:16 pm
Charges:
23990196 THEFT PROP <$2,500 2/MORE PREV CONV
Bond:
$15000.00
---
CANO, MARTIN 
Booking #:
440689
Release Date:
07-29-2022 - 9:58 pm
Booking Date:
07-29-2022 - 12:35 pm
Charges:
35620008 *GOB* POSS MARIJ <2OZ
35990023 *GOB* POSS CS PG 3 < 28G
Bond:
No Bond
---
VASQUEZ, JONATHON 
Booking #:
440688
Booking Date:
07-29-2022 - 12:26 pm
Charges:
50150004 MTR*BAIL JUMPING AND FAIL TO APPEAR FELONY
Bond:
$25000.00
---
GUERRERO, JOSE 
Booking #:
440687
Booking Date:
07-29-2022 - 11:42 am
Charges:
35990003 MAN DEL CS PG 1 >=4G<200G
Bond:
No Bond
---
GUERRERO, MARIBEL 
Booking #:
440686
Booking Date:
07-29-2022 - 11:30 am
Charges:
35990003 MAN DEL CS PG 1 >=4G<200G
Bond:
No Bond
FULFS, CHAD 
Booking #:
440725
Booking Date:
07-31-2022 - 3:58 am
Charges:
41999999 PUBLIC INTOXICATION
Bond:
$442.00
---
DURAN, RUBEN 
Booking #:
440724
Booking Date:
07-31-2022 - 3:43 am
Charges:
MISC CPF X 4
Bond:
No Bond
---
DORSEY, DONALD 
Booking #:
440723
Booking Date:
07-31-2022 - 3:39 am
Charges:
54040009 DRIVING WHILE INTOXICATED
Bond:
$1000.00
---
MURILLO, JUAN 
Booking #:
440722
Booking Date:
07-31-2022 - 3:06 am
Charges:
54040009 DRIVING WHILE INTOXICATED
Bond:
$1000.00
---
GALINDO, BRENDA 
Booking #:
440721
Booking Date:
07-31-2022 - 2:29 am
Charges:
54040010 DRIVING WHILE INTOXICATED 2ND
Bond:
$1500.00
---
BLAKE, DAVID 
Booking #:
440720
Booking Date:
07-31-2022 - 1:42 am
Charges:
35990249 POSS CS PG 1/1-B >=4G<200G
52030027 UNL CARRYING WEAPON
54040009 DRIVING WHILE INTOXICATED
Bond:
$1500.00
---
Ibarra, Samantha 
Booking #:
440719
Booking Date:
07-31-2022 - 1:31 am
Charges:
54999999 EXPIRED VEHICLE REGISTRATION
54999999 NO PROOF OF FINANCIAL RESPONSIBILITY
MISC CPF X 8
MISC VPTA X 2
Bond:
$2322.00
---
HERNANDEZ, JAMES 
Booking #:
440718
Booking Date:
07-31-2022 - 12:28 am
Charges:
54999999 PARKED MORE THAN 18' FROM THE CURB
Bond:
$314.00
---
SCHUMPERT, SEAN 
Booking #:
440717
Release Date:
07-31-2022 - 3:13 am
Booking Date:
07-30-2022 - 11:18 pm
Charges:
54990067 DRIVING W/LIC INV W/PREV CONV/SUSP/W/O FIN RES
Bond:
$500.00
---
HERNANDEZ-GARZA, ELEAZAR 
Booking #:
440716
Booking Date:
07-30-2022 - 9:20 pm
Charges:
54040009 DRIVING WHILE INTOXICATED
Bond:
$1000.00
---
CRUZ, JOSEPH 
Booking #:
440715
Booking Date:
07-30-2022 - 7:49 pm
Charges:
35990019 *GOB* POSS CS PG 2 < 1G
41999999 MINOR IN POSSESSION OF ALCOHOL (SUBSEQUENT ALCOHOL OFFENSE)
55999999 POSS/DEL OF DRUG PARAPHERNALIA
55999999 TOBACCO - POSSESSION/CONSUMPTION/PURCHASE UNDER 21
MISC FTA X1
Bond:
$2988.00
---
HIDALGO, EDDIE 
Booking #:
440714
Booking Date:
07-30-2022 - 7:42 pm
Charges:
35990242 MAN DEL CS PG 1-B <1G
35990247 POSS CS PG 1/1-B <1G
55999999 POSS/DEL DRUG PARAPHERNALIA
MISC CPF X 9
MISC FTA X 2
Bond:
$1766.00
---
Casey, Destini 
Booking #:
440713
Booking Date:
07-30-2022 - 7:26 pm
Charges:
13999999 ASSAULT CLASS C-PEACE OFFICER
48010006 RESIST ARREST SEARCH OR TRANSPORT
55999999 POSS/DEL DRUG PARAPHERNALIA
70990140 HARRASSMENT OF PUBLIC SERVANT
Bond:
$1674.00
---
RAMIREZ, ARRIELE 
Booking #:
440712
Booking Date:
07-30-2022 - 7:10 pm
Charges:
38060019 ABANDON ENDANGER CHILD W/INTENT TO RETURN
73999999 LEAVING A CHILD IN A VEHICLE
MISC CPF X 10
Bond:
$462.00
---
VILLARREAL, JOHNNY 
Booking #:
440711
Booking Date:
07-30-2022 - 6:03 am
Charges:
35990247 POSS CS PG 1/1-B <1G
Bond:
$2500.00
GARCIA, SAMANTHA 
Booking #:
440732
Booking Date:
08-01-2022 - 4:41 am
Charges:
MISC PAROLE VIOLATION
Bond:
No Bond
---
BROWNRIGG, ZACHARY 
Booking #:
440731
Booking Date:
08-01-2022 - 2:38 am
Charges:
22990001 *MTR* BURGLARY OF BUILDING (FS)
23999999 THEFT CLASS C
35990014 *MTR* POSS CS PG 1 <1G
54999999 EXPIRED VEHICLE REGISTRATION
54999999 NO PROOF OF FINANCIAL RESPONSIBILITY
MISC FTA X 1
MISC VPTA X 2
Bond:
$3368.00
---
HAMPTON, DAVID 
Booking #:
440730
Booking Date:
08-01-2022 - 1:55 am
Charges:
54999999 LIGHTS-DEFECTIVE BRAKE LIGHT
Bond:
$374.00
---
BERMEA, CONCHITA 
Booking #:
440729
Booking Date:
08-01-2022 - 1:43 am
Charges:
35990247 POSS CS PG 1/1-B <1G
Bond:
No Bond
---
OVALLE, SAMUEL 
Booking #:
440728
Booking Date:
07-31-2022 - 5:08 pm
Charges:
35620008 *GOB* POSS MARIJ <2OZ
54999999 DWLI
54999999 NO PROOF OF FINANCIAL RESPONSIBILITY
MISC VPTA X2
Bond:
$3152.00
---
HUTSON, TABITHA 
Booking #:
440727
Booking Date:
07-31-2022 - 5:06 pm
Charges:
13990031 ASSAULT CAUSES BODILY INJURY FAMILY VIOLENCE
Bond:
No Bond
---
KING, ANDRE 
Booking #:
440726
Release Date:
07-31-2022 - 4:58 pm
Booking Date:
07-31-2022 - 3:11 pm
Charges:
54999999 EXPIRED VEHICLE REGISTRATION
MISC VPTA
Bond:
$1040.00
View Profile >>>
The following were released from the TGCDF over the past 72 hours:
CANO, MARTIN 
Booking #:
440689
Release Date:
07-29-2022 - 9:58 pm
Booking Date:
07-29-2022 - 12:35 pm
Charges:
35620008 *GOB* POSS MARIJ <2OZ
35990023 *GOB* POSS CS PG 3 < 28G
Bond:
No Bond
---
GRANADOS, BLANCA 
Booking #:
440697
Release Date:
07-29-2022 - 8:43 pm
Booking Date:
07-29-2022 - 6:45 pm
Charges:
MISC MARSHAL HOLD
Bond:
No Bond
---
granados, hugo 
Booking #:
440696
Release Date:
07-29-2022 - 8:43 pm
Booking Date:
07-29-2022 - 6:33 pm
Charges:
MISC MARSHAL HOLD
Bond:
No Bond
---
GRANADOS, HUGO 
Booking #:
440695
Release Date:
07-29-2022 - 8:43 pm
Booking Date:
07-29-2022 - 6:30 pm
Charges:
MISC MARSHAL HOLD
Bond:
No Bond
---
IBARRA, PHILLIP 
Booking #:
440166
Release Date:
07-29-2022 - 7:28 pm
Booking Date:
06-27-2022 - 5:49 pm
Charges:
13999999 ASSAULT CLASS C
MISC PAROLE VIOLATION
Bond:
$512.00
---
REYNA, ANDREW 
Booking #:
440596
Release Date:
07-29-2022 - 4:58 pm
Booking Date:
07-23-2022 - 4:33 am
Charges:
22990001 BURGLARY OF BUILDING (FS)
53990001 DEADLY CONDUCT
Bond:
$12500.00
---
MARQUES, CHARLES 
Booking #:
440685
Release Date:
07-29-2022 - 4:13 pm
Booking Date:
07-29-2022 - 5:51 am
Charges:
41999999 PUBLIC INTOXICATION
48990015 FAIL TO IDENTIFY GIVING FALSE/FICTITIOUS INFO
Bond:
$962.00
---
REYES, LETICIA 
Booking #:
440585
Release Date:
07-29-2022 - 3:43 pm
Booking Date:
07-22-2022 - 4:04 pm
Charges:
MISC COMM X3
Bond:
No Bond
---
LOPEZ, EDIBERTO 
Booking #:
440309
Release Date:
07-29-2022 - 3:43 pm
Booking Date:
07-06-2022 - 12:37 am
Charges:
MISC COMM X16
Bond:
No Bond
---
KING, LARRY 
Booking #:
440673
Release Date:
07-29-2022 - 3:13 pm
Booking Date:
07-28-2022 - 3:44 pm
Charges:
13990090 ASSAULT OF PREGNANT PERSON
Bond:
$7500.00
---
VALENCIA, JAZMINE 
Booking #:
440671
Release Date:
07-29-2022 - 12:58 pm
Booking Date:
07-28-2022 - 2:30 pm
Charges:
23990196 *GOB*THEFT PROP <$2,500 2/MORE PREV CONV
Bond:
No Bond
---
RAMIREZ, ALEJANDRA 
Booking #:
440681
Release Date:
07-29-2022 - 11:43 am
Booking Date:
07-28-2022 - 9:00 pm
Charges:
13990031 ASSAULT CAUSES BODILY INJURY FAMILY VIOLENCE
Bond:
$2500.00
---
DOWD, KARA 
Booking #:
440312
Release Date:
07-29-2022 - 11:43 am
Booking Date:
07-06-2022 - 9:51 am
Charges:
23990196 THEFT PROP <$2,500 2/MORE PREV CONV
35990247 POSS CS PG 1/1-B <1G
Bond:
$15000.00
---
CARDONA, BRIANNA 
Booking #:
440684
Release Date:
07-29-2022 - 10:58 am
Booking Date:
07-29-2022 - 3:47 am
Charges:
54040009 DRIVING WHILE INTOXICATED
Bond:
$1000.00
---
SUTTON, MARY 
Booking #:
440680
Release Date:
07-29-2022 - 10:58 am
Booking Date:
07-28-2022 - 8:30 pm
Charges:
54999999 SOLICITING FROM ROADWAY
55999999 POSS/DEL OF DRUG PARAPHERNALIA
MISC FTAX3
Bond:
$3001.00
---
CRUZ, MARTIN 
Booking #:
440674
Release Date:
07-29-2022 - 10:28 am
Booking Date:
07-28-2022 - 4:59 pm
Charges:
23990191 THEFT PROP >= $100<$750
Bond:
$1000.00
---
VILLANUEVA, ANTHONY 
Booking #:
440682
Release Date:
07-29-2022 - 9:58 am
Booking Date:
07-28-2022 - 11:49 pm
Charges:
35620008 POSS MARIJ <2OZ
Bond:
$1000.00
---
DIXON, JAMES 
Booking #:
440675
Release Date:
07-29-2022 - 9:58 am
Booking Date:
07-28-2022 - 6:31 pm
Charges:
35620008 POSS MARIJ <2OZ
Bond:
$1000.00
---
ARNOLD, LE-SHUNN 
Booking #:
440677
Release Date:
07-29-2022 - 8:28 am
Booking Date:
SCHUMPERT, SEAN 
Booking #:
440717
Release Date:
07-31-2022 - 3:13 am
Booking Date:
07-30-2022 - 11:18 pm
Charges:
54990067 DRIVING W/LIC INV W/PREV CONV/SUSP/W/O FIN RES
Bond:
$500.00
---
HERNANDEZ, CHRISTINA 
Booking #:
435892
Release Date:
07-31-2022 - 2:58 am
Booking Date:
10-05-2021 - 11:02 pm
Charges:
35990014 *GJI*POSS CS PG 1 <1G
35990014 POSS CS PG 1 <1G
Bond:
$10000.00
---
ROJAS, JEREMY 
Booking #:
440432
Release Date:
07-30-2022 - 12:28 pm
Booking Date:
07-13-2022 - 9:51 am
Charges:
54040009 *COMM*DRIVING WHILE INTOXICATED
Bond:
No Bond
---
MUNOZ, AARON 
Booking #:
440708
Release Date:
07-30-2022 - 11:58 am
Booking Date:
07-30-2022 - 3:36 am
Charges:
54040028 DRIVING WHILE INTOXICATED W/CHILD UNDER 15YOA
Bond:
$5000.00
---
RODRIGUEZ, MIKE 
Booking #:
440698
Release Date:
07-30-2022 - 11:13 am
Booking Date:
07-29-2022 - 7:59 pm
Charges:
54040009 DRIVING WHILE INTOXICATED
Bond:
$1500.00
---
ESCOBEDO, CAITLYN 
Booking #:
440703
Release Date:
07-30-2022 - 9:43 am
Booking Date:
07-30-2022 - 12:04 am
Charges:
35620008 POSS MARIJ <2OZ
Bond:
$1000.00
---
BARRERA, GLORIA 
Booking #:
440699
Release Date:
07-30-2022 - 9:43 am
Booking Date:
07-29-2022 - 9:38 pm
Charges:
54999999 DRIVING WHILE LICENSE INVALID
54999999 SPEEDING-10% OR OVER 40 MPH
MISC VPTA X 2
Bond:
$2966.00
---
SANCHEZ, SHAWN 
Booking #:
440710
Release Date:
07-30-2022 - 9:13 am
Booking Date:
07-30-2022 - 4:29 am
Charges:
55999999 POSS/DEL DRUG PARAPHERNALIA
MISC FTA X 1
Bond:
$1264.00
---
CASTRO, ADAM 
Booking #:
440701
Release Date:
07-30-2022 - 9:13 am
Booking Date:
07-29-2022 - 10:15 pm
Charges:
41999999 PUBLIC INTOXICATION
Bond:
$462.00
---
PENA, JOSE 
Booking #:
440707
Release Date:
07-30-2022 - 8:58 am
Booking Date:
07-30-2022 - 1:39 am
Charges:
MISC CPF X 1
Bond:
No Bond
---
CORTEZ, JESSICA 
Booking #:
440706
Release Date:
07-30-2022 - 8:58 am
Booking Date:
07-30-2022 - 1:19 am
Charges:
23990178 THEFT OF SERV >=$100<$750
Bond:
$500.00
---
ARELLANO, LUIS 
Booking #:
440704
Release Date:
07-30-2022 - 8:58 am
Booking Date:
07-30-2022 - 12:11 am
Charges:
41999999 ALCOHOL - DUI
Bond:
$534.00
---
ROBERTS, RONALD 
Booking #:
440658
Release Date:
07-30-2022 - 8:58 am
Booking Date:
07-27-2022 - 11:50 pm
Charges:
MISC COMMX2
MISC FTAX1
Bond:
$502.00
07-28-2022 - 7:42 pm
Charges:
54040009 DRIVING WHILE INTOXICATED - 1ST
Bond:
$1000.00
---
VALLES, PHILIP 
Booking #:
436918
Release Date:
07-29-2022 - 8:28 am
Booking Date:
12-09-2021 - 1:17 am
Charges:
13990076 MTR* ASSAULT FAM/HOUSE MEM IMPEDE BREATH/CIRCULAT
26050014 MTR* CREDIT CARD OR DEBIT CARD ABUSE
57070019 CRIM TRESPASS HABIT/SHLTR/SUPRFUND/INFSTRT
Bond:
No Bond
---
VASQUEZ, THOMAS 
Booking #:
440144
Release Date:
07-29-2022 - 8:13 am
Booking Date:
06-26-2022 - 1:39 pm
Charges:
MISC PAROLE VIOLATION
Bond:
No Bond
---
CONSTANCIO, MANUEL 
Booking #:
439990
Release Date:
07-29-2022 - 8:13 am
Booking Date:
06-17-2022 - 10:42 pm
Charges:
MISC PAROLE VIOLATION
Bond:
No Bond
---
REYNOLDS, JACOBI 
Booking #:
438381
Release Date:
07-29-2022 - 8:13 am
Booking Date:
03-14-2022 - 3:50 pm
Charges:
35990014 *MTR*POSS CS PG 1 <1G
35990015 *MTR*POSS CS PG 1 >=1G<4G
55999999 POSS/DEL DRUG PARAPHERNALIA
Bond:
$662.00
---
SULLIVAN, AARON 
Booking #:
437102
Release Date:
07-29-2022 - 8:13 am
Booking Date:
12-20-2021 - 2:05 pm
Charges:
11990004 *MTR*AGG SEXUAL ASSAULT CHILD
Bond:
No Bond
GUERRERO, MARIBEL 
Booking #:
440686
Release Date:
07-31-2022 - 9:28 pm
Booking Date:
07-29-2022 - 11:30 am
Charges:
35990003 MAN DEL CS PG 1 >=4G<200G
Bond:
$50000.00
---
KING, ANDRE 
Booking #:
440726
Release Date:
07-31-2022 - 4:58 pm
Booking Date:
07-31-2022 - 3:11 pm
Charges:
54999999 EXPIRED VEHICLE REGISTRATION
MISC VPTA
Bond:
$1040.00
---
BLAKE, DAVID 
Booking #:
440720
Release Date:
07-31-2022 - 4:58 pm
Booking Date:
07-31-2022 - 1:42 am
Charges:
35990249 POSS CS PG 1/1-B >=4G<200G
52030027 UNL CARRYING WEAPON
54040009 DRIVING WHILE INTOXICATED
Bond:
$36500.00
---
GUERRERO, JOSE 
Booking #:
440687
Release Date:
07-31-2022 - 4:43 pm
Booking Date:
07-29-2022 - 11:42 am
Charges:
35990003 MAN DEL CS PG 1 >=4G<200G
Bond:
$50000.00
---
FULFS, CHAD 
Booking #:
440725
Release Date:
07-31-2022 - 2:28 pm
Booking Date:
07-31-2022 - 3:58 am
Charges:
41999999 PUBLIC INTOXICATION
Bond:
$442.00
---
MYERS, HEATHER 
Booking #:
440709
Release Date:
07-31-2022 - 2:28 pm
Booking Date:
07-30-2022 - 4:18 am
Charges:
41999999 PUBLIC INTOXICATION
Bond:
$442.00
---
MURILLO, JUAN 
Booking #:
440722
Release Date:
07-31-2022 - 11:43 am
Booking Date:
07-31-2022 - 3:06 am
Charges:
54040009 DRIVING WHILE INTOXICATED
Bond:
$1000.00
---
GALINDO, BRENDA 
Booking #:
440721
Release Date:
07-31-2022 - 10:43 am
Booking Date:
07-31-2022 - 2:29 am
Charges:
54040010 DRIVING WHILE INTOXICATED 2ND
Bond:
$1500.00
---
HERNANDEZ-GARZA, ELEAZAR 
Booking #:
440716
Release Date:
07-31-2022 - 10:13 am
Booking Date:
07-30-2022 - 9:20 pm
Charges:
54040009 DRIVING WHILE INTOXICATED
Bond:
$1000.00
---
DORSEY, DONALD 
Booking #:
440723
Release Date:
07-31-2022 - 9:58 am
Booking Date:
07-31-2022 - 3:39 am
Charges:
54040009 DRIVING WHILE INTOXICATED
Bond:
$1000.00
---
HERNANDEZ, JAMES 
Booking #:
440718
Release Date:
07-31-2022 - 9:43 am
Booking Date:
07-31-2022 - 12:28 am
Charges:
54999999 PARKED MORE THAN 18' FROM THE CURB
Bond:
$314.00
The following is a key for the above abbreviations:
MISC- Miscellaneous
VOP- Violation of Parole
GOB- Going off Bond
VPTA- Violation Promise to Appear
GJI- Grand Jury Indictment
COMM- Commuted Sentence
RPR- Release of Personal Recognizance
CPF- Capias Pro Fine
J/N- Judgement NISI
ICE- Immigration Custom Enforcement
TDCJ- Texas Department of Criminal Justice
DWLI- Driving While License Invalid
POSS MARIJ- Possession of Marijuana
DWI- Driving While Intoxicated
MAN DEL CS PG – Manufacture and Delivery of a Controlled Substance Penalty Group
MO- Magistrate's Order
Most Recent Videos