San Angelo Teen Loses Life in 3 a.m. Crash at Sherwood Way and Arden Road
SAN ANGELO — A teenager was driving his Ram 3500 dually pickup northwest on Avenue N at around 3 a.m. Tuesday morning. Police said he was traveling "at a high rate of speed."
At some point inside intersection of Avenue N/Arden Rd. and Sherwood Way, the teen driver lost control and plowed into the NAPA Auto Parts sign in the northwest corner of this major intersection, Cpl. Tracy Gonzalez, spokeswoman for the San Angelo Police Department, said.
After colliding with the sign, the momentum forced the dually to collide with a NAPA Auto Parts pickup, causing a chain reaction of three other unoccupied NAPA trucks getting crammed into each other. The Ram 3500 ended up rolled over on its side in the NAPA parking lot.
Police responded at 3:04 a.m. and found the driver inside the truck dead. Justice of the Peace Susan Werner pronounced the 17-year-old boy dead, effective 3 a.m. The boy was a resident of San Angelo, but police have not released his name.
The boy was the sole occupant of the Ram 3500. None of the NAPA pickups were occupied.
The intersection is closed until mid-morning for police to conduct a detailed crash investigation.
Original Report at 7:10 a.m. — A dually pickup plowed through several parked NAPA Auto Parts delivery trucks early Tuesday morning. Police confirmed the crash resulted in a fatality.
All lanes at the intersection of Sherwood Way and Arden Rd. are blocked as fire a rescue personnel retrieve the body from the wreckage. Police notified the public of the closure via a Nixle alert early this morning at 6:30 a.m.
Update 7:30 a.m.
Police said the intersection is closed until mid-morning while traffic investigators re-create the crash as part of their investigation. The body was removed just before 7 a.m.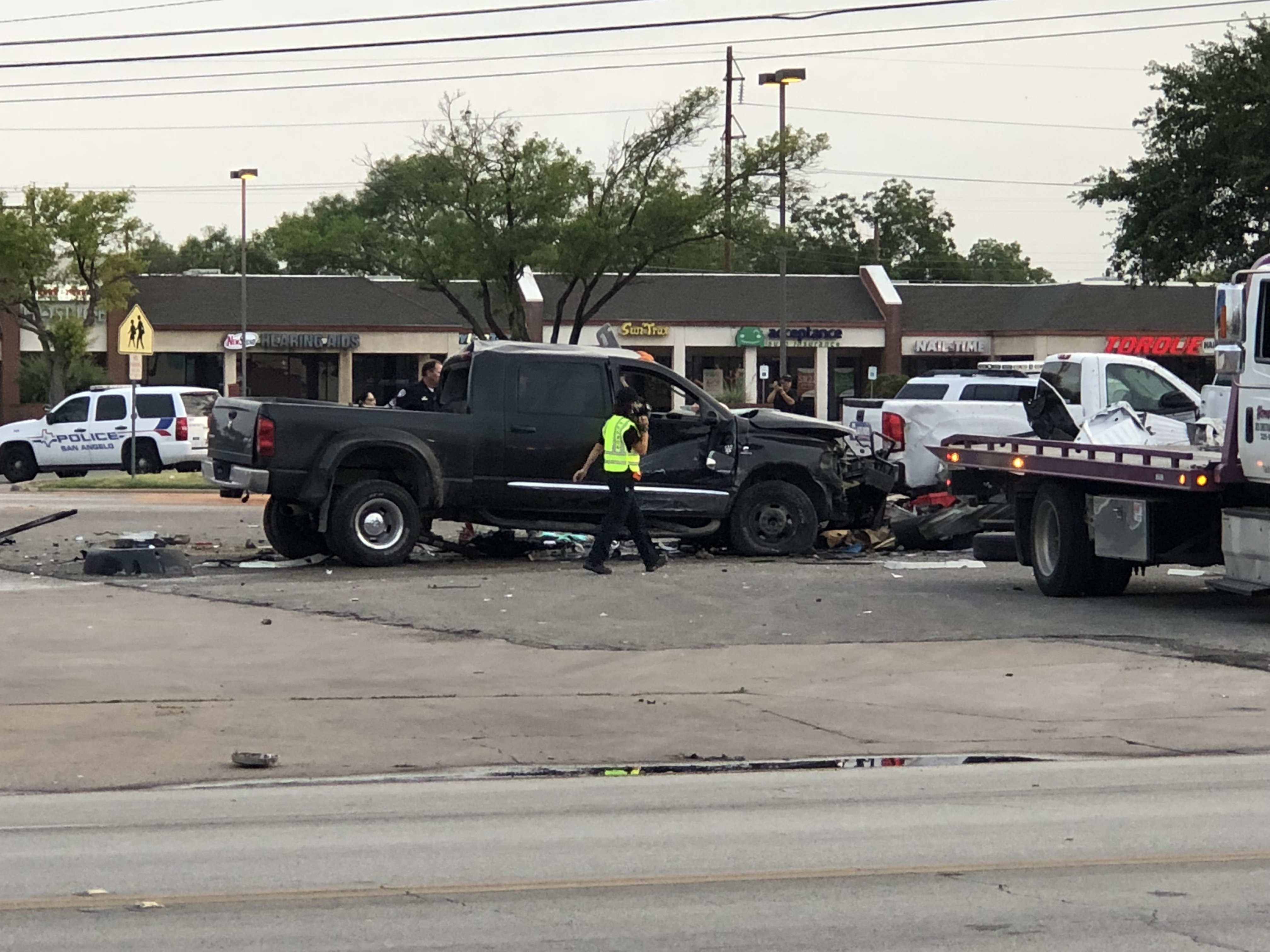 Above: The dually pickup is flipped upright before Home Motors wrecking service hauls the truck away at 7:20 a.m. (LIVE! Photo/John Basquez)
From observation, the dually pickup plowed through two NAPA Auto Parts pickups and took down the NAPA Auto Parts sign. 
Get more stories like this by
signing up for our daily newsletter, The LIVE! Daily
.