SAN ANGELO- This Saturday, the Sonora Broncos will take on the Hawley Bearcats at San Angelo Stadium in San Angelo at 7:00 p.m.
Last week, the Broncos beat the Farwell Steers 18-7 and the Sonora defense stepped up in a big way.
"We came out hot, the defense played great," Bronco's Head Coach Blake Weston said, "Lights out. I think in the second half they had 69 yards of total offense, which is huge."
Over the game, Edgar Deluna led the team in tackles with 14. Tanner Flanagan, Imanol Gayton, and Gage Owen each had a sack and Jonathan Lozano, Jaime Buitron, and Darian Reyes each grabbed an interception.
The Broncos defense has sort of been a no-fly zone as they have 17 interceptions and 46 passes defended. Reyes and Buitron have five apiece, DeLuna and Hunter O'Banon have two each, and Dylan Ford, Juan Castillo, and Lozano have each have one.
Sonora could stand to get to the opposing quarterback a little more as they've got 11 sacks on the season. They do have 56 pressures which have more than likely helped their secondary.
One pretty awesome stat is DeLuna's total tackles as he's got 178 this season. That averages out to just under 15 tackles a game and Sonora as a defense has 68 tackles for loss. Buitron, Flanagan, Ford, Lozano, Castillo, and Owen follow DeLuna in tackles with 72, 60, 58, 56, 45, and 45 respectively.
Offensively, O'Banon and Buitron far and away lead the team in rushing yards. Buitron has 1,965 yards and 24 touchdowns and O'Banon has 1,296 yards and seven scores. DeLuna follows those performances up with 715 yards on 64 attempts with five touchdowns.
Buitron can throw it as well as he's gone 93-163 for 1,572 yards, 16 touchdowns, and eight interceptions. DeLuna is Buitron's favorite target with 27 receptions for 530 yards and he's crossed the endzone seven times. Jonah Galvan, O'Banon, and Cason Griffith follow that up with 265, 201, and 134 yards respectively and have five touchdowns combined.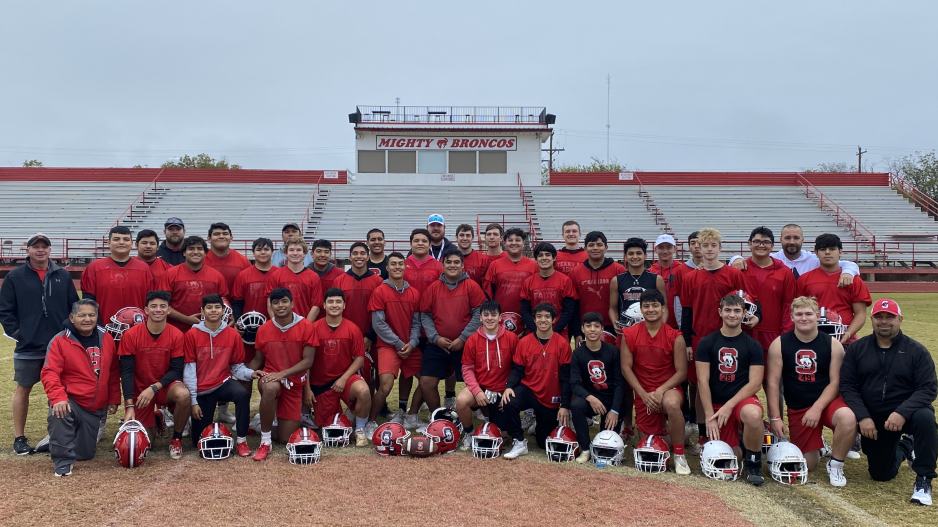 On the other sideline, the Hawley Bearcats are playing like a team possessed. They are a perfect 12-0 this season and returned key starters from last season. Speaking of last year, Hawley made it to Arlington and lost to the Shiner Comanches 47-12. Over the past two seasons, Hawley is a near perfect 27-1.
They started off their 2022 season against three 3A schools in Jim Ned, Lubbock Roosevelt, and Eastland beating all three with a combined score of 99-19.
The Bearcats are a pretty balanced team, throwing for 2,508 yards and running the ball for 2,168 yards.
Hawley quarterback Rodey Hooper has gone 130-193 (67%) for 2,406 yards, 26 touchdowns, and four interceptions. The main man on the ground is running back Austin Crumpton, who has rushed 208 times for 1,595 yards and scored 31 touchdowns. Hooper and Allyn Barker add in 318 yards and seven scores.
Hawley has an incredible group of receivers, and it starts with Diontay Ramon who has 35 catches for 773 yards and seven touchdowns. Will Scott is tied with Ramon in receptions and has 615 yards and seven scores.
Seven seems to be the magic number for these receivers as Kason O'Shields has 29 catches for 495 yards and seven touchdowns as well. Chandlin Myers adds in 29 receptions for 489 yards and is the odd man out with six scores.
Hawley's version of Edgar DeLuna is Hez Parker who has 118 tackles this season, 15 for loss. Scott has 92 tackles, Crumpton has 83, and Maddix Salazar has 77. The Bearcats live in opponent's backfields as they have 126 tackles for loss as a team.
Hawley has 24 total sacks and are led by Ramon with 6.5 who is followed by Landon Sykora with 6. Parker and Diego Stovall have three apiece, Barker, Alex Cadena, Alex Carey, Michael Painter, and Caleb Sutton are all tied with one, and Hooper helped out Ramon and has been credited with half a sack.
Sonora won't have an easy time throwing against the Bearcats as they also have 17 interceptions. Scott leads the team with four and is followed by Myers and Crumpton who has three each.
This game was supposed to be played on Friday in Big Spring but due to weather, the location has been moved to San Angelo. Big Spring is expected to get rain tonight and all day tomorrow with it finally stopping on Saturday. It's expected to rain about two and a half inches of rain over the next two days.
Several games have been moved so stay tuned to San Angelo LIVE for high school football updates.
COVER1 will be at San Angelo Stadium this Saturday for this high-octane matchup so tune in for exclusive coaches' interviews, score updates, highlights, and more at around 4:00, 8:00 and 10:00 p.m. this Saturday for a special edition of COVER1 only on San Angelo LIVE!
Most Recent Videos