SAN ANGELO, TX – Another popular restaurant will be opening in San Angelo soon and will share a building with Smoothie King on Knickerbocker Rd. according to information from the owners and developers.  
The popular Jason's Deli will share the building with Smoothie King and there are two other areas available in the building.  
As we reported earlier, Smoothie King will open a location in the former Korona's Formal Wear building at 1819 Knickerbocker Rd. 
Jason's Deli will be located in the back 4,500 square feet of the building according to John Ostrander who is one of the partners in the development.   
Ostrander says they are happy to be investing in the San Angelo location. "We are all thrilled to be working on a development in our home town. Its going to be exciting to see these concepts open that are new to the market. I think they will be very successful." Ostrander said. "The development is being done by two San Angeloens; myself and Chris Cotten. The third partner , who is my partner at Bexar Capital, is Trey Cooper. The project was financed by another San Angeloan, Cade Carpenter from CapTex Bank in Fort Worth." 
"We have Smoothie King and Jasons Deli joining the project, both new concepts to San Angelo. Smoothie King will have a drive thru and Jasons will have a pick up window." said Ostrander.  
Smoothie King will occupy the front right side of the building on the corner of Knickerbocker Rd. and Commerce St.  Jason's Deli will occupy the rear facing Commerce St.  
See the concept drawing below.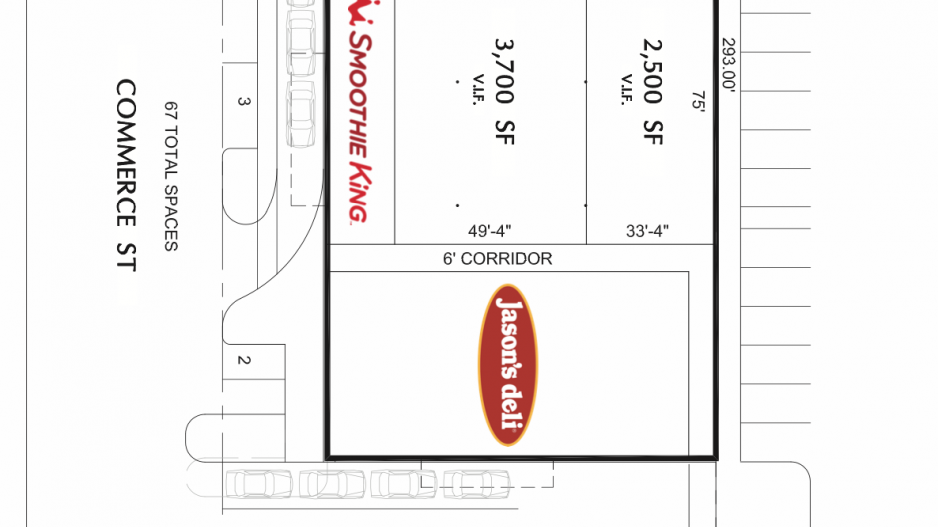 Jason's Deli is known for deli sandwiches, soups, salads, pasta & potatoes and much more.  Jason's Deli also offers breakfast and catering at most locations.  
Ostrander says Jason's Deli and Smoothie King should be open in late 2021 or early 2022.  
Jason's Deli has 275 restaurants in 28 states.  
Most Recent Videos