ROSWELL, NM — If you met Jimmy Webb in person, you wouldn't think he was the star of the hottest aviation-themed YouTube channel right now. The channel, "Jimmy's World" chronicles Mr. Webb's encounters with old, dilapidated airplanes. He said he had the idea for the channel, launched during the middle of the pandemic in December 2020, from watching popular YouTube channels where the video star travels around the country trying to start old cars, trucks, or tractors.
"Why not do that with airplanes?" he said, and so Jimmy's World was born with Episode 1 where Jimmy describes how to get a private pilot license for free (buy an old plane, fix it, train in it for your license, and then sell the plane for a profit).
Watch our investigation of Jimmy Webb of the YouTube Channel called "Jimmy's World" and why he purchased a jet once owned by Elvis Presley:
Webb's popularity stems from his quirky personality and his goal to never make a boring aviation video. He is a regular American guy with a fascination for mechanics and flying. He said his channel demographics are mostly comprised of men from their teens to their 40s. That's a lucrative advertising target because it seems no one except Internet age stars like Webb know how to reach them.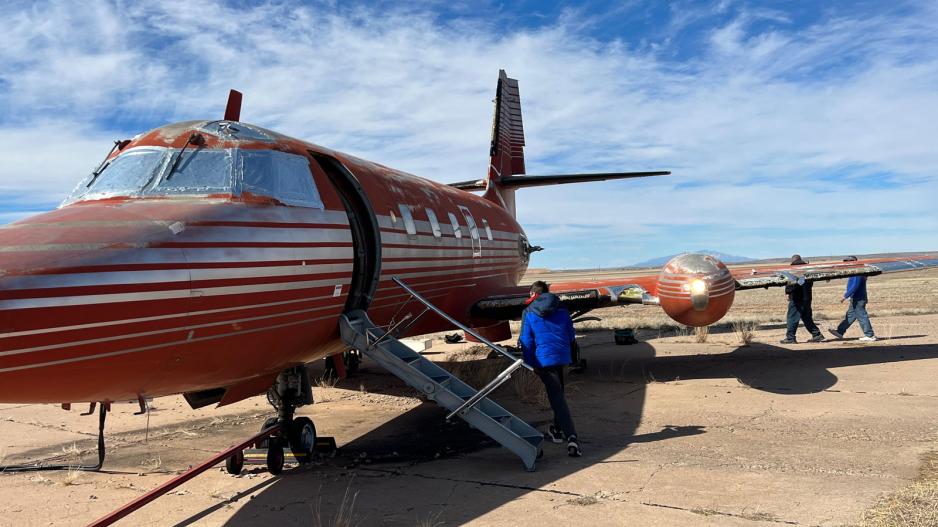 Since the end of 2020, Jimmy has traveled the U.S. finding old planes and broadcasting over YouTube himself attempting to get the old, abandoned plane started. "Abandoned Airplane. Will it Start After Being Abandoned for 10 Years?" is an example headline of one of the nearly 200 shows he has published on YouTube for 325,000 avid fans so far.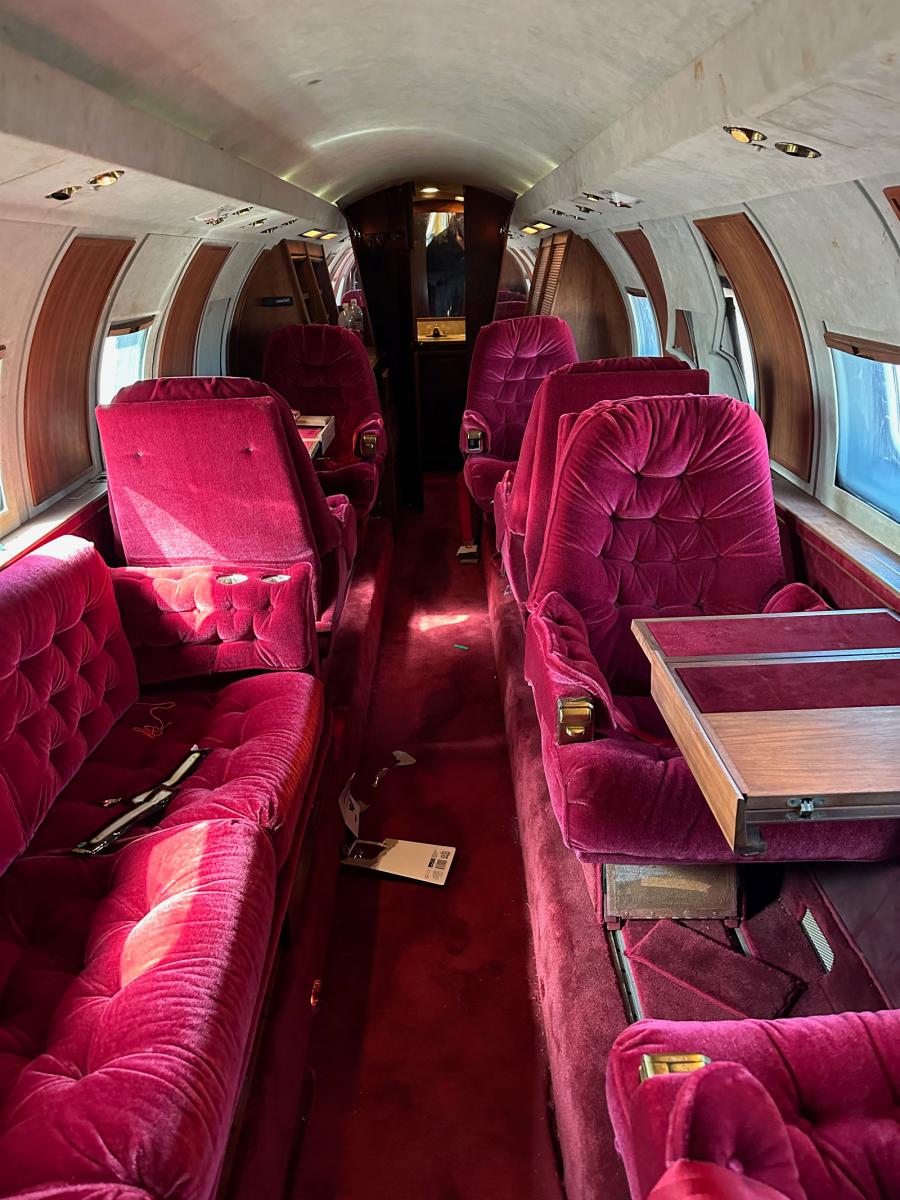 It makes sense, then, that when Jimmy heard the "Elvis Jet" that has been sitting in Roswell, New Mexico for over four decades was on the auction block, he went to the sale and tried to buy it. According to Graceland.com, there are five jets Elvis Presley once owned. Two of them, a large Convair 880 named "Lisa Marie" with a call sign of "Hound Dog 1" and a second Jetstar named "Hound Dog 2," are museum pieces at Graceland in Memphis, Tennessee. The Roswell jet is the third. We do not know where the other two are.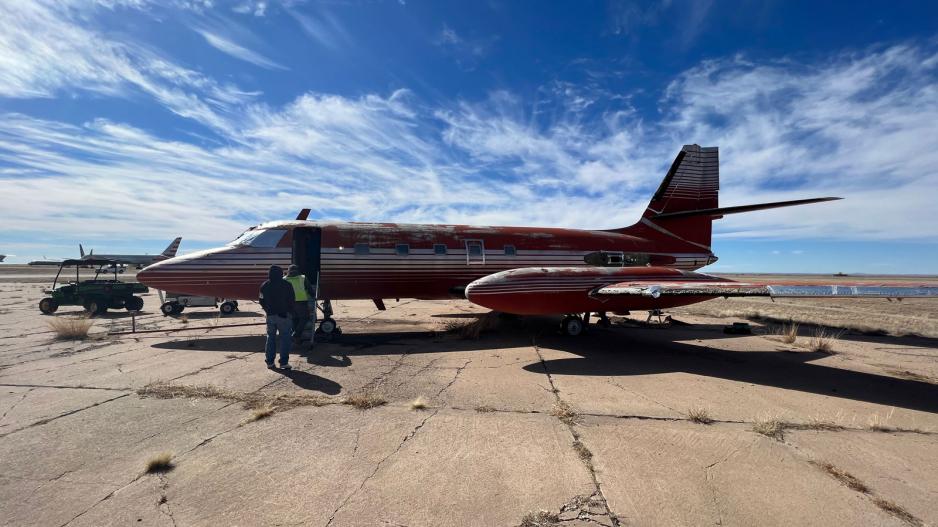 The orange 1962 Lockheed JetStar L-1329 is one of 202 ever manufactured. Considered state-of-the-art for its day, this jet could cruise at 0.8 mach (about 570 mph) with a range of 2,500 miles. Not included in Mr. Webb's purchase of the Elvis Jet are the four engines that were once mounted on the tail section. According to Webb, when he researched the maintenance paperwork after he purchased the jet, he discovered that a subsequent owner of the airplane received a loan for new engines and the bank repossessed them for non-payment. The engines have been spotted in a museum in Tennessee or Kentucky.
Will Webb attempt to remount the engines?
"I've been told this jet will never fly again," Webb explained. But on the tarmac Saturday, Webb seemed more hopeful to restore the plane to a flyable condition. The plane appeared to be in very good condition considering how long it had been sitting there.
Spare parts will be difficult to find. If he can jump the hurdle of finding four engines and can fire them up, finding sources for reliable parts for the hundreds of systems onboard the plane will be an extreme challenge. Webb seemed unfazed, though.
Still, on a cold Saturday morning (Feb. 11, 2023), Webb ordered up an auxiliary power unit (APU) from the FBO to get electrical power established on the jet. In typical "Jimmy's World" fashion, he wanted to show his audience at least a variation of his "will it start?" schtick. This time, it was to find out what worked, at least with the electrical system.
The power was applied and Webb rushed to the cockpit with his cameraman, his son Silas, right behind. Sitting in the pilot's seat facing a dashboard full of holes where flight instruments were long ago removed and sold as salvage, he fiddled with some switches.
Webb left the pilot's seat and moved to the back. The holy grail of the cabin area with the plush red velvet seats with gold-plated ornamentation was the 1970s-era entertainment system. Will it work?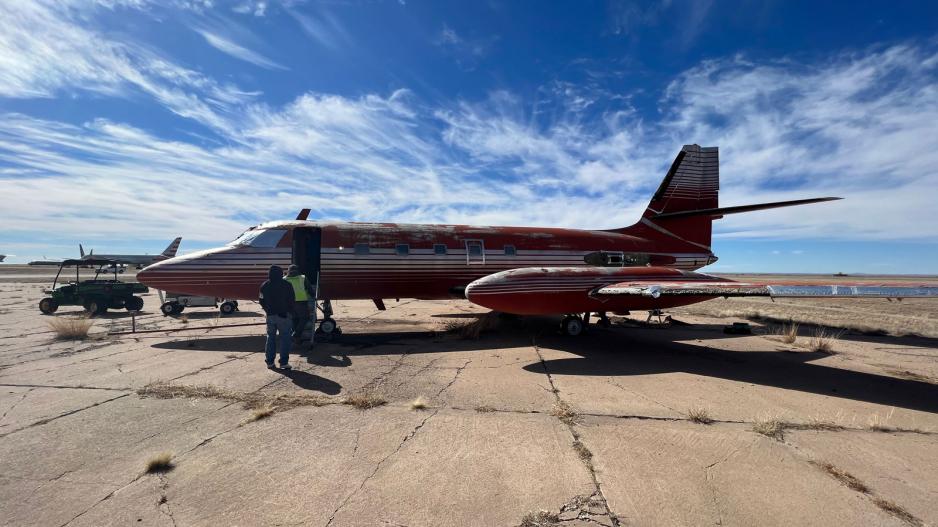 Outside, a crew Webb hired to disassemble the jet for transport back to Florida was busy cleaning out the back hatch. About 200 pounds of bird droppings and nests were falling out of the maintenance hatch as the crew from Flying Colors Air Parts of Leesburg, Florida, swept out the debris. Donald Clark, a grouchy A&P from Ocala, Florida who made a name for himself restoring old warbirds, was scouting underneath the panels on the bottom of the fuselage near where the wings were attached. He found four very large bolts. For a chance for the plane to fly again the crew had to figure out how to loosen the huge bolts to unattach the wings.
Webb plans to store the old jet at a private airpark in Plant City, Florida where he can work on the old plane. To get there, two trucks, a semi for the heavy fuselage and a dually Ford pickup with a gooseneck trailer for the two wings, have been deployed. It will probably take them three or four days to transport the jet to its new home.
This entire issue of paying nearly a quarter million dollars for an old plane that had sat for four decades raises questions. Chief among them is, what is Jimmy Webb thinking?
Elvis's wife Pricilla Presley was the star of the auction when the jet went up for sale in January at Mecum Auctions at Kissimmee, Florida. It was a grand affair. Webb chronicled his experience at the auction on his YouTube channel. It was suspenseful and at times very funny. The Cliff's Notes of the day is that a bidder over the phone outbid Webb's final number, $230,000 and Webb eventually lost the live auction to the high bidder of $260,000.
Suspiciously, the auction house called Webb back an hour later and told him that the high bidder, who phoned in his bids, had backed out and that the jet was his if he would pay his highest bid, $230,000. Webb didn't report on video the details of all of the phone calls he had with the auction house that day, but he told us he believed the president of Mecum when he told him that Mecum had $234,000 in the deal. That is, if Webb didn't purchase the jet, the auction house would have to buy it for that amount from the current owner.
Webb said he worked out a very favorable financing deal with Mecum that day but admitted that his total liability for the Elvis Jet really is $234,000. That means Webb needs to find a way to flip the jet or generate revenue with it quickly or he will lose the sweet arrangement, or worse, throw away almost a quarter million dollars.
On the tarmac Saturday, Webb pondered ideas of how he could get the old bird back into the air.
The legacy of Elvis is already seeing somewhat of a resurgence of popularity. His daughter, Lisa Marie Presley, tragically died last month. The movie, "Elvis," an epic, big-screen spectacle from Warner Bros. Pictures and Oscar-nominated filmmaker Baz Luhrmann that explores the life and music of Elvis Presley is out this month starring Austin Butler and Oscar winner Tom Hanks (You can stream it on HBOMAX and Amazon Prime). If there was ever a time to own one of Elvis's jets, this is it!
Webb was a little cagey about how he thinks he can clear this hurdle, the highest bar he has set for his YouTube show, but he wants the world watch him succeed or fail. 
"Watch Jimmy's World!" he said. Then, with a big grin on his face, he added his signature phrase used in hundreds of videos on his YouTube channel.
He asked, "What could possibly go wrong?"
Watch the saga continue to unfold on Jimmy's World on YouTube.
Most Recent Videos