SAN ANGELO, TX — Have you seen this boy? You may have. He was on the Day Sheets and the cover of the program at the 2021 San Angelo Rodeo. Before that, his photo passed around extensively on Facebook and Instagram, with many people expressing their curiosity. Who was this boy who was photographed enjoying the 1940 San Angelo Rodeo?
His picture was taken in 1940. It's official title is "Youngster in cowboy costume watching the rodeo at the San Angelo Fat Stock Show, San Angelo, Tx".
More about this photo:
David Cloys on his abstract companies' website DavickServices.com keeps an extensive collection of photos, trivia, and other interesting artifacts chronicling the history of various parts of Texas. It was there people found the boy's photo and began sharing it all over social media.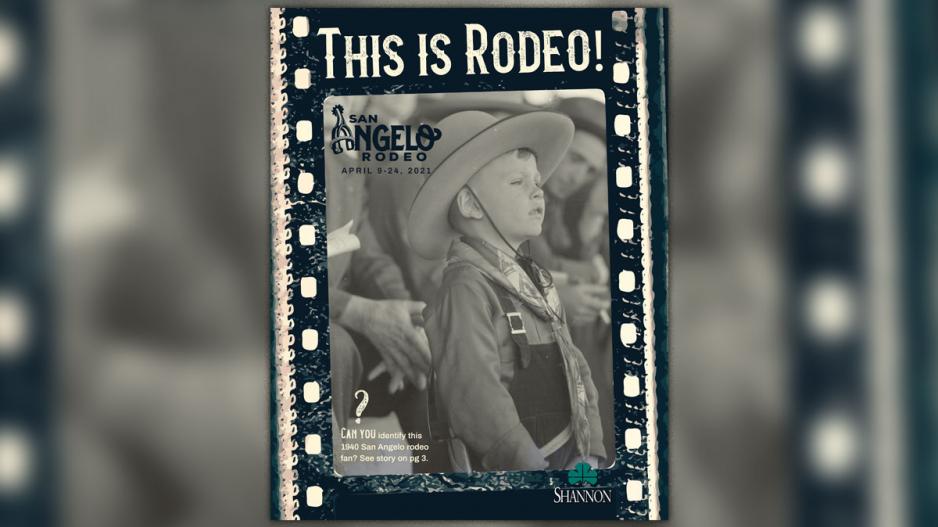 Cloys found it in the archives of the Library of Congress. In 1936, the Roosevelt administration commissioned a photo project under the Farm Security Administration/Office of War Information. The collection is available online, and in it there are many photos taken in our area in 1940.
The photographer was Russell Lee (1903-1986).
"One of the most acclaimed American photographers of the 20th century," according to HumanitiesTexas.org, Lee was one of four photographers tasked with documenting agriculture and the plight of the rural poor. Two of his most iconic series of photos were studies of San Augustine, Texas in 1939 and Pie Town, New Mexico in 1940. The Pie Town series was featured in Smithsonian Magazine as recently as 2005, the focus of a documentary in 2014, and featured on CBS News Sunday Morning in 2015.
In between those two locations, in March of 1940, he stopped in San Angelo.
Who was this unnamed boy watching the rodeo in his spiffy cowboy clothes in 1940? Why was such a popular topic of conversation? Maybe because on the one hand, we had no idea who he is. On the other, though, we recognized him. All of us, boys and girls alike, who grew up here, where each year going to the rodeo is every bit a part of our childhood as Halloween or Thanksgiving.
We look at him and know the boy in the photo has lived every day of his life in a country suffering from the Great Depression. So, he was aware that perhaps soon, the country would be engulfed in a terrible war, because the U.S. at the time was building and preparing for it. On the other hand, his expression seems to tell us that for these few hours those worries are far from his mind.
He is us. Sure, he may be someone's grandad, or great granddad, but he is also our kids, and our grandkids.
In 2021, going to see those cowboys compete at the rodeo, and watching with that same awe all of us had as a kid, mattered more to San Angelo than maybe we realized before. Maybe it meant as much to us today as it did to "Youngster in cowboy costume" in 1940.
With fingers crossed, we set out to find this particular rodeo fan!
In the 2021 San Angelo Rodeo program guide, this photo became iconic. Those running the rodeo asked if anyone knew who the boy was. The rodeo committee had no idea.
Surprisingly, the identity of the boy turned up! His life story is filled with ranching and rodeo so, it's no wonder that's where we encountered him again, some eight decades later.
On Friday April 16, 2021, Mrs. Glenda McMullan and her daughter, Mecca, stopped in the stock show office with a portrait that had been framed under glass many decades ago. The little cowboy smiling for the camera is Glenda's husband, Kenny, at around age 5. The portrait had belonged to his mother, Laura McMullan.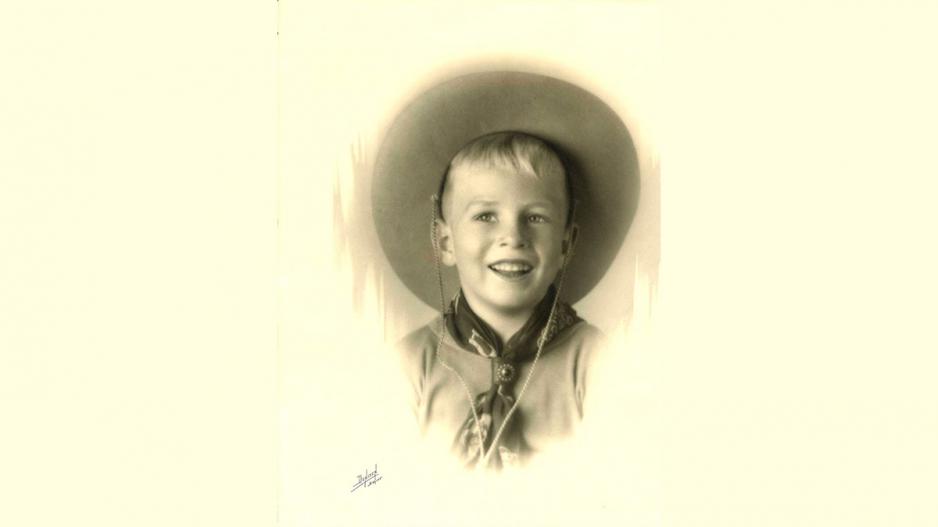 The McMullan ladies had spotted the "Rodeo Boy" photo on the cover of the rodeo program while in town earlier in the week for slack. They were immediately struck by the similarities to the photo that had been on the wall of the McMullan ranch house 10 miles east of Iraan for eight decades. Then they wondered…is Kenny the same boy? They took the program home and asked Kenny. He said, "I'm not sure, but it resembles me."They brought the photo with them on their next trip in, but they were concerned about there being a possibility it's not him. It was of utmost importance to them that they not be misleading.
"We wouldn't want to dispute another family's claim," said Glenda.
The staff at the rodeo office took a look. Examining the photos can be puzzling, initially. The kerchiefs are very similar, but not the same. The hats are very similar, but…shouldn't you be able to see the black edge on the rim? The stampede strings are totally different. As for the boy? The little bit of blonde hair coming out from under the hat is a heck of a coincidence…but does the nose turn differently on the two boys?It is amazingly hard to tell at first. However, according to a detectives show I saw one time, I learned that ears are as unique as fingerprints. Looking at a photo of Kenny taken for this article it becomes plain: the unique shapes in the boy's ear are still there today. It's him! We are convinced. But, of course, you are welcome to look at the photos and decide for yourself.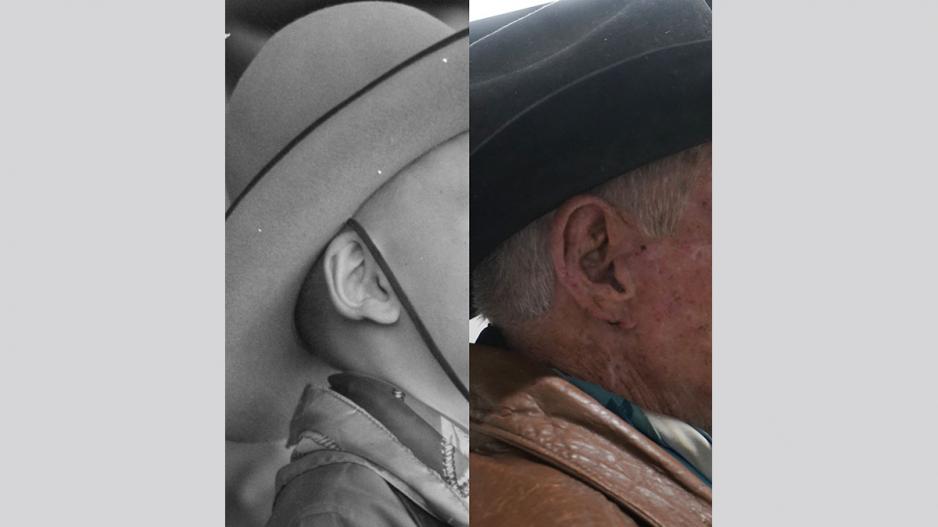 One thing is certain….Kenny McMullan was at the 1940 San Angelo Rodeo.The love for rodeo you can see in the 1940 photo never faded away. In fact, in those years in between, as rodeo has grown and evolved, the McMullan family has been right in the big middle of it.
Glenda and Mecca agreed to be interviewed for this article. We met in the hospitality room while they waited for the start of the night's rodeo. Kenny himself came to visit about the picture on the 2021 rodeo program. The following is compiled from their recollections, except where otherwise noted.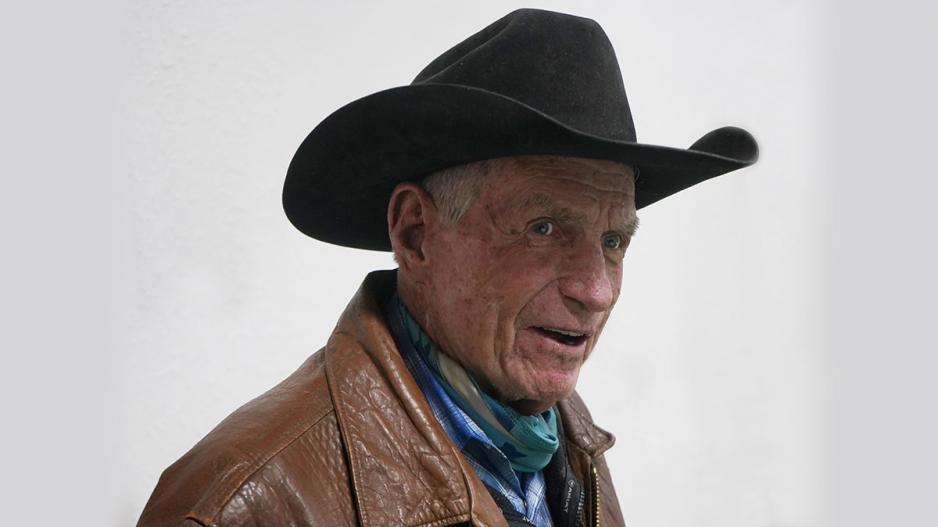 Kenny McMullan was born into a ranching family. His mother and father, Mr. and Mrs. Floyd McMullan, and his grandfather before, raised sheep on land they were "blessed to have leased" from the Shannon Estate a century ago. He remembers his parents bringing him here to San Angelo to see the rodeos in the old outdoor arena. He remembers when contestants would have rooms in the St. Angelus hotel downtown. The hotel's multiple floors, with elevators and porters to take you up, seemed like another world from life on the ranch.
Ten years after the photo was taken and already a skilled horseman and roper, he was working sheep for the family on wheat fields near San Angelo, in addition to the family ranch.
 He graduated from Central High School in 1953. After graduation, he studied at Texas Tech for a year and then served his country in the US Army, primarily stationed in Germany. While there, he made all the arrangements to bring his parents and his sister June over so that they could see Europe.
As a youngster, he competed in rodeos whenever he got a chance but was frustrated that it was only a couple of times per year. As a young man he practiced with the ropers in Big Lake, developing the skills which helped him earn his PRCA card.
When he met Glenda Friend, she was a very capable hand, raised on her family's ranch in Ozona.She played on the All-State Volleyball team for three years and advanced to regionals in basketball her senior year. However, the different UIL rules of the time meant that she had not been able to compete in any Junior rodeos with cash prizes. She left college in 1963 to marry Kenny who was almost ten years her senior.
Glenda honed her skills as a barrel racer. In fact, she was in San Angelo to RIDE in the slack for the 2021 rodeo.
Throughout their married life, they have ranched on 14 sections of the family place they named the 4M.As young adults they rodeoed throughout the 70's, racking up numerous wins and enjoying their fair share of success.Kenny competed in the Rodeo's Fall Fiesta (now known as the Cinch Roping Fiesta) from its inception and for many years thereafter. Both would eventually earn their "gold cards" in PRCA and WPRA.
The McMullan's hold an extraordinarily strong philosophy on what makes a winner. They believe it begins with the horse. Kenny's motto was, "If you want to win, ride a horse you can win on." The horses are remembered and revered as distinguished parts of their family. They have stories and photos of "Tom," "Lemonade," "Jago," "Last Dial," "Skippy," "Ace," and "Stormy…the babysitter," a Shetland who liked to ride in the bed of the pickup and also loved to drink Dr. Pepper.
Kenny's Ropes and Strings was a business created to provide the money to attend those rodeos in their younger days. Glenda recalls working with a 600 foot coil, and having 27 feet marked from the living room to the kitchen for she and Kenny to measure each individual rope.
Kenny said, "We used to make ropes by hand then sell 'em to the cowboys for six dollars plus postage. That's cheap!"
The love for and expertise with animals has kept their work diverse. In addition to sheep, they have raised and trained border collies, bred Angora goats and cross-bred lambs, and some years back, provided calves for the Roping Fiesta.
Glenda said, "Kenny has always been competitive, and if he was going to do something, he wanted to do it right. He loves ranching. It's just the thing he was born for. And all the different things that go into it he was always interested in learning to do better. Roping, to him, was important because as a youngster, practicing at the ranch, under the tutelage of his father Floyd and older brother Johnnie kept him off the streets and away from trouble."
 When Kenny won the calf roping in San Antonio, Glenda was pregnant with their first child, Shawn. He and his sister Mecca would be the beneficiaries of all the accumulated wisdom of Kenny and Glenda.
"The kids came along, and he was a wonderful teacher for them, in ranching and in roping. One thing being, he and I could tell them what mistakes not to make, because we had already made them ourselves! After a childhood spent helping and learning and going with us to rodeos, eventually one day Shawn said "I'm tired of sitting on the fence. I want to go to the rodeo and rope!" From then on, Kenny and I didn't rodeo as much because we were hauling them and their horses to their AJRA Rodeos," said Glenda.
Both McMullan kids grew up to be renowned rodeo competitors.
 Though the youngest by a few years, Mecca earned her pro card the same year as her brother. She was among the top four barrel racers in AJRA. Riding "Jetta" a horse they bred, raised, and trained themselves. She also won a world champion saddle in breakaway roping. She set records in several arenas, and she and Jetta would go on to win or place at Sheridan, Wyoming, Salt Lake City and Ogden, Utah and numerous other rodeos. "In those first few years, it was Mecca and Jetta's winnings that kept us on the road".
 Older brother Shawn would compete at four National Intercollegiate Rodeo Association finals in Bozeman, Montana. He won the nation in calf roping his sophomore and junior years. He filled his PRCA card requirement at Pecos, riding "Last Dial". He made it in to the NFR four years straight from 1992 to 1995, and was ranked third in the world in 1993, '94, and '95.
In 1995 Kenny McMullan was again watching at the San Angelo Rodeo where he witnessed son Shawn win the All-around for Tie-Down and Team Roping. It's a buckle Glenda proudly wears to this day.
 Being the father of a cowboy and cowgirl was another role Kenny excelled in.Many of his behind-the-scenes stories are legendary. Like the time he was shoeing Shawn's horse at the rodeo in Pecos. A cowboy wandered over and asked Kenny if he would shoe his horse too. Kenny said "There's the tools, son. You're welcome to use 'em yourself". A chagrined Shawn later asked him "Dad! Do you know who that is? That was Clay O'Brien Cooper!" As Kenny explains today, he replied "Well? I offered him my tools!"
Twenty-two years after Kenny won San Antonio, Shawn won it, tied with Fred Whitfield. There was only one buckle and the Chairman told Shawn and Fred they were going to have to flip a coin for it. "No, they're not!" Kenny cut in. "This is San Antonio. It's a prestigious event and both these cowboys have earned their buckles!". The melee drew the attention of a bystander who solved the problem by volunteering to donate the buckle. It was George Strait. Kenny and Glenda take turns wearing that one.
 Besides bringing up an outstanding cowboy in Shawn, Kenny and Glenda raised a wonderful young man. People at rodeos all over were continually impressed with his courtesy, his friendliness, and his faith. In Bryan Painter's article on "Oklahoman.com", Roy Cooper talks about Shawn asking permission to take his boys, future champions Cliff and Tuff Cooper, to the carnival, and recalls Shawn buying Tuff a kite. Glenda says of Cooper: "We learned from Roy Cooper that PRACTICE doesn't make perfect, PERFECT practice makes perfect." In the same article, former "Announcer of the Year" Clem McSpadden says of Shawn "his manners were impeccable".
In 1996, the McMullen family were hit with terrible tragedy. It was August, five days shy of Shawn's 27th birthday. He was working towards a fifth appearance at the NFR. Many in the industry expected that someday Shawn would be the world champion. It wasn't to be. Shawn was one of three young cowboys traveling together from a rodeo in Canby, Oregon to the next in Hermiston. It was 3am when a drunk driver came the wrong way down the interstate, 36 miles east of Portland, Oregon. Shawn unfortunately didn't survive. The woman driving the other car also did not make it. Thankfully, the other cowboys and Shawn's horses, Jellybean and Butch, lived.
His spirit lives on, celebrated in memorial match roping events in his honor. In 1996 Shawn posthumously received the "Coors Fan's Favorite Cowboy" award. He has been inducted into the Texas Rodeo Hall of Fame in Pecos and the Texas Rodeo Cowboy Hall of Fame in Fort Worth at the Stockyards Museum.
"Our faith in Jesus got us through it." Glenda says, "We know we will see him again. We're sure of it and so we were able to carry on".
Today Mecca works in the family ranching business and sometimes drives Glenda to her barrel racing slacks.
 "I'm 77 and my horse is 22!" Glenda says with a laugh. "But I'm still training and riding, and I want Mecca to get back to breakaway roping and barrel racing too".
 Kenny, now in his mid-80's, enjoyed being in the hospitality room on this particular evening. He visited with old friends and seemed especially pleased to meet several young cowboys and cowgirls here for their first performance. He discussed everything from entry fees to ropes with them. A few times he took the program and explained that he was there to be interviewed "as that rodeo boy".
Kenny has always had the same bit of advice for young ropers, "When you're in the box, stay in the corner until you nod, THEN jockey for position".
"We still go to the rodeos here, Big Spring, Pecos and Odessa." Glenda told me "These are our 'hometown' rodeos. And we watch rodeos on RFD and the Cowboy Channel. You know, Kenny still watches the ropers and talks about what the horse and roper did and did not do well and what , and he can still tell you what could have been done better."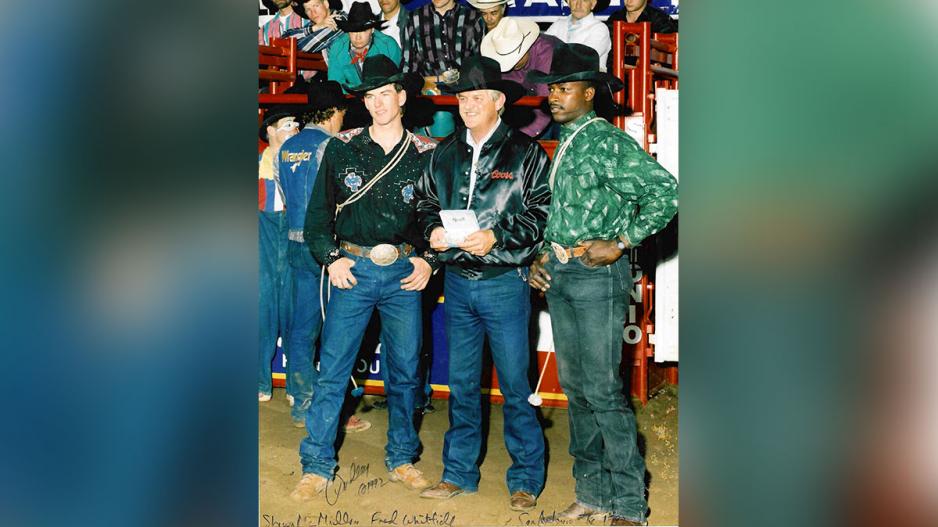 So, first we saw a picture of a five-year-old boy at a rodeo long ago. The boy is so intent on the action in front of him that he doesn't appear to know the camera is pointed at him.The photograph taken when his life was just coming into focus. He couldn't have imagined the changes he would see; moon walks, cell phones, or the internet. He would not yet have considered the laughter, tears, and love that would be his own. He wouldn't know that his beloved calf roping would evolve over his lifetime. It would come to be called "tie-down roping", the calves would be smaller, and the techniques would change to achieve faster times. Much less would he be able to comprehend that we would be seeing him through the lens all these years later.
The changes over the intervening 80 years are profound, and in today's world change comes at a faster pace all the time. However, looking at the little boy at the 1940 San Angelo Rodeo, what's wonderful is that we see that a child looking at the world with wonder still looks exactly the same now, as it did then. And it reminds us that the little boys and girls beside us in the stands are beginning their own epic stories, just like little Kenny McMullan was, all those rodeos ago.
Most Recent Videos