GALVESTON, TX –  A Black man whose arrest went viral in 2019 after he was led by rope during his arrest by two white mounted police officers is suing the city of Galveston and its police department for $1 million.
In a lawsuit filed in Galveston County court, 44-year-old Donald Neely is claiming emotional distress, malicious prosecution, and negligence by the department after his arrest in August of 2019 for criminal trespass went viral.
The lawsuit alleges the two officer's conduct was "extreme and outrageous," and even physically injured Neely in the process, which caused him an unprecedented amount of emotional distress.
On Saturday, Aug. 3, 2019, two mounted Galveston Police Officers responded to the report of an unwanted subject outside of a business. Reports indicate the victim, who was previously known by the officers to have several prior offenses for criminal trespass, had an active criminal trespass warning at the location, so the individual was immediately placed under arrest before the officers attached a lead rope to the chain of the victim's handcuffs.
Neely, a mentally ill Black man who has been living on the streets of Galveston for years, was arrested in the city's downtown area by two white Galveston police officers who attached a lead rope to his handcuffs and led him for several blocks in public view while on horseback, which brought forth many comparisons to the slavery era and drawing a variety of national scorn.
In the lawsuit states that Neely was not lucid during his arrest, after He had previously been diagnosed with paranoid schizophrenia, lived on Galveston streets since 2016, and repeatedly resisted his family's best efforts at bringing him home.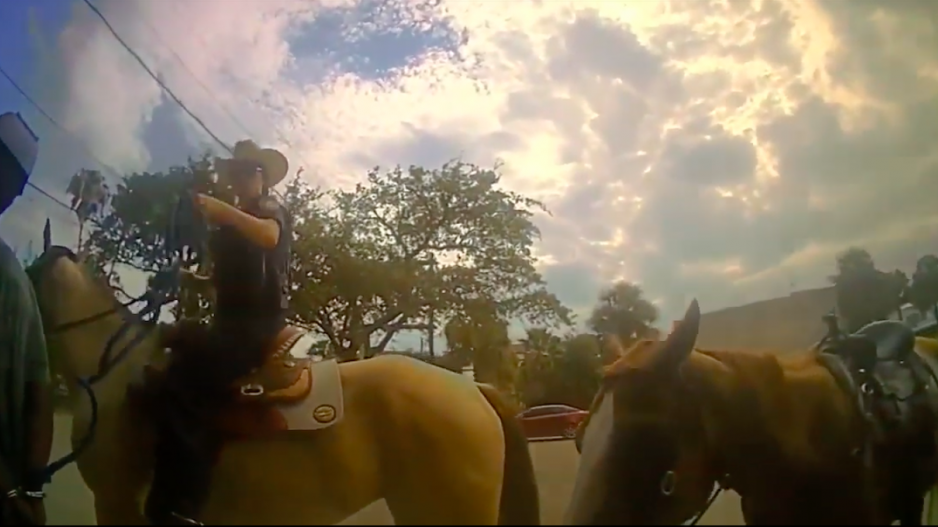 The lawsuit filed by Houston-based attorney Julie Ketterman demands a jury trial for Neely, also states  that the arresting officers "knew or should have believed that Neely, being a black man being led with a rope and by mounted officers down a city street as though he was a slave, would find this contact offensive." 
Body camera footage released of the arrest went viral social media, and revealed that the arresting officers knew the manner of the arrest would draw public criticism.
"This is gonna look really bad," said Officer Patrick Brosch after his partner, Amanda Smith, was seen clipping the lead rope line to Donald Neely's handcuffs.
Two days after the viral arrest the Galveston Police Department issued the following statement in a press release:
"We became aware Monday afternoon of a post circulating about a Saturday arrest involving two mounted patrol officers and how the arrested individual was transported. A transportation unit was not immediately available at the time of the arrest and a man was handcuffed and escorted beside two police officers on horses. While this technique of using mounted horses to transport a person during an arrest is considered a best practice in certain scenarios, such as during crowd control, the practice was not the correct use for this instance."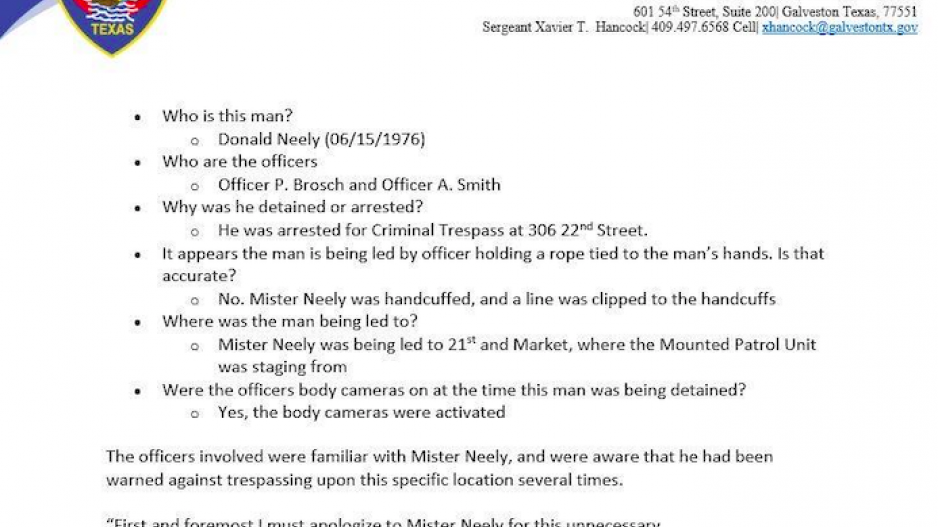 Following his arrest Neely moved in with his sister, received medical attention, and even told the Houston Chronicle in an interview that he felt extremely embarrassed after learning his arrest was seen by millions.
"It came back and hurt me because I did not know I was getting video recorded by the public," Neely said.
The city of Galveston has not responded to a request for comment on the lawsuit at this time. 
Most Recent Original Videos