SAN ANGELO, TX — The Angelo State Rams hosted the Midwestern State Mustangs for a Lone Star Conference matchup on Saturday night, November 4, at LeGrand Stadium in San Angelo. The Rams controlled the contest throughout the evening and even held the Mustangs scoreless until the 4th quarter to secure another victory, 27-12.
Angelo State's offense started slow, as they did not manage to get on the board until the 2nd quarter. Rams' kicker, Bradley Larson, kicked a 23-yard field goal to give Angelo State a 3-0 lead. Later in the first half, Kason Phillips caught a 12-yard pass from Braeden Fuller to put the Rams up by ten points. Angelo State's special teams unit put up the final touchdown after Demetrias Charles broke through the line on a 4th down to block a punt. He scooped up the loose football and returned it 20 yards to the house. Angelo State headed to the locker room at halftime up 17-0.
Gerald Gardner found Kel Williams on a 20-yard pass in the end zone for the Rams' only touchdown in the 3rd quarter. Angelo State would add three more points before the game was over.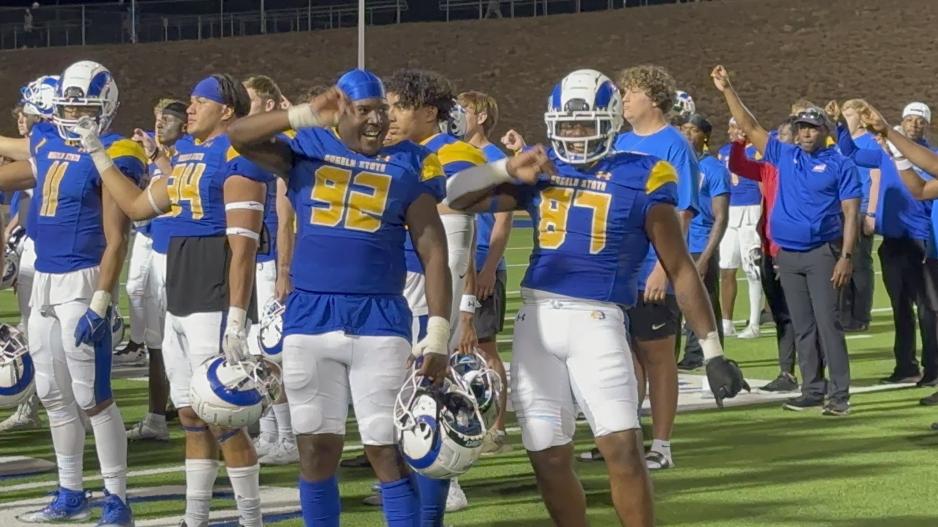 Midwestern State struggled throughout the night on offense. The Rams held the Mustangs to only 254 yards of total offense, with most of that coming in the 4th quarter when the game was well out of hand. The Mustangs finally found the end zone in the 4th quarter on a 6-yard touchdown pass and a one-yard touchdown run. Angelo State moved to 6-3 overall and 5-2 in Lone Star Conference play with the 27-12 victory.
Gerald Gardner finished the game with 19 completions on 28 attempts for 334 yards, one touchdown, and one interception.
Kyle Bradford led the Rams in receiving yards with four catches for 155 yards, followed by Zorhan Rideaux with 82 yards on six catches.
Angelo State plays its final regular season game next Saturday, November 11, when the Rams host Western Oregon at Legrand Stadium in San Angelo. Kickoff is scheduled for 6 p.m.
Most Recent Videos