SAN ANGELO— COVER1 and Carpet Tech have named their Player of the Week for Week Five and this week, that defender comes out of south Runnels County.
The Carpet Tech and COVER1 Player of the Week for Week Five is none other than Miles Bulldog junior linebacker Jaylen Torres. Against the Winters Blizzards, Torres has a monster defensive game that included 13 tackles, three tackles for loss, three sacks, and one forced fumble on defense.
Offensively, Torres took three catches and scored on one of those all while gaining 49 yards.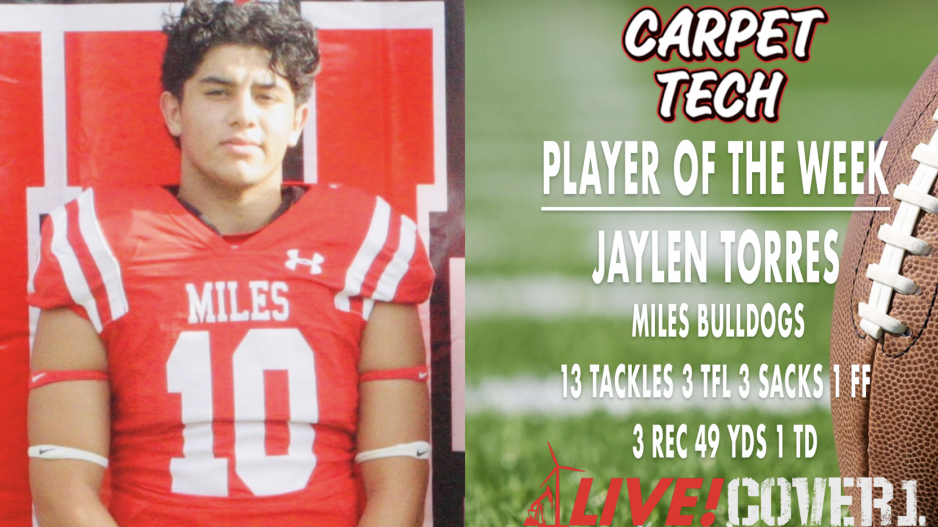 Other defensive players that were considered include:
Sonora linebacker/running back Edgar DeLuna
Brady defensive lineman DeMarcus Reed
Wall defensive lineman Ethan Michalewiz
Christoval free safety Tristen Alvarado
To be considered for COVER1 and Carpet Tech's Player of the Week, stats are a must. Stats will be pulled from Maxpreps.com or message or email San Angelo LIVE!.
This year's award sponsor is Yours Truly Engraving and Awards. Every player has one thing and that's their eye on the prize. At Yours Truly Engraving and Awards, they offer plaques, trophies, engravings, and more. Go see the guys at Yours Truly Engraving and Awards located at 2438 Sherwood Way right next door to Papa John's Pizza.
Most Recent Videos