NEW YORK, NY — Future Hall of Famer Carmelo Anthony announced his retirement from professional basketball on Monday. Anthony spent 19 seasons in the NBA, with his latest stint in Los Angeles with the Lakers in 2021. The former New York Knick made the announcement via social media through a short video. Anthony shared a video montage of career moments, writing "Thank you" on social media.
"I remember the days when I had nothing, just a ball on the court and a dream with something more," Anthony said. "But basketball was my outlet. My purpose was strong. My communities, the cities I represented with pride, and the fans that supported me along the way.
"I am forever grateful for those people and places because they made me Carmelo Anthony. But now the time has come for me to say goodbye: to the court where I made my name, to the game that gave me purpose and pride," Anthony continued. "But this bittersweet goodbye to the NBA, I am excited for what the future holds for me. When people ask what I believe my legacy is, it's not my feet on the court that comes to mind, nor the awards or praise, because my story has always been more than basketball." 
Check out the future Hall of Famer's retirement announcement here:
Anthony then passed the torch to his 16-year-old son Kiyan. "… My legacy now and forever lives on through you." The soon-to-be 39-year-old returned to New York for Game 2 of the Knicks' Eastern Conference playoff series against the Miami Heat. The Knicks lost the series 4-2. Anthony received a warm welcome from Madison Square Garden's faithful and stood up with arms in the air, thanking the crowd for the love.
Carmelo Anthony began his NBA career in 2003 in the same draft class as Lebron James. After one season at Syracuse, the All-American and National Champion entered the NBA draft. The Denver Nuggets selected Anthony with the third overall pick. He led the Nuggets to the playoffs every year he played in Denver (2004-2010) before the Knicks traded for him in 2011. Anthony was in his prime while playing in New York. His best season came in the '12-'13 season when he won the scoring title averaging more than 26 points per game.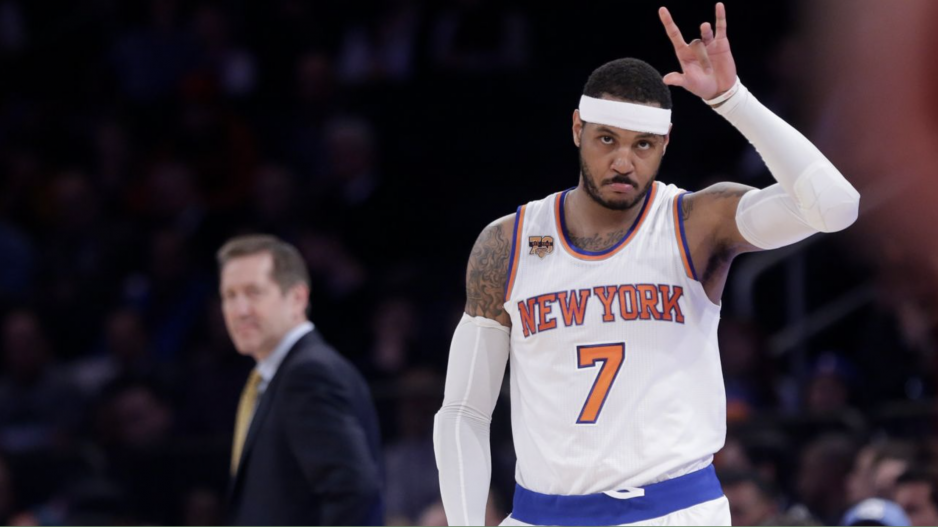 The 10-time All-Star's greatest accomplishments were in Olympic Basketball. Anthony is a 3-time gold medalist and one-time bronze medalist for the United States, has the record for most Olympic game appearances (31), and is the USA's record-holder in points scored with 336 (tied with Kevin Durant). He also holds the record for field goals, rebounds, and free throws.
Carmelo never won any NBA titles but was part of the 75th Anniversary NBA team. Anthony's legacy will be as one of the greatest pure scorers of all time.
Most Recent Videos