SAN ANGELO, TX — The No. 3 Angelo State Rams' Baseball team set a new program record for runs scored in a game on Wednesday, March 15, when they defeated the Southwestern Pirates at Foster Field at 1st Community Credit Union Stadium. Justin Harris, Jordan Williams, and Tyten Tredway all hit home runs, and the Rams destroyed the Pirates 33-4.
The 30 runs Angelo State has scored broke a program record for most runs in a game previously set at 29 back in 2021 against McMurry University. After completing the non-conference sweep of the Pirates, the Rams improved to 23-3 on the season.
Angelo State snapped off a 7-run first inning, including a three-run shot by Justin Harris. The Rams then proceeded to score 9 runs in the 2nd and 3rd innings. Jordan Williams added 4 RBIs with a 2-run shot out of left field in the 2nd inning and two more on a single in the 3rd. Entering the 4th, Angelo State led 25-0.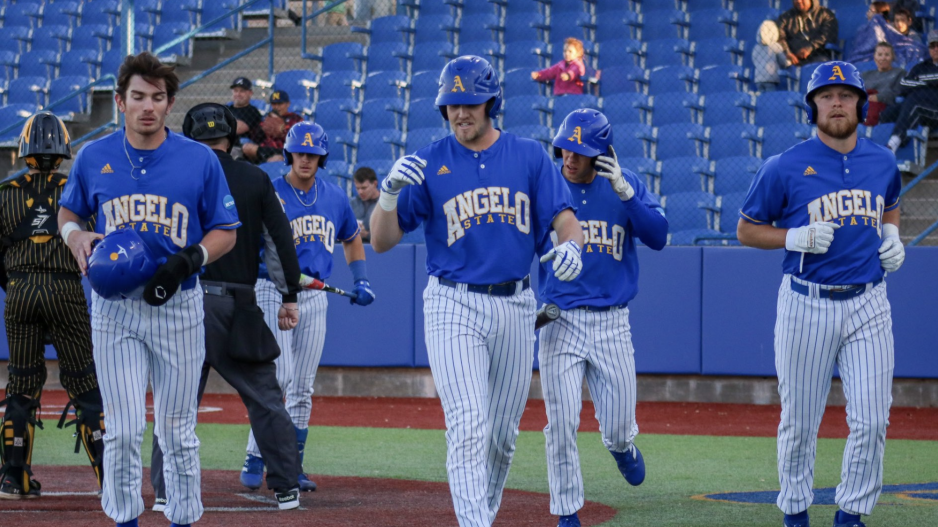 Southwestern finally scored three runs in the 4th inning off of a single and a sac fly after the Pirates walked to get on base. However, Angelo State continued to pour it on and increased their lead to 33-4 in the 5th. Mercifully that game ended in the 7th, and the Rams claimed victory 33-4.
Scott Ellis was the starting pitcher for the Rams. He pitched two innings and allowed two hits with no runs. Justin Harris posted eight RBIs on the night off of three hits, earning the second most RBIs in a single game in program history. Jordan Williams finished with five RBIs, and four others earned three each. 
The Rams return to Lone Star Conference play on Friday, March 16, against St. Mary's in game one of a four-game series at Foster Field at 1st Community Credit Union Stadium. First pitch is at 3 p.m.
Most Recent Videos