DAYTON, OH — It's that time of year again, and the 2023 men's NCAA tournament is set to kick off March Madness to determine this year's Basketball Championship on Tuesday, March 14. The tournament starts with the First Four games in Dayton, Ohio, and continues through to the 2023 Final Four in Houston.
On Tuesday night, the tournament tips off in Dayton, Ohio, to determine the final four seeds with the First Four. (16) Southeast Missouri State plays (16) Texas A&M Corpus Christi, and (11) Pittsburg plays (11) Mississippi State at 6:40 p.m. The First Four continues the following day on Wednesday with (16) Fairleigh Dickson versus (16) Texas Southern and (11) Nevada versus (11) Arizona State at 6:40 p.m. With those winners decided, March Madness officially begins on Thursday, March 16, at 12:15 p.m. 
Official Tournament dates, times, and TV stations that are showing the games are listed below.
First Four: March 14-15 on truTV (Games begin at 6:40 p.m.)
First Round: March 16-17 on CBS, truTV, TBS, and TNT (Games begin at 12:15 p.m.)
Second Round: March 18-19 on CBS, truTV, TBS, and TNT (Games begin at 12:10 p.m.)
Sweet 16: March 23-24 on CBS and TBS (Games begin at 6:30 p.m.)
Elite Eight: March 25-26 on CBS and TBS (First Saturday game begins at 6:09 p.m. First Sunday starts at 2:20 p.m.)
Final Four: April 1 on CBS (First game at 6:09 p.m.)
NCAA Championship game: April 3 on CBS (Game starts at 9:20 p.m.)
For those of us who want to get in on all the action, bracket challenges are still open, and brackets can be filled out throughout the tournament. People can fill out their official brackets at the NCAA's official website. Other sites that offer tournament challenges are ESPN, Yahoo, and CBS.
This year's tournament favorites are (1) Kansas, (1) Alabama, (1) Houston, and (1) Purdue. One-seeds historically do extremely well in the tournament. Since 1985, of the 37 national champions, 24 of them were one-seeds. In fact, 12 out of the last 15 winners have been one-seeds. March Madness is known for upsets and cinderella stories, but the best teams in the regular season are usually the teams who cut down the nets at the end of the tournament.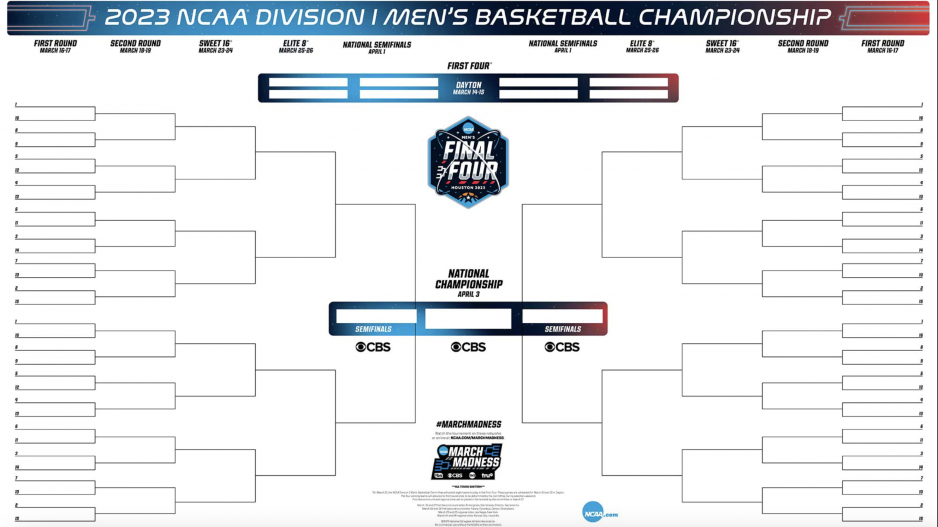 Most Recent Videos