ANDREWS, TX — The Christoval Cougars traveled to Andrews on Tuesday, Feb. 28, for their Regional Quarterfinal Matchup against the No. 5 New Home Leopards for Round 3 of the Texas High School Basketball Playoffs. The Cougars fought hard but were not enough to beat New Home, and they fell 53-36.
The Cougars had a fiery start to open the game, leading the Leopards midway through the first quarter. However, New Home is a great basketball team, and they wrestled back ahead to lead 15-11 at the end of the first quarter. Senior Landon Scott hit a three-point shot early and led the Cougars in scoring after the first with five points.   
Christoval kept the game close throughout most of the first half until a shooting drought in the last five minutes of the second quarter saw the Cougars fall behind. New Home went on a furious run with less than two minutes to go. The Leopards hit a shot at the buzzer to head into the locker room up 30-16. Sevastian Salinas led Christoval at the break with 8 points.
The Cougars continued to fight throughout the second half. Behind some furious work inside the paint, Salinas got the Christoval back within 10 points with five minutes remaining in the third quarter before New Home took over again. 
Christoval closed out the contest by outscoring New Home in the fourth quarter, but at that point, it was already too late. The Cougars fell too far behind to make a serious comeback. Jaron Salton hit a three with just over a minute to go, but the Cougars' season came to an end in Round 3 of the playoffs 53-36.
Head Coach Matthew Lowry spoke well of New Home after the game. 
In regards to his seniors, "All five of these guys are going to be great young men. I told them how proud of them I was, and I thanked them. All those guys became leaders this year.
He continued, voice filled with emotion, "This being my first year, it hurts worse because I love those guys."
Sevastian Salinas led the Cougars in scoring with 20 points. Jaron Slaton finished with 6 points. Landon Scott had five points, and Ethan Busch finished with 5 points.
Christoval finishes their 2023 campaign with a 22-14 overall record. They are Bi-district and Area Champions. That's quite a resume to hang your hat on, so congratulations Cougars.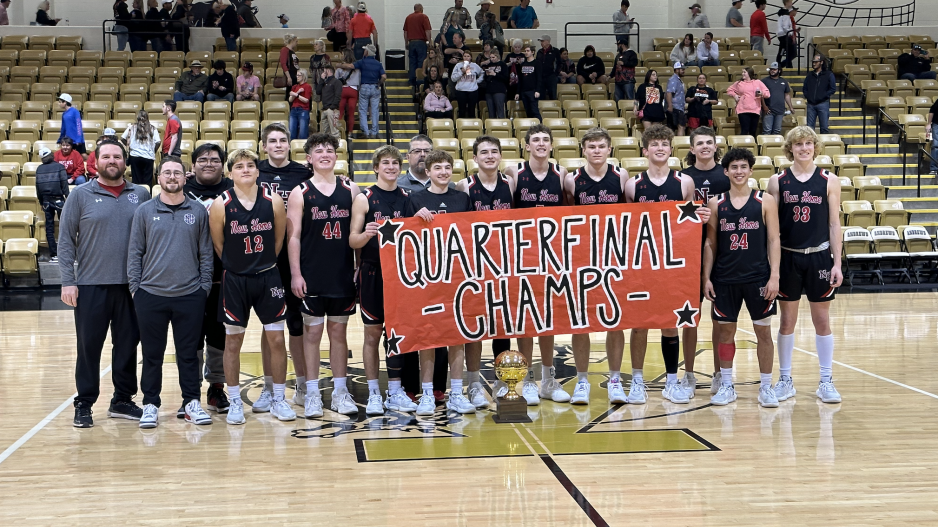 New Home moves on to the Regional Tournament starting this weekend, March, 3 in Levelland at South Plains College.
Most Recent Videos