SAN ANGELO— The Irion County Hornets took it to the Paint Rock Indians at the Junell Center in the opening round of the Boys' Basketball Playoffs Monday night.
Consider it stung.
The Hornets won big over the Paint Rock Indians 82-12 at the Junell Center at Angelo State University on Monday night behind huge numbers for just about every starter on the team.
Right from the tip off, which Irion County's Bo Morrow won, the Indians were playing catch up. Points were scarce in the very beginning until the Hornets started taking over. Irion County's J.J. Harrison and Morrow led in the opening frame with seven points, followed very closely by Trevin Coffell with six, and Henderson and Morris with two.
The Indians couldn't keep up with the size and speed of the Hornets and only managed four points, two each from Mason Meares and Hunter Irvin, in the first quarter.
After one, the Hornets led 24-4 and things only got worse from that point forward for Paint Rock.
In the second quarter, Harrison heated things up, adding 11 points. Morrow chipped in six along with Morris's four, Iyran Davis's three pointer, and Coffell's two. That put the Hornets at a monster 50 points at halftime while the Indian's Sal Fuentes added two points for a total of six.
The Hornet's bench got extensive work, but it was Coffell's turn to heat up, adding nine points and Morris decided to add five. Paint Rock, trying to add something positive, did make a three pointer in the third but only added four points total.
Going into the fourth quarter, the Hornets were firmly in the lead and Morrow, Harrison, and Coffell each had a dunk in the last quarter. Irion County put up 18 points in the fourth from six different players. Paint Rock's Irvin made the only shot for the Indians. The Hornets took this one big 82-12 and will move on to the Area Round.
The Indians were completely outmatched and outsized by the Hornets. It shouldn't surprise anyone since Irion County has been ranked in the top 10 since the beginning of basketball season, something Coach Morrow doesn't let get to his athlete's heads.
"Anytime you win a playoff game, whether its bi-district, area, or whatever, it's always a good feeling," Coach Morrow said," You set goals before you step out on the court. What we want to accomplish offensively and defensively, and we did that tonight."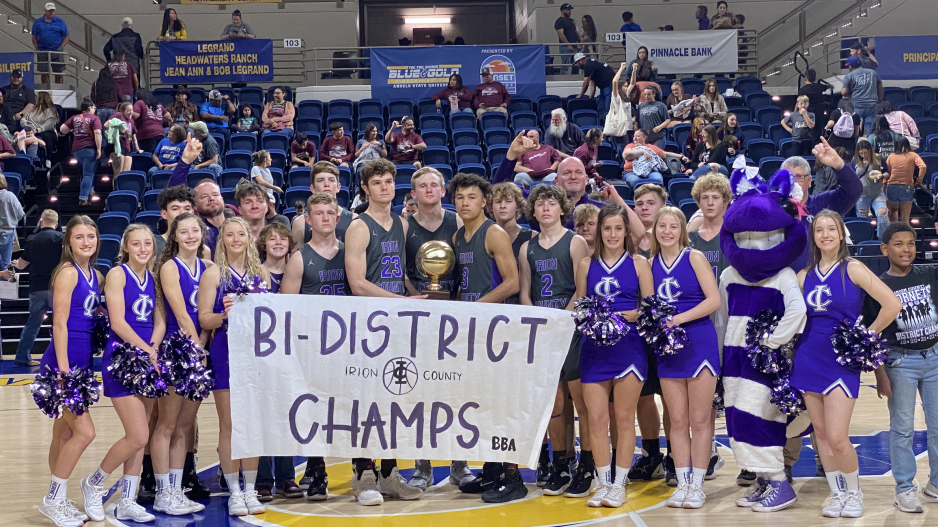 SCORING
IC— Coffell-23, Harrison-22, Morrow-15, Morris-12, Henderson-5, Davis-3, Jackson-2
3s- Harrison-2, Morris-1, Henderson-1, Davis-1, Coffell-1
PR— Irvin-7, Mewers-3, Fuentes-2
3s- Irvin-1
Most Recent Videos