SAN ANGELO, TX — The San Angelo Central Bobcats (21-7)(3-3) and Lady Cats (19-12)(6-2) hosted the Midland Legacy Rebels and Lady Rebels on Thursday night, Feb. 2, for their winter storm make-up game in San Angelo. Both Central teams came away with dominant victories as they swept the Legacy Rebels on the year.
LADY CATS 48 LADY REBELS 24
The Lady Cats followed up their last-second victory against the Lady Tigers last week with their 6th win in a row. Central jumped out to an 11-5 lead after Nevaeh Hearne scored six points in the first quarter and never looked back. They led from start to finish, and everyone on the team saw the floor. 
The Lady Cats kept their six-point lead into the break but began to pull away in the third quarter. Central held a 13-point lead entering the 4th quarter, and the Lady Rebels never threatened the Lady Cats again. Sydney Moore hit two three-point shots in the fourth quarter to seal it for the Lady Cats 48-24.
Central returns to action in Odessa on Friday night, Feb. 3, when they travel to battle the Odessa Permian Lady Panthers at 6 p.m. The Lady Cats are 6-2 in their district and hope to hold on to second place.
Sydney Moore led the Lady Cats with 15 points. She made five 3-point shots throughout the night.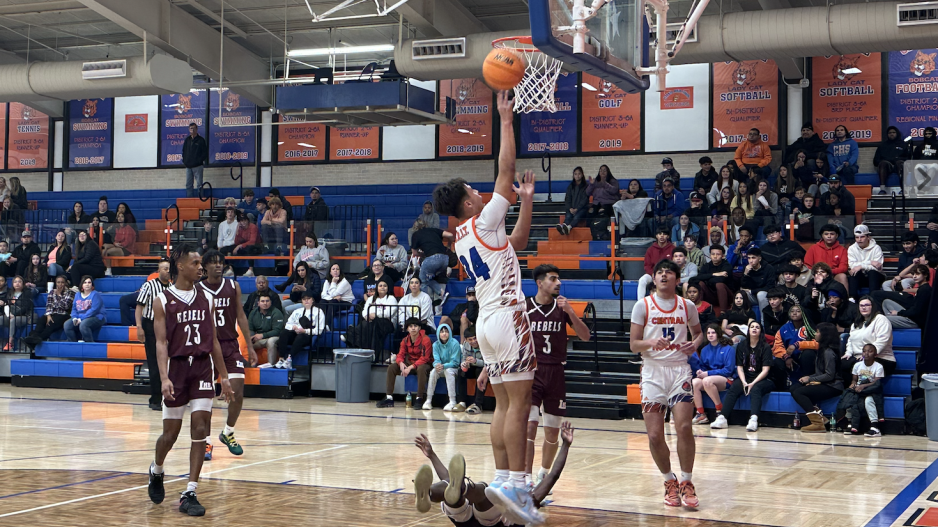 BOBCATS 85 REBELS 43
The Bobcats took the floor following the Lady Cats' victory with one of their own. The 'Cats had an emotional win against the first-place Frenship Tigers in overtime last Friday, which spurred them on to another win. Central dominated Legacy on both ends of the floor throughout the contest to claim victory, 85-43.
Jacob English jumped out to a hot start shooting the basketball and hit two threes in the first quarter. The 'Cats' defense showed their prowess early and held the Rebels to 24 points by halftime. Central went into the break up 46-24.
The Bobcats continued to pour it on, and with five minutes left in the third quarter, all the starters took a seat. The backups got some meaningful playing time and played exceptionally well. Cooper Fitzgibbon led the way in the fourth quarter with five points. 
The 'Cats earned their second victory in a row and pulled even in district play at 3-3. Central travels to play the Odessa Permian Panthers on Friday, Feb. 3, in an almost must-win scenario. The Bobcats could have won their first matchup with the Panthers if not for one of the hottest second-half shooting performances by the Panthers this season.
Jacob English led the Bobcats with 18 points. English has turned up the heat as the season progressed and should continue to dominate on the floor.
Most Recent Videos