GRAPE CREEK, TX — The Wall Hawks (13-8)(6-2) and Lady Hawks (23-4)(8-2) made the short trip to Grape Creek on Tuesday, Jan. 24, to battle the Grape Creek Eagles (1-17)(0-7) and Lady Eagles (3-19)(1-9). The Hawks bounced back from their loss last week against TLCA in a huge way while the Lady Hawks continued to stomp their way through the district. Both Wall teams left as winners on Tuesday.
LADY HAWKS 73 LADY EAGLES 28
The Lady Hawks led from the tip-off to the final buzzer in the 4th quarter. Brylyn Watts and Claire Nelson combined for 29 points to down the Lady Eagles 73-28. Grape Creek put up their best effort and made some shots, but the Lady Hawks' defense outmatched what they could do.
Claire Nelson led the Lady Hawks with 15 points. Brylyn Watts added 14 points, and Kamryn Williams added 10 points.
The Lady Hawks host the Clyde Lady Bulldogs on Friday, Jan. 27, in Wall at 6:15 p.m.
HAWKS 81 EAGLES 5
The Hawks responded to the loss against TLCA last Friday by completely dismantling Grape Creek. Grape Creek is an incredibly young team with nearly all underclassmen on the floor. Nevertheless, the Hawks put their vaunted defense on display and shut out the Eagles in the first half, 39-0. 
Grape Creek finally got on the board in the 3rd quarter, Villareal hit a 3-pointer with 6:36 to play in the 3rd, and Perez added two points later. The Hawks starters sat most of the 4th quarter, and the Hawks claimed victory 81-5.
Lane Stansberry led the Hawks with 23 points. Everson Armstrong scored 15 points, and Augden Hallmark added 12 points.
The Hawks host the Clyde Bulldogs in Wall on Friday, Jan. 27, immediately after the Girls' game.
After the game, Head Coach Travis Dawson gave his thoughts on his team's performance.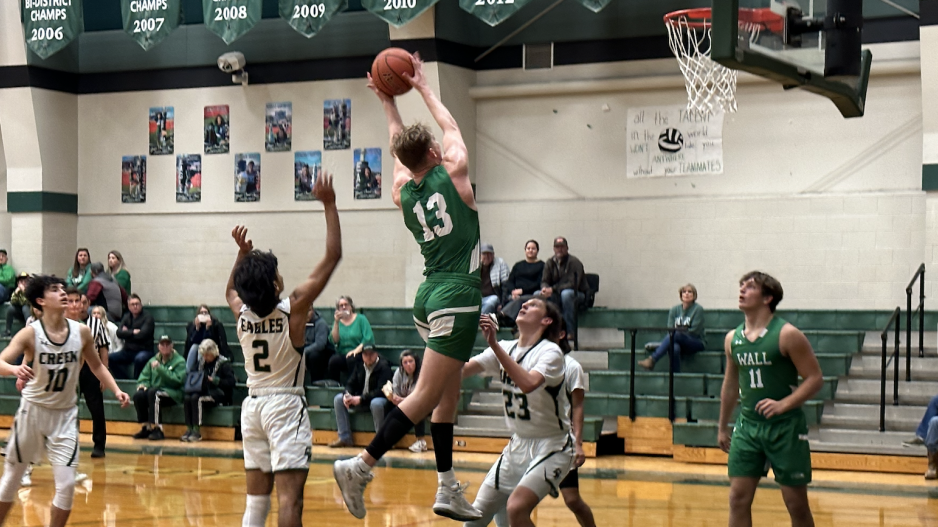 Most Recent Videos