SAN ANGELO, TX – Opening the season at home, the seventh-ranked Angelo State football team routed Chadron State 35-0 on Thursday night at LeGrand Stadium.
According to Angelo Sports, for the seventh season in a row, the Rams open the season with a win to start 1-0.
The Rams struck first as Nathaniel Omayebu III picked up where he left off last year, rushing for six yards into the endzone for the first touchdown of the season. Omayebu finished with 87 yards and a touchdown while averaging 5.4 yards per carry.
ASU added another touchdown towards the end of the first quarter as Noah Massey connected with quarterback Zach Bronkhorston a 23-yard touchdown pass. Massey led the Rams in receiving with five catches for 75 yards.
In the second quarter, the Rams' defense forced a three-and-out in four of the five drives by the Eagles before blanking the visitors in the first half.
The Rams added one more in the first half midway through the second quarter as Bronkhorst threw a seven-yard touchdown pass to Thomas Aych at the pylon to go up by three scores.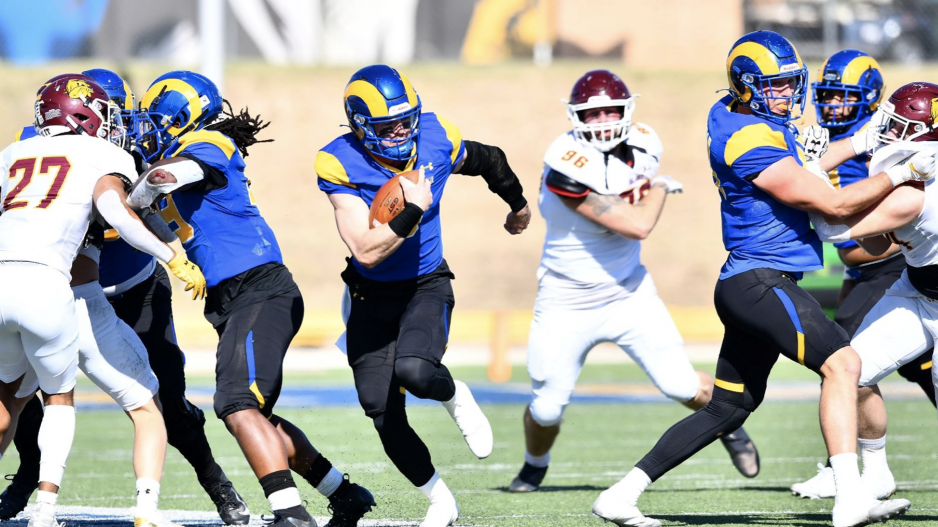 After a scoreless third quarter, Andrew Pitts reignited the Rams with an interception return for 40 yards, setting up a 10-yards touchdown run by Bronkhorst to go up 28-0.
Bronkhorst threw for 233 yards on 18-of-34 passing and two touchdowns while adding another score on the ground.
The secondary struck again with less than five minutes to go in the game as Jordan McKinney intercepted a pass, taking it 41 yards to the house for a pick-six to extend ASU's lead once again.
K'hari Watson led the defense with seven total tackles while Daron Allman, Eric Rascoe, and Tre'Darius Colbert all finished with six tackles in the game.
The Rams will head on the road next week as they travel for a rematch of the 2021 NCAA Quarterfinal game against Colorado School of Mines on Saturday, Sept. 10.
Most Recent Videos