SAN ANGELO, TX — The Municipal Pool will open within days, promised Brent Casey, the City of San Angelo's Recreation Manager.
The Municipal Swimming Pool has experienced several tumultuous events over the past 2 years that ultimately led to the failure of the water filtration system forcing its closing. First, there have been two lightning strikes of the pool, according to Casey. Then the February 2021 deep freeze that also shutdown the city water system was probably what destroyed the already aging filtration system. Casey said many of the pipes were also busted during the freeze.
The City Municipal Swimming Pool was built by the New Deal era Works Progress Administration in 1938 and opened in 1939. The pool has "good bones" but weather and age had taken a toll on the historic pool with a State of Texas Historical Marker. Casey said initially that city rec attempted to repair the old filtration system but it was too far gone.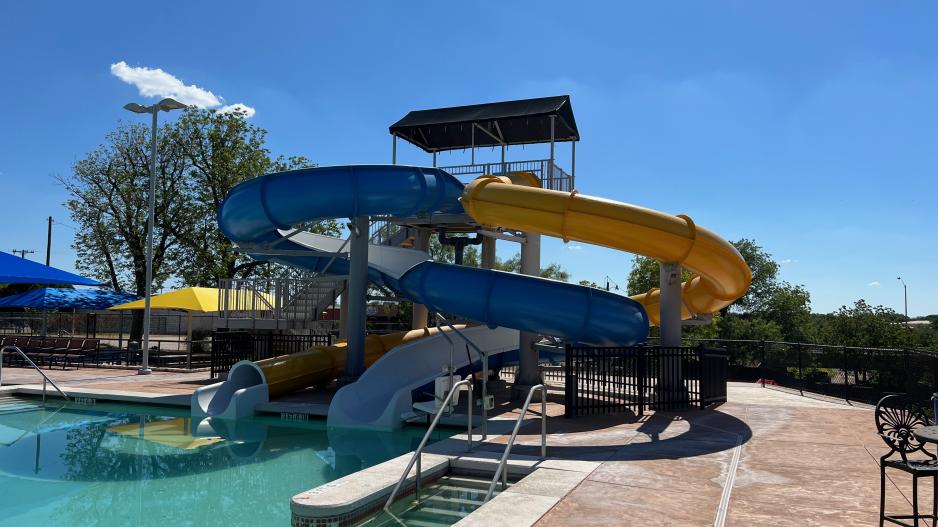 A new filtration system was designed and ordered. The order was placed during the backside of the Covid-19 pandemic just when worldwide supply chain problems began. This delayed delivery of the new system until the final week of June 2022. Water pipes were replaced while workers waited on the filtration system parts to arrive.
Casey said he had hoped the pool could be open in time for the July 3 A Star-Spangled Banner Concert & Fireworks show. The pool is situated at the top of the south bank of the Concho River overlooking the River Stage and provides an excellent view of the annual show. What is more, city rec depends on the show as a fundraiser by charging a nominal admission fee during the concert and fireworks.
Thursday, workers were busy underneath the pool in 105 degree heat finishing up the installation of the new filtration system. Casey said the pool will open "within days." By late afternoon Thursday, the installation was not yet complete. The pool water carried a slight green tint to it.
But not for long.
Casey said in addition to the new system, the city has rebuilt the deck around it and renovated the popular water slides last year.
"We are looking forward to reopening the City Municipal Poll," Casey said. "It will be essentially a brand new pool."
"Everyone should get a chance to enjoy the pool even if it's just for half the season. Our lifeguards enjoy the job too. And we're always looking for lifeguards, so if you want to join us, you can apply at the city," added City Recreation Supervisor Jerica Davis. You can apply online here.
Most Recent Videos