The 3-6A Wheel of Parity is Complete, Who Is Making It Out?
SAN ANGELO, TX — Listen to any one of Brent Davis' press conferences from the past five weeks and you will hear him talk about the parity within San Angelo Central's 3-6A district.
The Head Coach has habitually praised the depth and talent apparent to anyone who has had the pleasure of watching any of the seven teams play. 
All seven can beat anyone else on any given week.  Richland, who went winless outside of the district, is tied for first place.  Haltom, who is 1-3 inside the district, earned their only win against the otherwise dominant 7-1 Trinity. 
It has been chaos, and that is not just hyperbole.  We now have the proof.
Weatherford's week 9 defeat of Abilene was the final link needed to complete the 3-6A District's Wheel of Parity.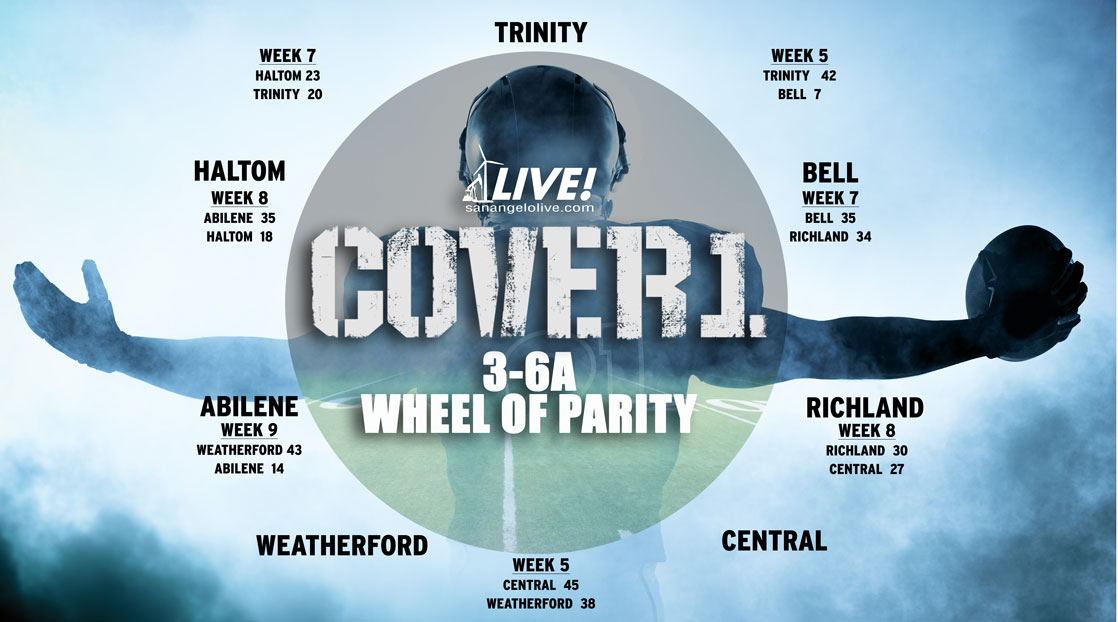 Trinity > Bell > Richland > Central > Weatherford > Abilene > Haltom > Trinity and so the cycle continues. 
With only two weeks left, it is anyone's best guess at who will be the four teams to make the final cut. 
Trinity is as sure of a bet as you will find.  The Trojans are 7-1 overall and 3-1 in the district.  Their two remaining games are against Abilene (3-6, 2-3) and Richland (3-5, 3-1).  The Richland game during the final week will decide the champion unless one of them stumbles beforehand.
Richland will have to beat Weatherford on Friday to keep their dream alive.  The Kangaroos (6-2, 2-2) have looked like a better team overall this season, but there is something about Richland that allows them to win these games.  If Weatherford can pull it out, then they will be part of a three-way tie with SA Central and Richland for second place. 
As for the remaining three teams, the loser of the Haltom/Bell game Friday will be eliminated from contention with a 1-4 record.  If Haltom wins, their week 11 contest against Central will be a play in game. 
Abilene's only hope is to win their final game of the season this week against Trinity and hope for a Richland win when they play the Trojans. 
It is a mess for sure, but it will provide for an entertaining, if not stressful, final two weeks of the season. 
Here are the current district standings.
Week 10 Schedule
Trinity (7-1, 3-1) at Abilene (3-6, 2-3)
Weatherford (6-2, 2-2) at Richland (3-5, 3-1)
Haltom (3-5, 1-3) at Bell (3-5, 1-3) 
*SA Central (5-4, 3-2) is on bye
Get more stories like this by signing up for our daily newsletter, The LIVE! Daily.