Expectations Remain High for Wall's Fiebiger Entering Final State Meet
WALL, TX -- Competing at the highest level is nothing new for Wall senior Jayden Fiebiger. This Friday will be the eighth time she has competed at a UIL state event in her high school career.
Rather, it's just another expectation for the Oklahoma State track signee. Her expectations have led her to six state medals, 13 regional medals and countless other medals, including a national silver, in AAU.
Coming off a personal record in the 400-meter prelims, and a sweep of the 400, 800 and mile relay titles at regionals, Fiebiger is looking to put a bow on her high school career in three events, like she did her sophomore year.
"I just really wanna do it," she said. "I'm so excited because I'm just so blessed to get to continue my track career onto college, but this is the last time getting to wear a green uniform. So, I wanna go all out and just do the best I can because this is the last time I'll get to do this on a really big stage in Texas. Next year, it'll be what I can do nationally in (Division I). It's just really exciting. I've really worked on my 800 and 400 this year. And our mile relay is running faster times than we did last year."
Mike Myers Stadium at the University of Texas is a familiar place for Fiebiger. This will be her fourth straight trip to the state meet. Her mother, Mauria Dillard, told her she is going into the meet "the most prepared."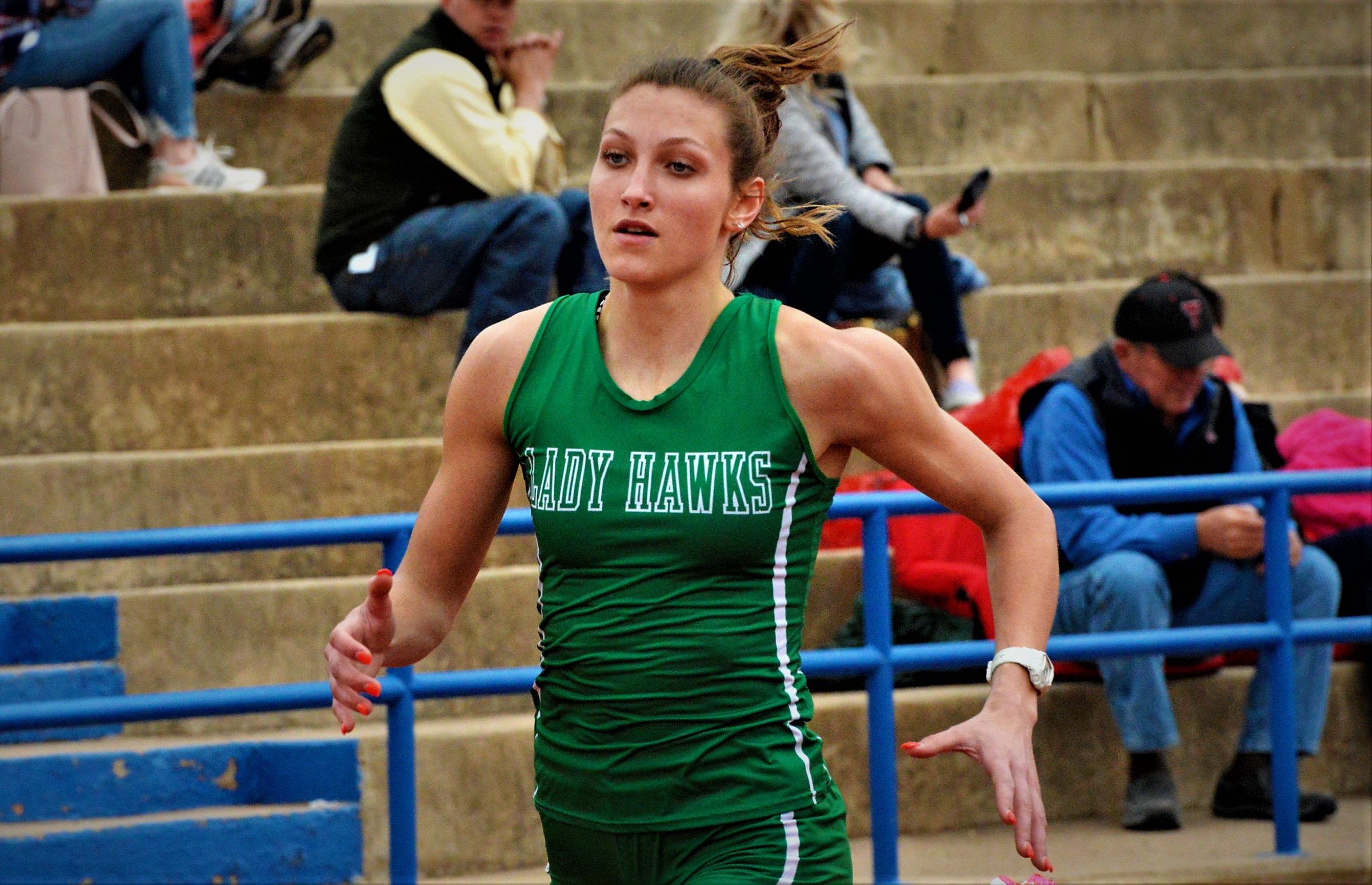 Above: Wall's Jayden Fiebiger runs at the San Angelo Relays. (LIVE! Photo/Sam Fowler)
"You know how it feels, you know how it smells, you know everything about that (stadium)," Dillard said to Jayden. "You're prepared because of the work you put in. So, it's that combination of experience plus preparation plus this is her final stage as a high school athlete. It's going to be fun to see everything that happens."
Her work has led to a personal best of 56.68 seconds in the 400 prelims before claiming gold the next day and a season-best time of 2:16.77 seconds in the 800 at the regional meet. Her time in the 400 prelims was a full second faster than second place.
Fiebiger's qualifying time in the finals -- 57.16 -- is the fastest of the nine competitors, her 800 time is second fastest and the mile relay qualified as third fastest, giving Fiebiger confidence she can leave Austin with three more medals.
"I have a lot of confidence going into state because I ran that 56," she said. "I think it's so exciting because I had fresh legs and being able to run that fast. I know when I get into the competition at state, if I can run that by myself, I can run a lot faster in a race."
Fiebiger's expectations are a twofold equation, though. On one hand, she feels the need to do well based on her upbringing. On the other hand, there are the expectations she feels from the tradition-rich academic and athletic history at Wall High School.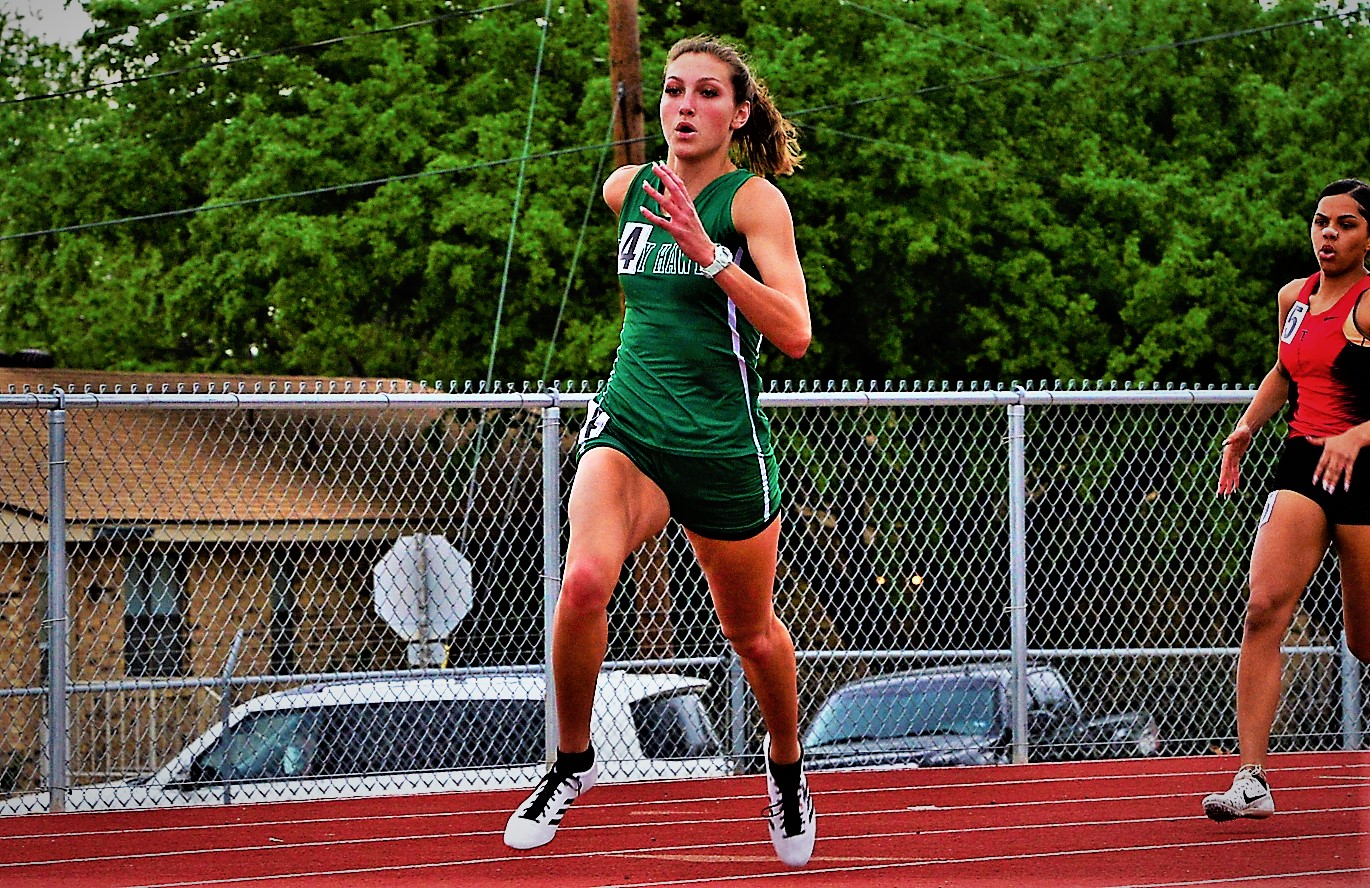 Above: Wall's Jayden Fiebiger runs at the area meet. (LIVE! Photo/Sam Fowler)
When moving to West Texas seven years ago, that's what stood out to her parents and ended up being the reason they settled in Wall.
"It doesn't matter what you do, you're expected to do your best at it," Dillard said. "Going through the motions is not accepted here. That's how we all should be. That's what was important to us as parents."
So, Fiebiger honors the pride of Wall colors each time she dons them.
"There's a lot of pride that comes with (the colors)," she said. "Wall's just known as a competitive sports school. So, anytime I would step on the basketball court or on the track, there's that target on your back. People wanna beat you, people wanna get close to you and people wanna kinda see if they can take you off your game because we have that reputation."
Fiebiger first got her taste of the expectations at the high school level in the fall of 2015 when she qualified for the state cross country meet. A few months later, on the hardwood, the Lady Hawks won the 2016 Class 3A state title. She would also qualify for the state track meet in the 800-meter run and mile relay after basketball season.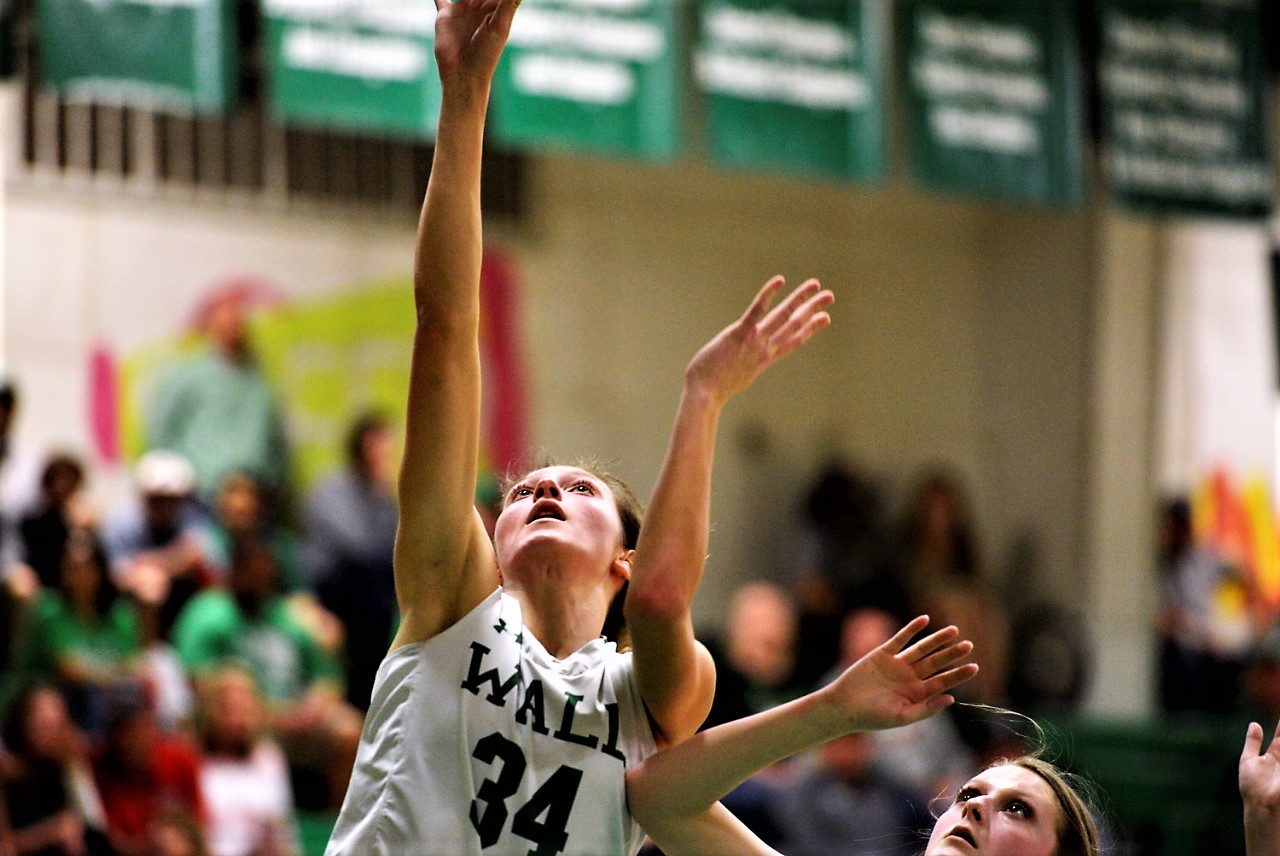 Above: Wall's Jayden Fiebiger (34) goes up for a layup against TLCA. Jan. 18, 2019 (LIVE! Photo/Sam Fowler)
Following the 2016-17 school year, she opted to leave cross country to focus on basketball because of a bond with her teammates, including Sam Rocha and Sawyer Lloyd. She wanted to help them achieve their goals of another state title.
A little over two months removed from a heartbreaking loss to Chappel Hill in the state semifinals, Rocha, Lloyd and all of the Lady Hawks are helping Fiebiger with her dream of a team state title.
"It means a lot because we're always pushing each other to be the best," Fiebiger said. "In practice, me and Sawyer run together. We constantly push each other. If one of us wasn't there, it'd be a little different because we're making each other better."
Fiebiger gets a chance to watch Lloyd compete individually during the morning of the state meet. She relishes that opportunity almost as much as she does competing herself.
"It's really exciting to be able to go to these meets and support your friends," she said. "Sawyer jumps at 8:00 a.m. (Friday) morning and I'm so excited to get up early and be able to watch her because she's worked so hard for that this year. Same with Sam. … It's just awesome to have such teammates like that so we can support each other and make each other better."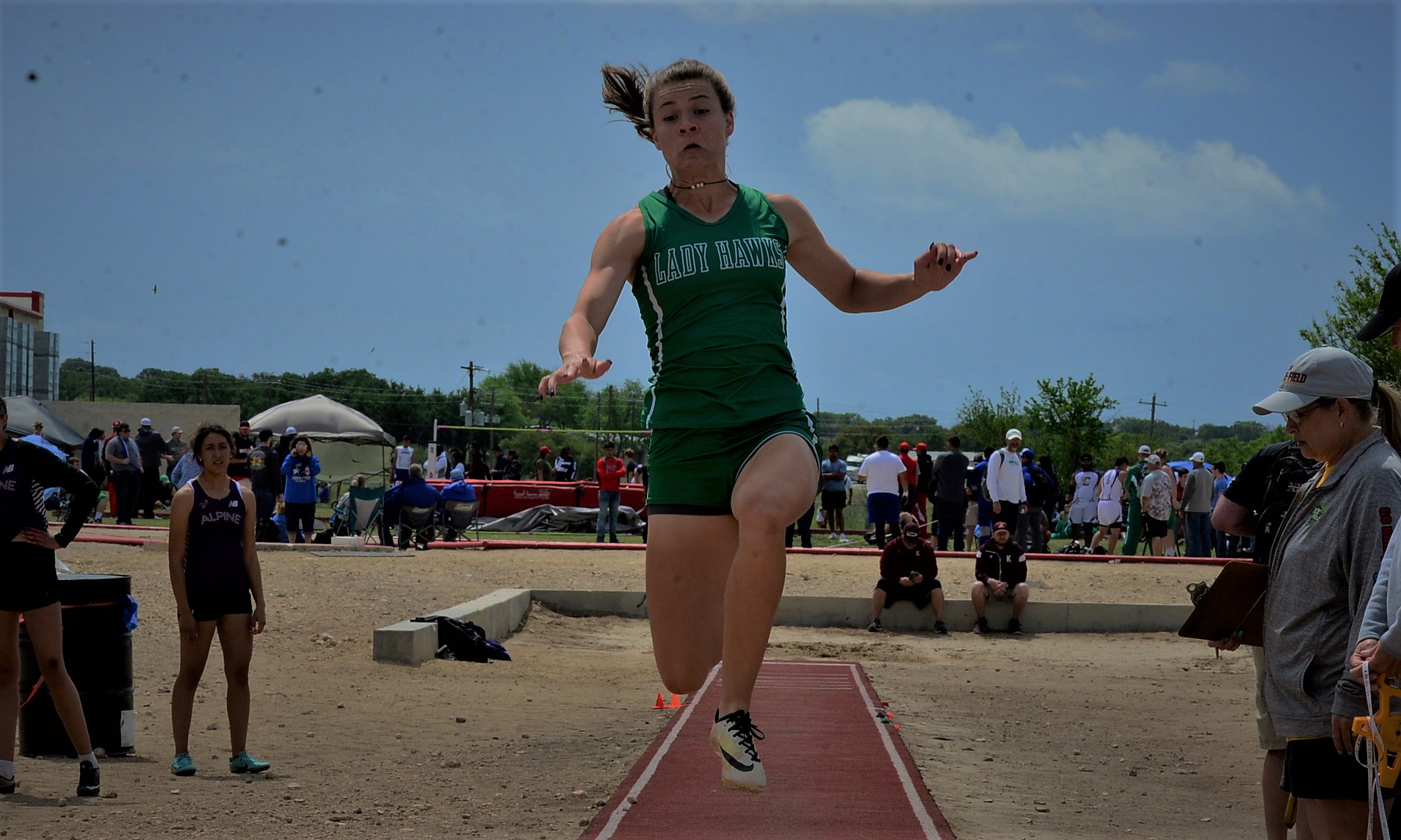 Above: Wall's Sawyer Lloyd jumps at the area meet. (LIVE! Photo/Sam Fowler)
It's also a chance at redemption, for the Lady Hawks, who will send six athletes in a total of six events. In 2016, they were in contention for the team title, but took home third after a third place finish in the mile relay.
"I'm pumped. We haven't been in the running for a team championship since my freshman year," Fiebiger said. "Getting so close to that and knowing what it feels like, I'm so excited."
Three of those events are field events with Lloyd in the long jump, Rocha in the high jump and Mackensie Wilson in the triple jump. That will help Wall's chances at a team title.
"I'm so excited we have three field events," Fiebiger said. "I don't think, as a team, we've ever had that many field events make it to state. So, that's really cool. … I definitely think we can do it."
The state meet begins at 8:00 a.m. on Friday, May 10, with Classes 1A, 3A and 5A before concluding on Saturday with Classes 2A, 4A and 6A.
Get more stories like this by signing up for our daily newsletter, The LIVE! Daily.