All-Concho Valley MVP: Lloyd Leaves Storybook Prep Career at Wall
WALL, TX -- The Wall Lady Hawks enjoyed another tremendous season, going 32-2 and making an appearance in the state tournament in San Antonio.
Leading that charge was senior point guard Sawyer Lloyd, a four-year staple to Lady Hawks basketball.
Lloyd was a jack of all trades this season for Wall, scoring an average of 11.8 points per game while hauling in 127 rebounds and dealing 125 assists in 2019. Because of that, Lloyd has been selected as our All-Concho Valley MVP.
Above: Wall's Sawyer Lloyd (10) drives to the lane against Mount Pleasant Chapel Hill in the state semifinals. Feb. 28, 2019 (LIVE! Photo/Sam Fowler)
"For her, it started [in San Antonio] and ended here," head coach Tate Lombard said following the state semifinals. "She got to be a part of two state tournament teams. But she had great teammates all the way around. She'll be the first to tell you that. She's done everything for this program. She's not only a really talented player, she's a great person and she's also a great leader. It's been an honor to coach her for as long as I've been able to."
The season didn't quite end the way Wall had planned with a 53-49 overtime loss to eventual state champ Mount Pleasant Chapel Hill. But that won't stop the pride from flowing out of the Angelo State Belles basketball signee.
"I'm super proud of this team. We did all we can," Lloyd said, fighting back tears. "What stands out is, over four years, we've been so close, it's a tight-knit team. We're all celebrating each other's successes … It's really special because we're all friends and we're all so close."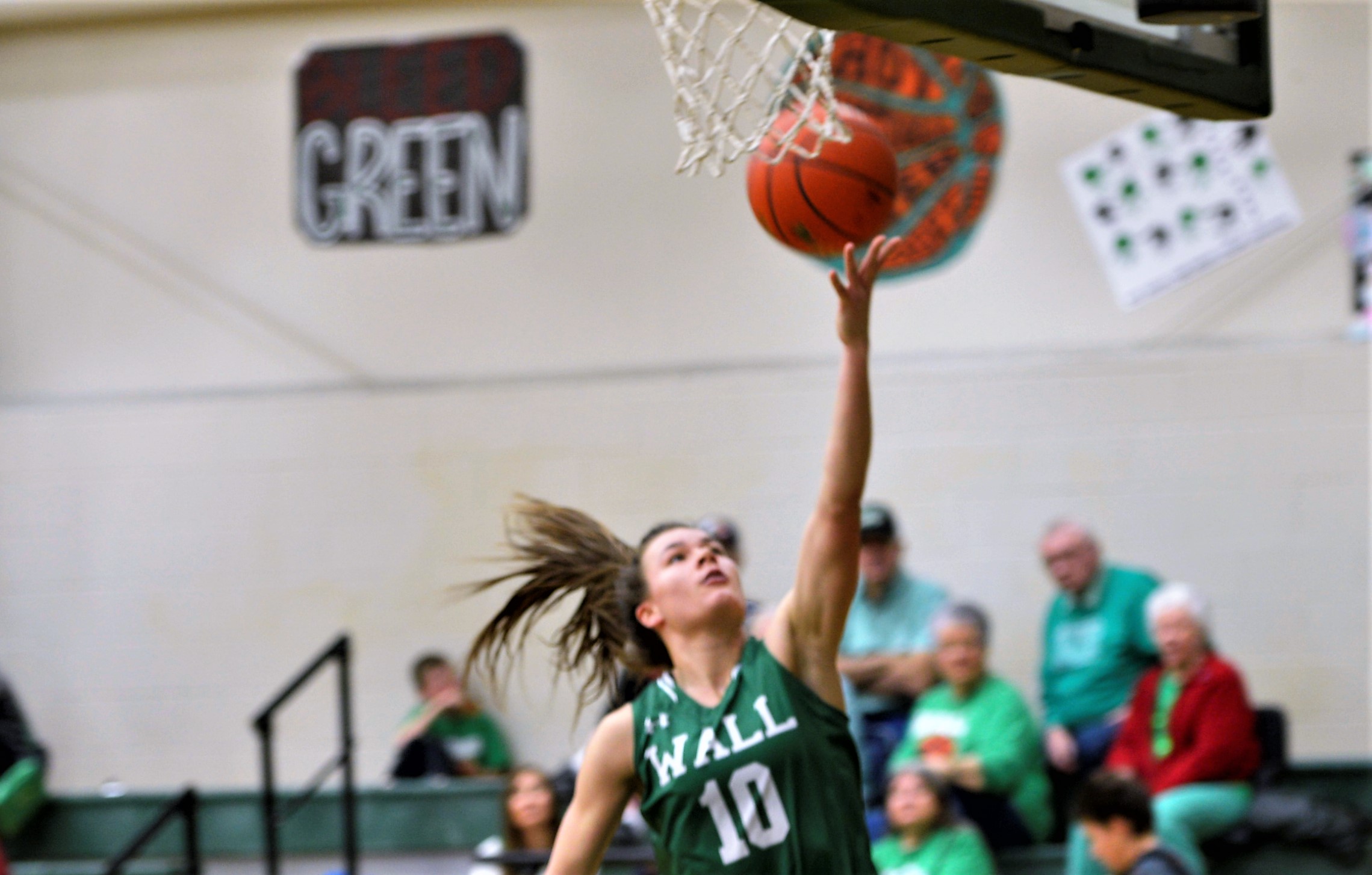 Above: Wall's Sawyer Lloyd (10) goes up for a layup against Grape Creek. Dec. 21, 2018 (LIVE! Photo/Sam Fowler)
Lloyd has been a three-year starter for Wall, winning district MVP in all three seasons. After playing with each other from a young age, Lloyd knew this group had a drive to win like none of her previous three seasons.
"Just growing up with them and seeing how bad … we wanted it, it really stood out," Lloyd said. "It didn't go as planned. I can tell we're all heartbroken just because of how bad we really wanted it."
In Lombard's eyes, he couldn't have had a better leader directing the offense for the Lady Hawks. Lloyd served as another coach on the court in addition to being a floor general.
"She's got a great feel for the game. She can do some things that we don't have to coach," Lombard said. "She just does a great job of seeing the floor. She always makes a big play per game defensively where she can get a breakaway layup or something like that. So, she's always doing big plays for us."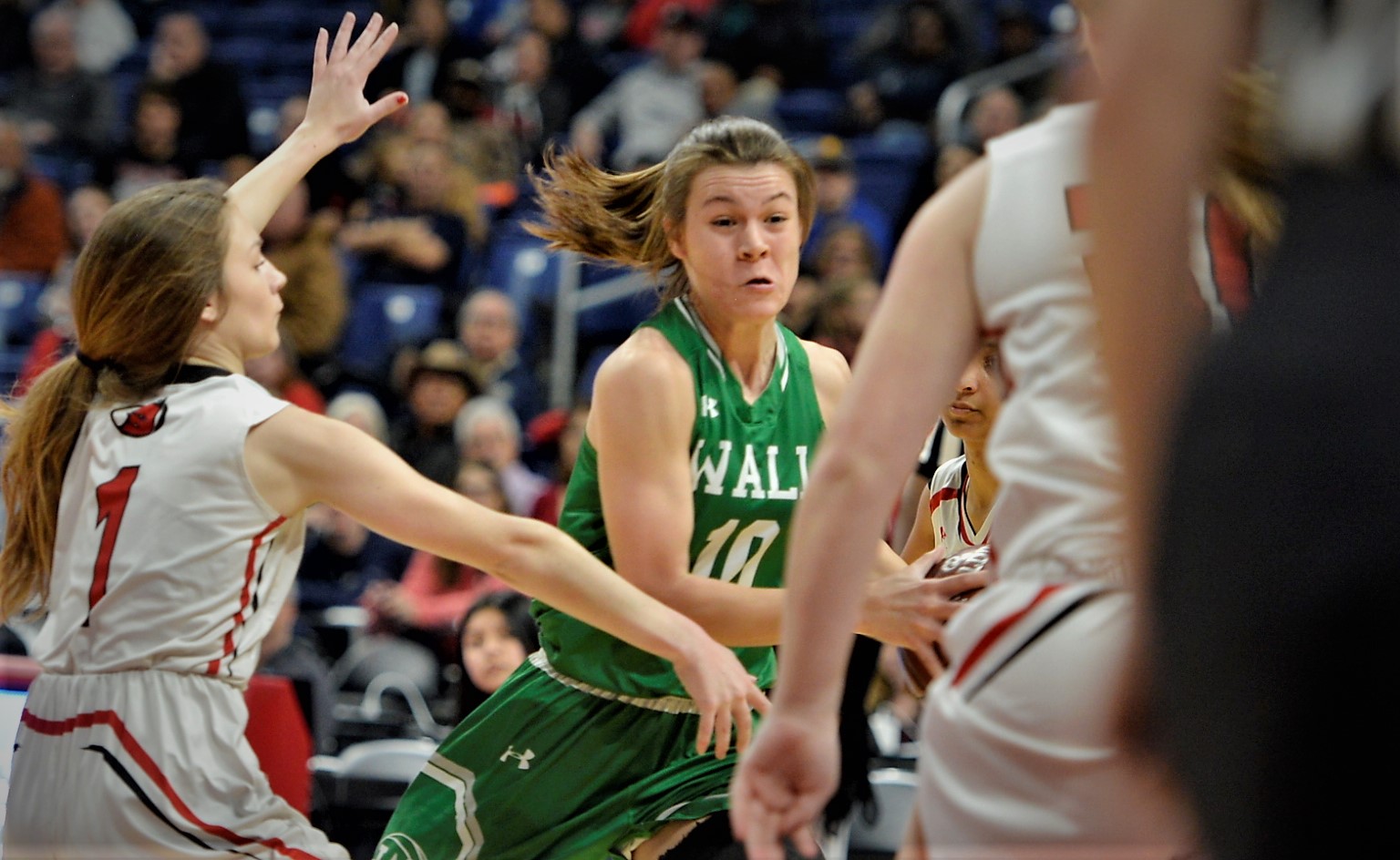 Above: Wall's Sawyer Lloyd (10) tries to drive past Mount Pleasant Chapel Hill defenders. Feb. 28, 2019 (LIVE! Photo/Sam Fowler)
Over her four-year career with the Lady Hawks, Lloyd's work ethic and leadership in practice has stood out the most to Lombard.
"The things I notice the most are the things in practice she does everyday," he said. "That kind of stuff has been the biggest joy for me."
Now Lloyd, along with her teammate Sam Rocha, sets her sights to Angelo State University, where the expectations are just as high.
"[The expectations] are super high," Lloyd smiled. "Sam and I are both excited. We're looking for good things at ASU."
Lombard is familiar with former players staying within the region. Bobbi and Maddi Chitsey both selected Lubbock Christian University to continue their careers.
However, being able to see two players continue their careers just 20 minutes down the road is a little more exciting.
"It's well-deserving for them to be able to play at the next level, continue their playing careers," Lombard said. "Staying local, it'll be a lot more fun being able to follow them a little closer. We know they'll do great things. Beyond basketball, we know they're great people."
Get more stories like this by signing up for our daily newsletter, The LIVE! Daily.