Lady Cat Soccer Closes Out Scrimmages With Win, Expectations Still Set High
SAN ANGELO, TX-- In their first action of 2019, the Central Lady Cats soccer team closed out their scrimmage schedule with a 3-0 win over the Del Rio Queens at a frigid San Angelo Stadium Tuesday evening.
The Lady Cats won the exhibition on a flurry of second half goals despite having multiple opportunities at goal in the first 40 minutes. Del Rio had their only quality shot at goal turned away by senior goalkeeper Megan White in the first half.
Junior Averi Handy kicked off the scoring in the second half with a strike from outside the penalty area in the 48th minute. Addi Bonaventure followed her lead a couple minutes later with a tap in at the face of the goal. The Lady Cats capped off the scoring with a goal from Skyler Lubus in the 73rd minute for the win.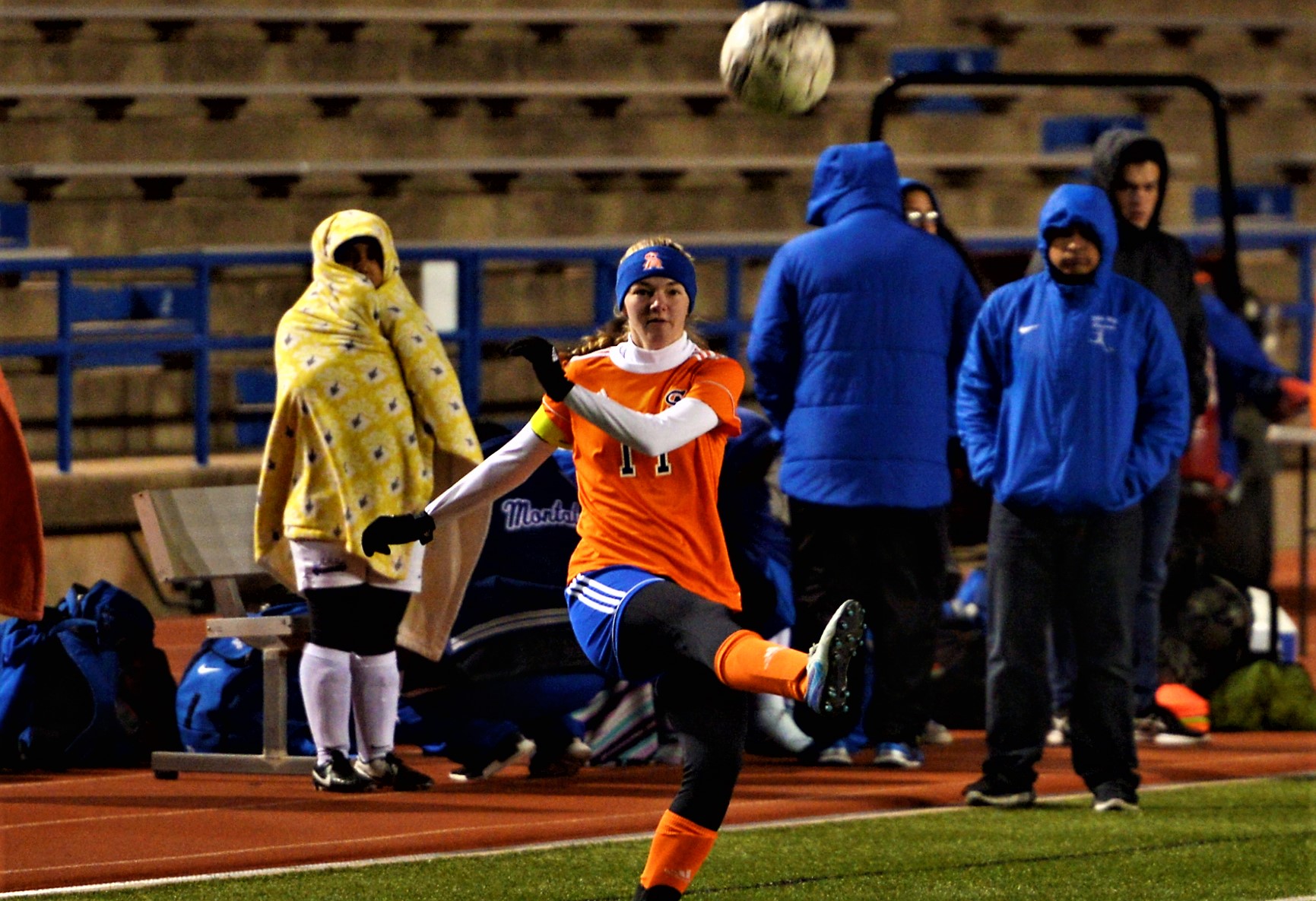 Above: Central's Madison Mayben (11) plays a ball into the box in their scrimmage with Del Rio. Jan. 1, 2019 (LIVE! Photo/Sam Fowler)
"I was pleased today with the possession side of things," said head coach Benjamin Henry. "[Del Rio] got one really good opportunity on goal, but, besides that, they held them pretty much to [their defensive end] of the pitch. Once they did get breakouts, we managed to hold up real well."
Now, the Lady Cats begin the regular season with a trip to Frisco ISD Dr. Pink Tournament. That means the Lady Cats will look for their fourth consecutive district championship.
The Lady Cats were also aligned in District 3-6A with Euless Trinity, Hurst Bell, Fort Worth Haltom, Fort Worth Richland, Abilene and Weatherford. Aside from Abilene, Central has little idea as to what they're getting from their district opponents in 2019.
"We really have no idea what we're going into because we've never heard of these teams," senior captain Madison Mayben said. "We don't really know what we're expecting, but we're just gonna go out with all we have and do our very best."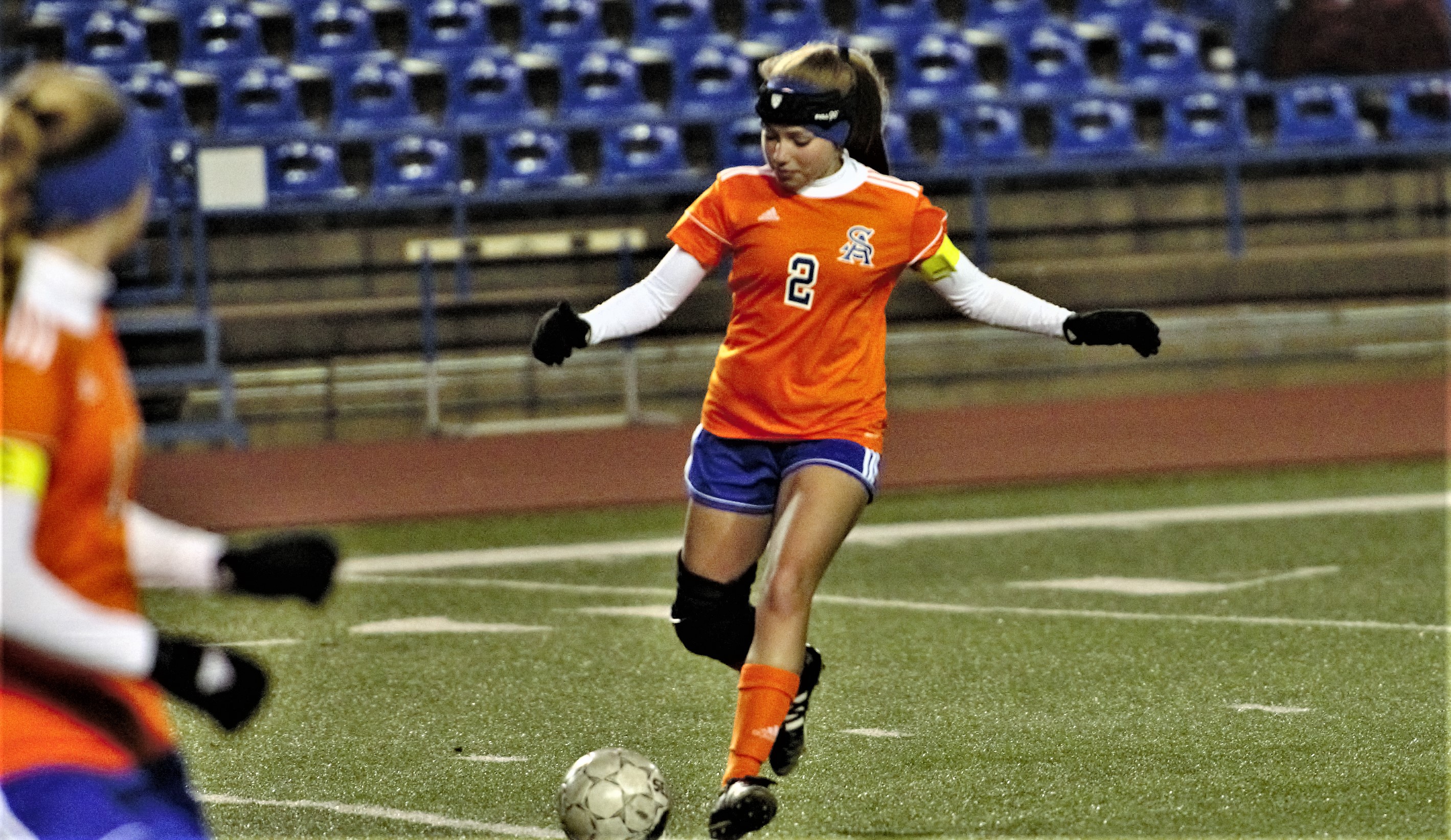 Above: Central's Kelsey Wallace (2) tries to pass to a teammate against Del Rio. Jan. 1, 2019 (LIVE! Photo/Sam Fowler)
While Central has the unknown of their new Metroplex district, the expectation of a district championship remains the same.
"We have a bunch of quality players that come through this program. And every year we have a good group that comes back and teaches the new kids what the expectation is and everything else is," Henry said. "I think that's the key, good leadership, obviously, from the girls' side. I have expectations for them, too, and they know that. The girls in this program, not only are they good players, they're quality kids, too.
With seven seniors gone from 2018, the Lady Cats hope trips to Frisco and the Governor's Cup in Georgetown will keep them at that high level. Tournaments like those two mean the Lady Cats can keep their focus on what matters most to their goals, their performance on the field.
"My expectations are pretty much the same. I want a district championship and the girls do as well," Henry said. "What we focus on mainly here is how the girls are playing, my group. I'm not so much concerned with everybody else. Once we get there, we can make adjustments. But as long as you're going into those [district] games knowing what you have to do and taking care of business, then you don't really have too much to worry about at that point.
"We put them in two very good tournaments. They let us know exactly what's going on because those teams are fantastic. Once you put them up against those kids that are gonna compete at a high level, they'll have a tendency to do the same thing through the entire year."
The Lady Cats open the Dr. Pink Tournament against Dripping Springs at 4 p.m. on Thursday, Jan. 3.
Get more stories like this by signing up for our daily newsletter, The LIVE! Daily.