Central's Season Still Promising, Despite Losing Star QB
SAN ANGELO, TX-- Heading into the 2018 season, Central was expected to challenge for the District 3-6A crown with Euless Trinity, if not win the whole shebang.
That was centered around the play of the Bobcat quarterback and Texas Tech commit Maverick McIvor.
After tearing his ACL and meniscus, a common injury in the violent game, McIvor's promising senior season is done and many are wondering what Central's chances are to even make playoffs.
With the culture head coach Brent Davis has built at Central High School, playoffs should not be in question. He gets the best out of each player in his program and, despite having a talent that comes through every so often, McIvor is just one player.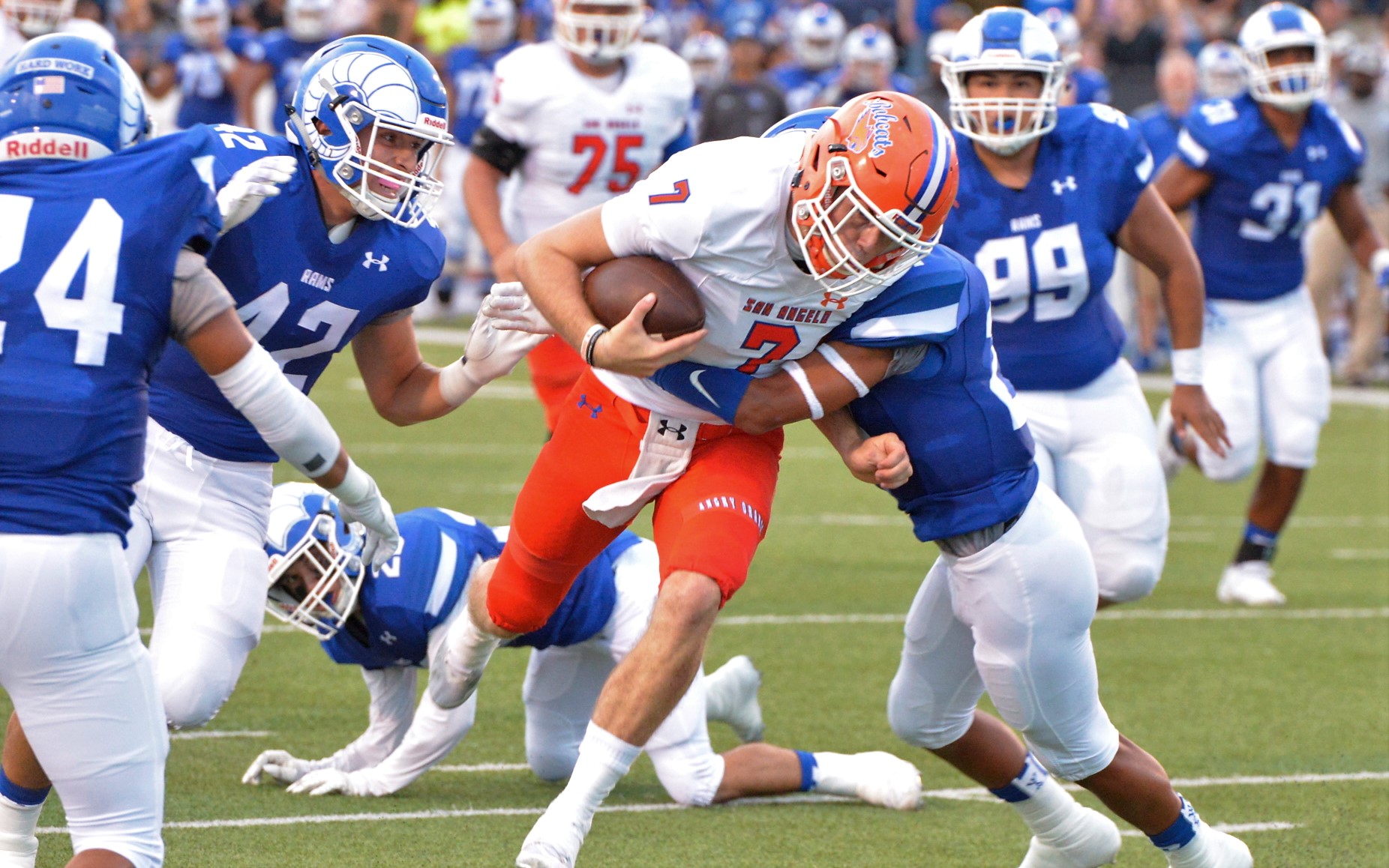 Above: Central's Maverick McIvor (7) powers through Del Rio tacklers on Sept. 7, 2018. (LIVE! Photo/Sam Fowler)
"Mav didn't play defense. He didn't play on any of our special teams, aside from the punt team," Davis said at his Monday press conference. "So, we've got a lot of good things that have not been affected and where we are affected, we're going to go to work to try to make that position [quarterback] as good as we can."
Central's defense was one of the biggest questions entering the season. The Bobcats had a "young" defense in Davis' eyes and returned a couple of starters from last season.
That stout defensive unit has stepped up in the first couple of games by allowing just 10 points and proving they can make just as many big plays as their offense.
In their last outing against Del Rio, the Bobcat defense held their opponent to just a field goal. That field goal came after Central turned the ball over on downs at their own 38.
Del Rio immediately capitalized on that sudden change and took a shot play to get to Central's 2.
After that drive, Central's defense held Del Rio to just 80 yards of total offense throughout the game.
In Del Rio's 14 drives that followed the field goal, they only gained 4 first downs. One of the first downs came on a personal foul on Central.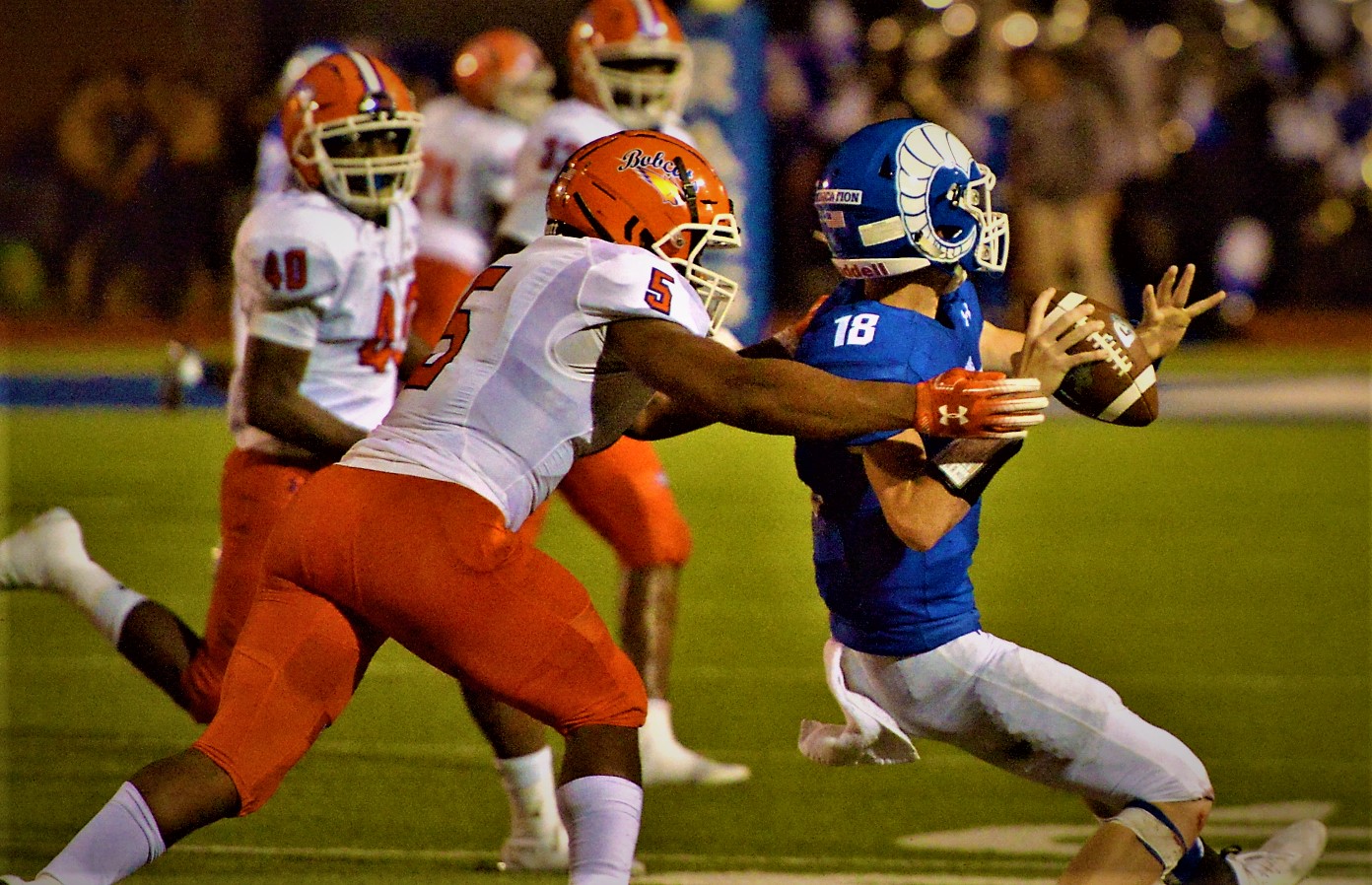 Above: Central's Daylon Green (5) sacks Del Rio's Guy Creamer (18) on Sept. 7, 2018. (LIVE! Photo/Sam Fowler)
Davis said they'll likely lean on the defense a little more in the coming weeks as sophomore Malachi Brown adjusts to his new role as the starting quarterback for Central.
Brown finished 4-of-10 passing for Central with one touchdown through the air and another on the ground.
The sophomore will have a solid receiving corps and backfield to lean on to help ease the load on his shoulder, so expect those position groups to step up in the upcoming weeks.
While the Bobcats will want a win against 5A power Cedar Park this week, the continued development of the team has been the focal point this preseason, maybe more so now with the change at quarterback.
"Like every week, we just want to get better," Davis said on Monday. "I think we're a lot better than we were when we went to Del Rio. I think we played pretty well offensively and defensively. I think from week 1 to week 2 was a huge gain and hopefully we continue to do that."
With two tough non-district games against Cedar Park and El Paso Pebble Hills, Central will get looks extremely similar to what they'll see when play against the like of Euless Trinity in District 3-6A opens up.
Davis feels tests like that, without playoffs on the line, will significantly aid Central's development in all three phases of the game.
All things told, don't abandon hope on a still promising season for the Bobcats.
Get more stories like this by signing up for our daily newsletter, The LIVE! Daily.