Reload, Not Rebuild: Deeply Rooted Tradition Keeps Wall at the Top
WALL, TX-- To get to the top of the Texas high school football mountain, you have to be good. To stay at that summit, you have to be consistently good.
That means each year, regardless of who graduated or transferred the year before, you have to put out a team likely to win a lot more games than not.
Since 2008, the Wall Hawk's last losing season, head coach Houston Guy and his staff have done just that at the powerhouse school in eastern Tom Green County.
In that stretch, the Hawks have posted a staggering 103-18 record with a 22-9 mark in the playoffs.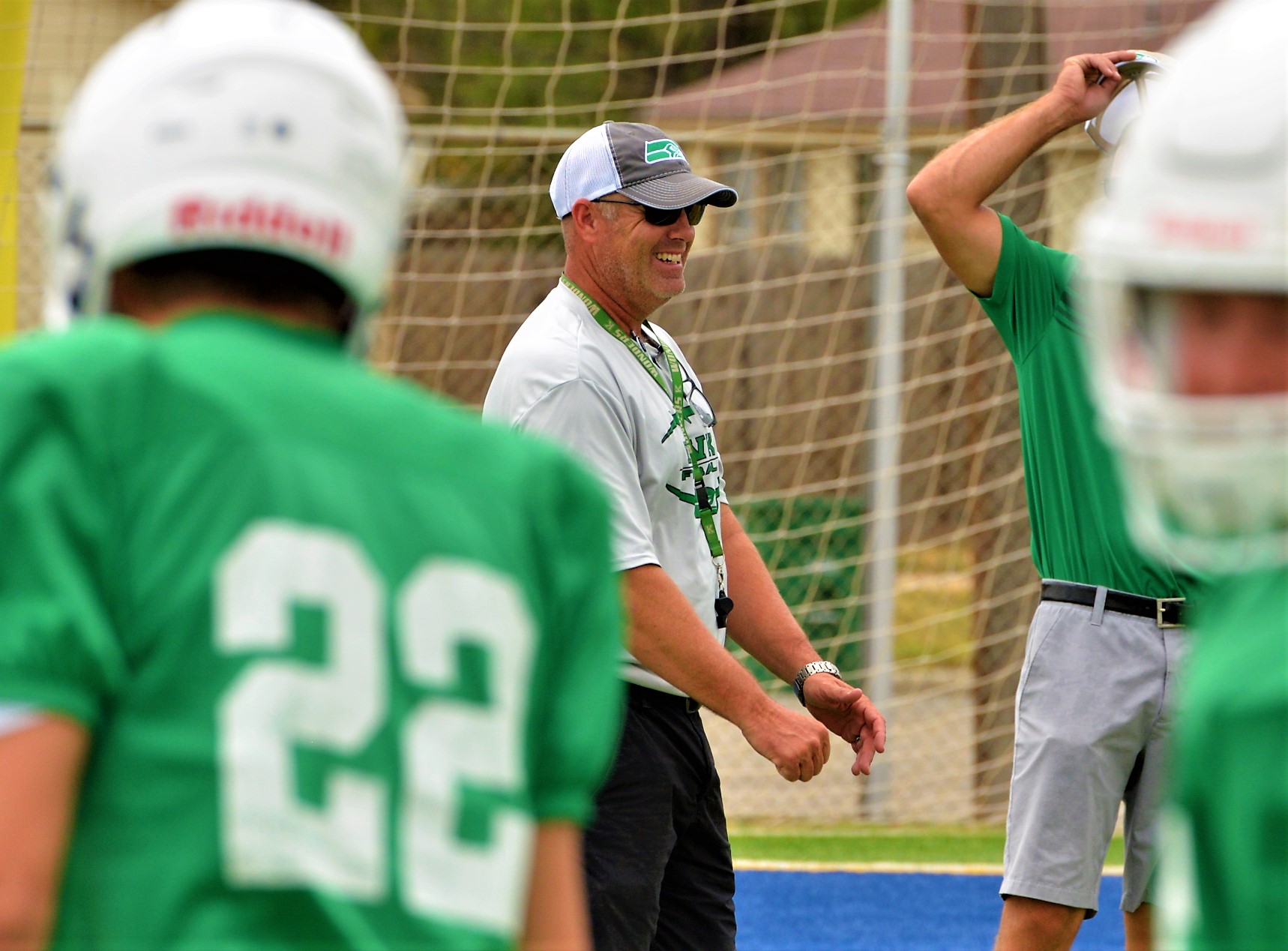 Above: Houston Guy watches on during the Hawk's pre-practice stretching. Guy is entering his 12th season at Wall. Aug. 9, 2018 (LIVE! Photo/Sam Fowler)
While the Hawks have produced great athletes like the Rasberry twins and Michael Walling to name a few, it's the winning tradition that keeps the Hawks on top in Texas' vast high school football landscape.
"It shows that we have a good coaching staff," said senior defensive end Gage Weishuhn of the tradition. "Everybody in the high school works hard and never quit. Growing up here and going out to games on Friday nights wanting to play under coach Guy, it feels amazing."  
Every year, Guy tries to put out a tough preseason schedule to prepare his team for, as many coaches refer to it, the other 'two seasons' of district and playoffs.
"There's a saying, 'Iron Sharpens Iron,'" Guy said. "That's what we tell our kids. The schedule that we have is one that's going to toughen us up physically, mentally and get us ready not only for our district, but for our postseason play as well."
The Hawks, who were ranked no. 7 by Dave Campbell's Texas Football Magazine, play the likes of Cisco, Mason, Midland Christian and Sonora in the preseason. Including Big Spring, their final non-district opponent, Wall's preseason opponents posted a combined 42-19 record last year. Big Spring accounted for 10 of those losses by going winless last season.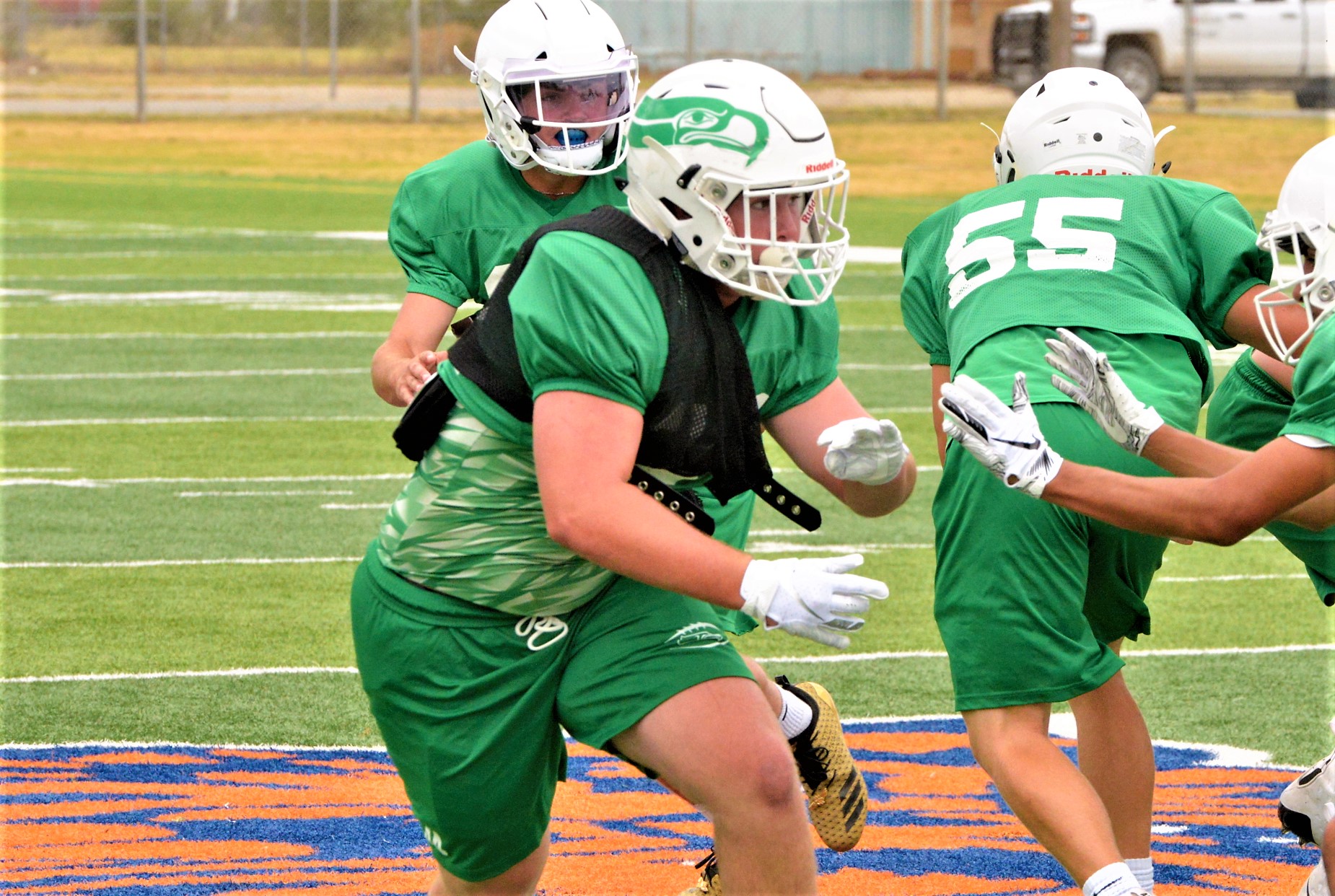 Above: Wall's Gage Weishuhn gets into position to make a tackle during practice. Aug. 9, 2018 (LIVE! Photo/Sam Fowler)
"I think [the kids] are ready," Guy said. "When we laid the schedule out in front of them, I think they were excited to play Mason. Most of these guys have played them in sub-varsity when they were freshmen and sophomores. But when they got to varsity, they've never been on the schedule."
This will be the first time in nearly three years where Sonora and Wall play on the gridiron.
"That's another tradition-rich program that you better be ready to play," Guy said. "They're going to put an exceptional football team on the field."
While it will be the first time the two teams have played each other in nearly three years, alignment into the same district for non-football sports has kept that rivalry alive and definitely kicking.
"The Sonora-Wall game will probably be the biggest gate for both teams," Guy said. "Both communities expect a lot out of their football programs. That translates down to the kids and their performance. So, I think there's going to be a lot on the line. None of it is a district championship, but there will be a lot of pride on the line for both communities."
Guy admitted he was happy to have Sonora on the schedule to continue that healthy rivalry.
"They're a tough football program," Guy added. "They're going to give you everything they've got. Be it football, basketball, track or baseball, they're a solid program through their entire high school. So, we look forward to getting them back on the schedule and getting that rivalry established again in football."    
After preseason play concludes, the Hawks then go into District 3-3A DI, where five of the six teams made the playoffs. Breckenridge (5-6), Clyde (6-5), Early (3-7), Eastland (8-4) and Tuscola Jim Ned (9-3) are the other five teams to make up the district.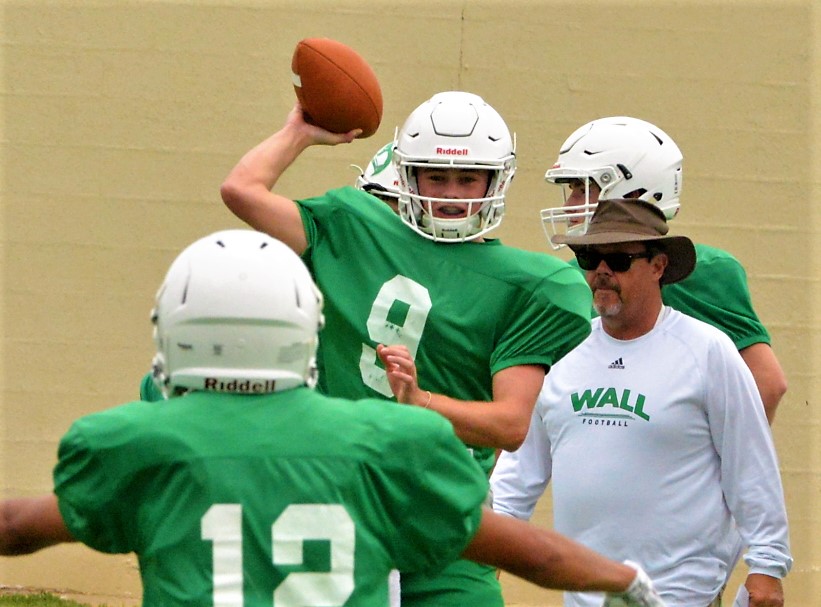 Above: Wall's Mason Fuchs gets ready to throw a pass during the Hawk's practice on Aug. 9, 2018. (LIVE! Photo/Sam Fowler) 
Only one starter returns for the Hawks on offense.
In order for the Hawks to have success with their potent triple option offense this season, a plethora of new faces will have to step up.
Much like 2017, the Hawks will have an entirely new offensive line, which will arguably benefit the most from the tough preseason.
Coach Guy says senior center Chad Glasscock will be the "anchor" up front in his first year as a starter.
"He's going to be a big part of our offensive line," Guy added. "He's a kid we're putting a lot of faith in."
Unlike 2017, the Hawks will have an entirely new backfield.
Senior Garrett Bridgford and junior Mason Fuchs have both impressed the Wall coaching staff during their competition for the starting quarterback role.
With the complex nature of running the triple option, having an intelligent quarterback to make the proper reeds is crucial. Having two quarterbacks like that is a blessing for the Hawks.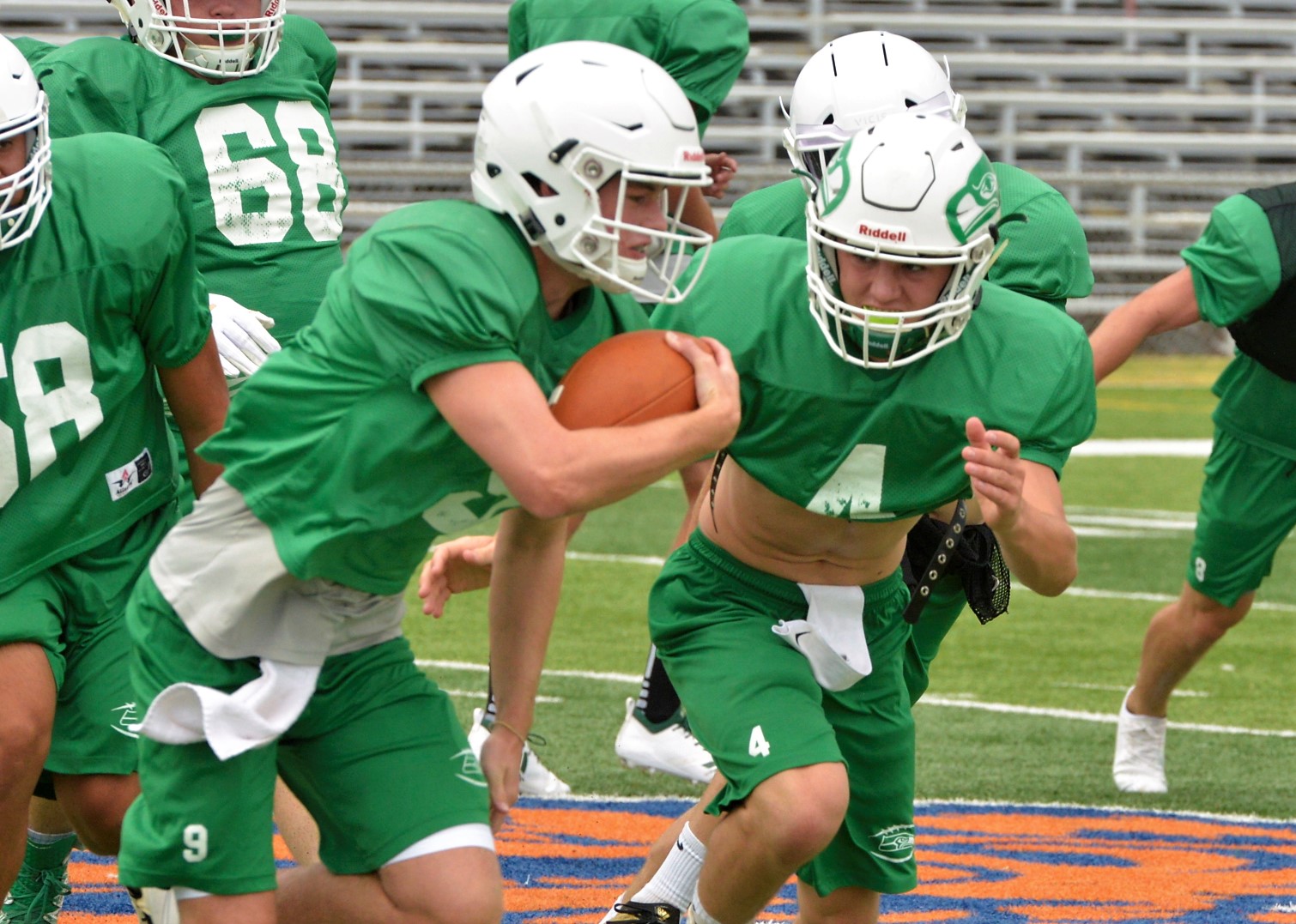 Above: While practicing defense, Wall's Garrett Bridgford (4) tries to tackle fellow quarterback Mason Fuchs. Aug. 9, 2018 (LIVE! Photo/Sam Fowler)
"You have to have an intelligent young man to run this offense," Guy said. "You can't have a guy who just has a strong arm or is super fast. He's got to have it between the ears. That's what we have with both of those guys."
The Hawks will also rely on speed from the state track meet with junior Cinch Dickey and seniors Austin Gray, Lane Ashley, Mason Kindle and Drake Hollifield stepping to the forefront.
"These guys have a lot of speed," Guy said. "Most of these guys ran at the state track meet for us last year. So, we've got a lot of speed. We didn't lose anything as far as speed."
Defensively, the Hawks return two of their biggest pieces in defensive linemen Weishuhn and Tate Jones. Last year, that duo combined for 132 tackles.
"Those two are going to be a big part of it," Guy said of his defensive linemen.
Gray is one of many two-way players for the Hawks and is the third and final returning starter to this Wall Hawk defense.
"He's going to have to solidify that secondary," Guy said of his free safety. "He's going to have to be that vocal leader in the secondary this year. We're putting a lot of pressure on him to kind of be that general out on the field defensively."
While there are just four returning starters, the Hawks return 14 lettermen, most of which are seniors. Guy says those seniors have done well in stepping up as leaders and that will go a long way for Wall this season.
"More or less, they sat back and kind of  watched how the seniors in front of them handled things," Guy said of his current senior class. "I think they've grown a lot maturity-wise. Physically, they've grown a lot. The big thing coming in is I'm loving their leadership capabilities and how they're handling these underclassmen; how they're helping them, how they're coaching them when we have a break. So, they've been really good."
The Hawks open up the 2018 season at home with the Mason Punchers Friday, Aug. 31, at 7:30 p.m.
Get more stories like this by
signing up for our daily newsletter, The LIVE! Daily
.