Boles Looking to Take Miles to the Next Level
MILES, TX-- The departure of former head coach and athletic director Chad Currie in February left Miles with a tough task: finding someone just as good for their program.
That search led them to North Texas and the town of Lindsay, where Charles Boles was the head football coach and athletic director prior to accepting the same positions in Miles this past March.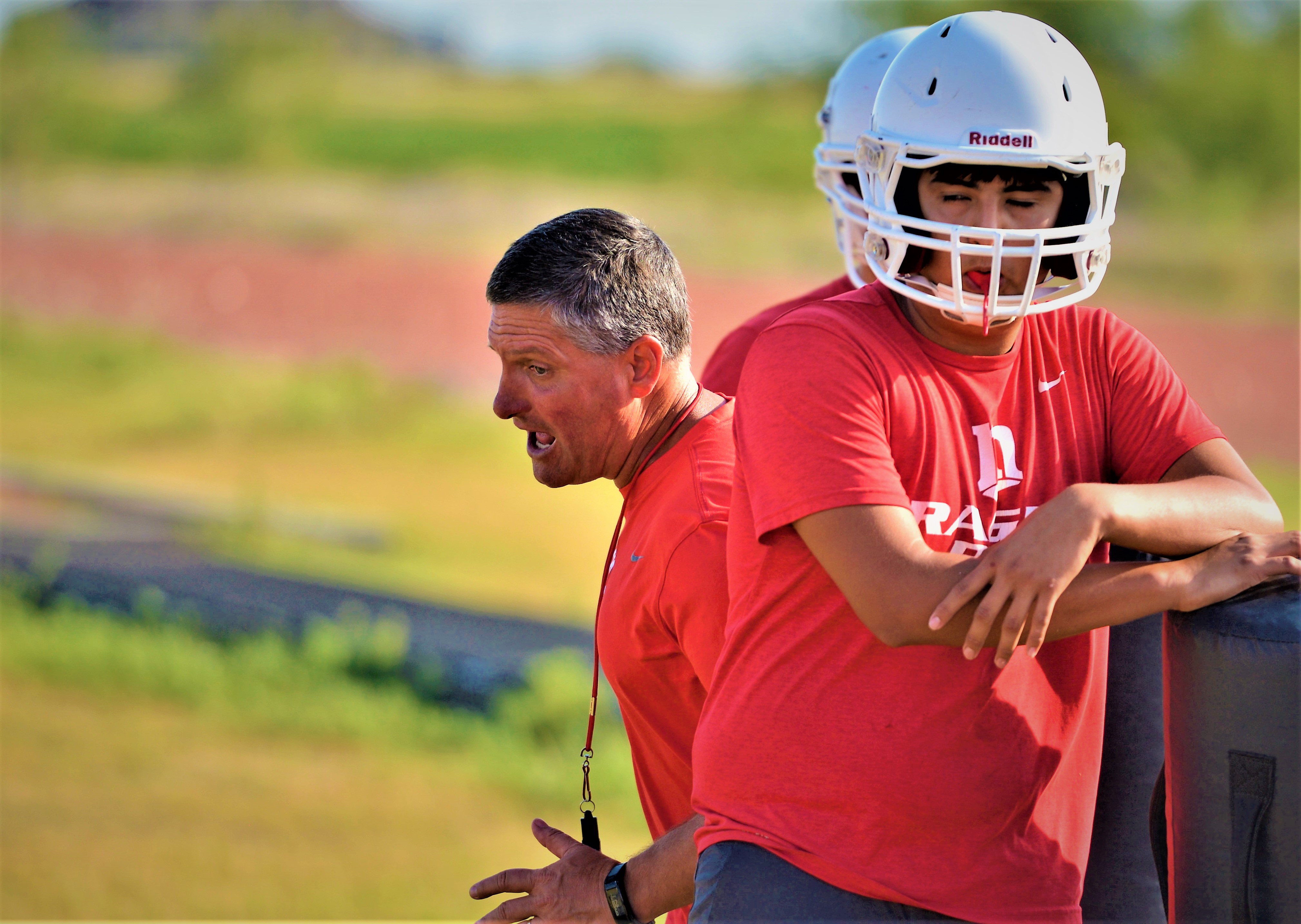 Above: Miles head coach Charles Boles demonstrates technique to his offensive linemen. Aug. 8, 2018 (LIVE! Photo/Sam Fowler)
Boles has some experience with this area, as his Lindsay Knights played Menard in the 2017 playoffs. In the preparation for that game, Boles got a chance to see the Bulldogs on film. That's where he first found an affinity for the small town in Runnels County.
"There's a lot of things that sold me [on Miles]," Boles said. "I know it's a hard working, farming community. They have a lot of expectations based on hard work and dedication and commitment. I got to see them on film and felt there was some talent there. Honestly, I fell in love with the town...It seemed like a natural fit."
In six years at Lindsay, Boles posted a 49-20 record and his team never missed the playoffs.
The Bulldogs haven't missed the playoffs since 2013, but the Bulldogs haven't made it past the Bi-District round since 2014. The overall consensus is that Boles could be the guy to get the Bulldogs over that hump.
If Boles were to take Miles there, it would surely be with the help of senior leadership across the board.
"Those kids are motivated," Boles said. "I think they were disappointed with how the season went last year and they're motivated to make things great their senior year. I think their heart's in the right place. They've got enough talent to be pretty good and they've worked hard."
Also staring down the Bulldogs is their loaded district, District 8-2A DII.
With Menard (9-3) and Rocksprings (7-5) favored at the top and three other legitimate playoff contenders, the Bulldogs will need that senior leadership to step up to ensure a fifth-straight playoff berth
The Bulldogs return their backfield of quarterback Jared Flores and running back Mason Bryan. Bryan was an integral piece to Miles' offense last year, posting 1,200 yards rushing for the Bulldogs in a run-heavy offense.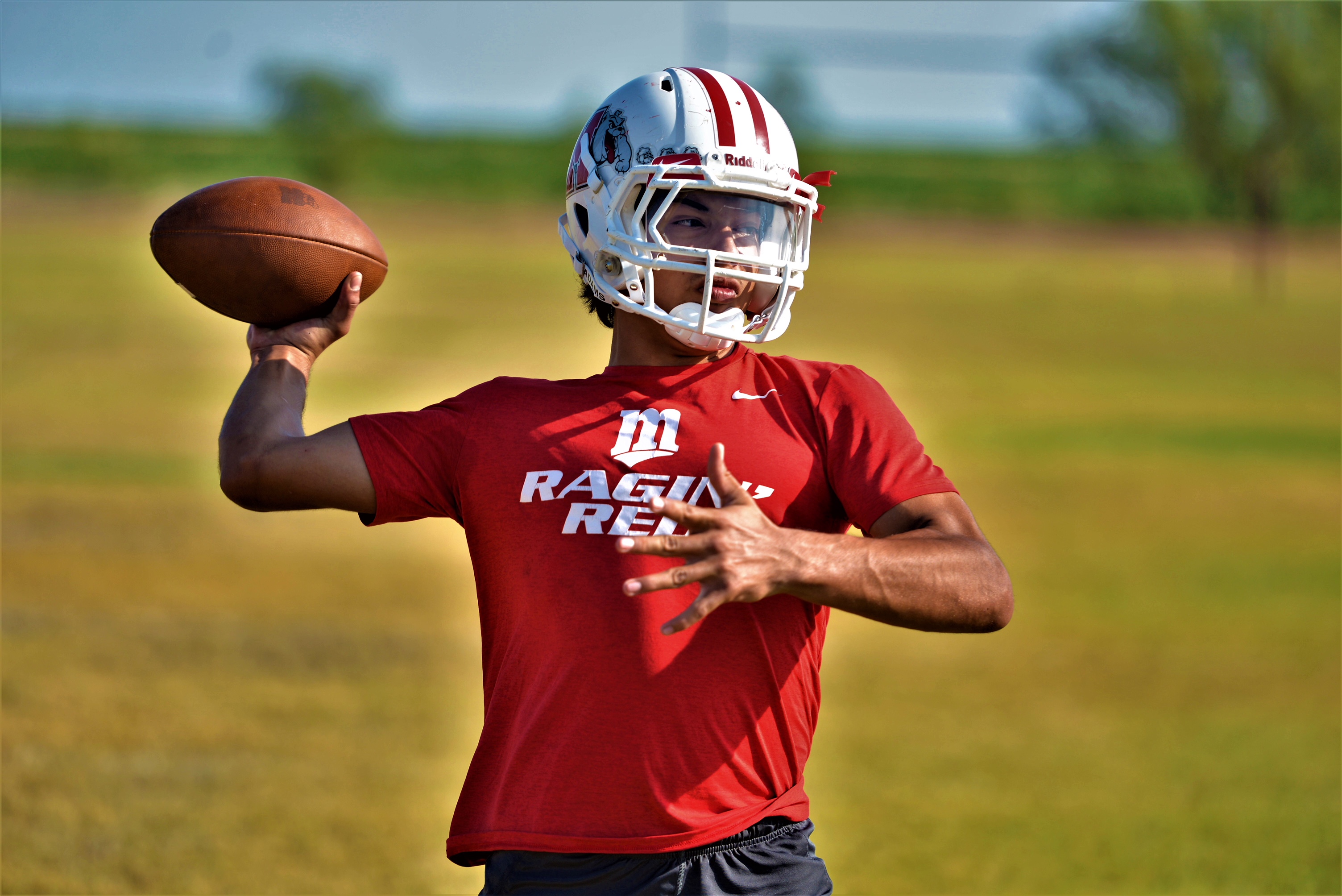 Above: Miles' Jared Flores gets ready to throw a pass during practice. Aug. 8, 2018 (LIVE! Photo/Sam Fowler)
Boles has the Bulldogs working a more balanced offense this year and the backfield tandem returning is "huge" for Boles.
"You don't have to tell Mason Bryan how to run with the ball," Boles grinned. "We've got some other guys who can do some good things. Jared is doing a great job. They're experience coming in makes the transition a lot easier."
In order to get that backfield moving and put pressure on opposing offenses, Boles says their sizable line will have to step up, as well.
"Everything starts on the line of scrimmage, in my opinion," Boles said. "We've got to be able to dominate the line of scrimmage on both sides of the ball. So, having those kids play with fanatical effort and playing physical is vital to our success."
The Bulldogs have a balanced preseason schedule that features Munday (9-4), Roby (6-4), Roscoe (6-5), Baird and Ranger (1-9). That is likely to get the Bulldogs prepped for their tough district.
Miles opens the season on the road against Ranger on Friday, Aug. 31.
Get more stories like this by
signing up for our daily newsletter, The LIVE! Daily
.