Top 10 Concho Valley Football Teams to Watch in 2018
SAN ANGELO, TX-- As the Dave Campbell's Texas Football magazines begin to hit and fly off the shelves, the desire for football's return is palpable.
Teams are closing in on the opening of practices, which begins on Aug. 6 for everyone except the Central Bobcats who utilized the UIL's allotted spring practice days.
Before the 19 teams playing 11-man football in the Concho Valley start their quest to gridiron glory, we wanted to show fans which 10 teams to keep an eye on in 11-man football
1.Mason Punchers (2017: 13-1, Regional Finalist)
Above: Mason's Otto Wofford gets a pass away against Refugio in the 2017 Regional Final. (LIVE! Photo/Sam Fowler)
The Punchers are poised to make a deep run in 2018 that may culminate in their first trip to Arlington since 2014. On each side of the ball, Mason returns six starters from a team that placed a stranglehold on most of Region IV last year. The Punchers allowed roughly five points per game last year with six shutouts. That points allowed per game stat was about two points lower before Mason's 38-14 loss to Refugio at the Alamodome in the Regional Final. More impressive than that was the Punchers' offense which averaged more than 44 points per game last season. Otto Wofford will direct Mason's run-heavy backfield that featured three backs in Wofford, Jake Cockerham and Klay Klaerner who each accounted for more than 1,000 yards.
2. Sonora Broncos (2017: 12-1, Regional Semifinalist)
Above: Sonora's Brian Van Winkle throws a pass at the Sonora State Qualifying Tournament. June 16, 2018 (LIVE! Photo/Sam Fowler)
You could easily argue that the Sonora Broncos belong at No. 1 on this list. They return a total of 17 starters, nine on defense and eight on offense, and 28 lettermen. Only seven Broncos graduated in 2018. But 2018 Mr. Texas Football candidate, Kaden Cordell is one of those seven and arguably the most integral piece to the Broncos in 2017. However, the Broncos are ready to fill that void with incoming senior Brian Van Winkle. The senior-to-be had a great summer, helping lead the Broncos to their fourth trip in five years to the Texas State 7-on-7 tournament, where the Broncos made it to the semifinals before losing to Palmer. A key piece to the Broncos' success this summer was senior-to-be receiver Wesley Dutton. The 5-foot-11 receiver was head and shoulders above his competition in 2017, racking up 1,007 yards and 10 touchdowns on 85 receptions a year ago. Head coach Jeff Cordell is also very excited about his returning offensive line, which he emphasizes is "big".
3. San Angelo Central Bobcats (2017: 11-1 Area Finalist)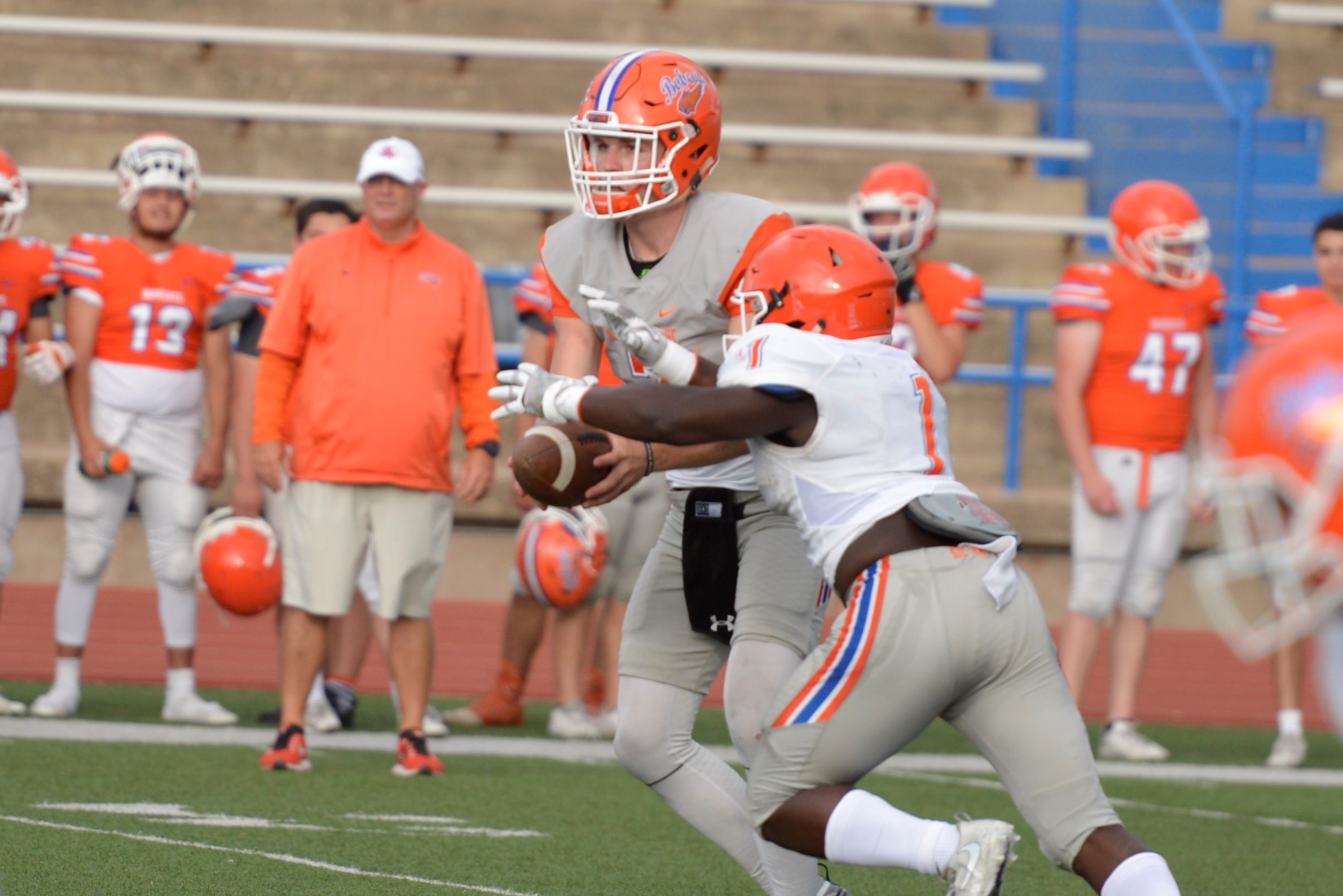 Above: Central's Maverick McIvor hands the ball off to Sam Goodloe in their spring game. May 18, 2018 (LIVE! Photo/Sam Fowler)
The upcoming season will undoubtedly show how far the tradition for the Bobcats has come under head coach Brent Davis' tutelage. Central returns arguably their best offense in Davis' tenure with Texas Tech commit Maverick McIvor back to run Central's jet-fueled offense, the most veteran offensive line this side of I-35 and a running back corps ready to break loose with Bobby Pena, Cody Parker and Reagan County transfer Samuel Goodloe. But there are a couple of downsides to Central's offense which returns seven starters. First, they lost their two deep threats Henry Teeter and Jesse Scott Jr. Second, Goodloe battled injuries last season at Reagan County and was limited to just 97 carries in what many believed would be his breakout year. The spring shed some light on the answers to those downsides. Adrian Anene and Christian Gabaldon are newcomers out wide who are tasked with filling those shoes and looked pretty good in the spring for Central. Also, Philip Lupton and Jackson Timme return for the Bobcats as threats over the middle. In his spring showing, Goodloe looked dangerous out of the backfield. The 5-foot-10, 210-pound bruiser could be the piece Central needs to open up their offense. If teams don't play the Bobcats honest, whether it be the pass or ground game, Central can torch opposing defenses. However, the growth of the defense will be where the Bobcats' tradition is measured. The 2018 summer edition of Dave Campbell's Texas Football Magazine says the Bobcats have just three returning starters on defense. But the Bobcats lost a key piece to their defensive blueprint this year with linebacker Brodrick Howard transferring out to Cibolo Steele in the spring. That means linebacker Daylon Green will have to step up in his role as a leader for the Bobcats and Xy'Kerion Paulk will still be asked to wreak havoc on opposing backfields.
4. Wall Hawks (2017: 12-1, Regional Semifinalists)
Above: The Wall Hawks take the field before their 56-0 win over Kermit. (Photo: Sam Fowler/LIVE!)
The Hawks will have a plethora of new faces for a very tough schedule in 2018. Only four starters return for Wall. However, with the tradition the Hawks have built in 11 years under head coach Houston Guy and across their eight consecutive 10-win seasons where backups have gotten significant playing time, it's safe to say those starting for the Hawks will be ready for the challenge. The Hawks get Gage Weishuhn and Tate Jones back on the defensive line. Weishuhn had 82 tackles and five sacks in the Hawks' 2017 campaign. Garrett Bridgeford and Mason Fuchs will compete in the fall for the starting quarterback role. With the way Wall quarterbacks have stepped up to direct their potent triple-option offense, it's safe to say the Hawks will be in good hands, especially with Sutton Braden looking to break out on the scene as a featured fullback this season. Add in their non-district schedule that features games against Mason, Cisco, Midland Christian and Sonora, the Hawks will be ready for their District 3-3A DI schedule if they aren't ready out of the gate.
5. Menard Yellowjackets (2017: 9-3, Area Finalist)
Above: Miles wins the coin toss and chooses to receive the ball in the first round playoff game against Menard on Nov. 17, 2017. (LIVE! Photo/Miguel Jaurqui)
The Yellowjackets saw a 7-win turnaround in the regular season last year and things are only going up from here for third-year head coach Jayson Wilhelm and company. To help their cause, the Yellowjackets return eight starters on each side of the ball. Arguably for Menard, no returner is more important than running back Christian Salazar. After rushing for 1,750 yards and 25 touchdowns, Salazar will look to better those numbers and add a few more wins to the Yellowjackets' record this season. For him to do that, he needs help from up front. He has just that in 6-foot-5, 310-pounder Mason Stanley. Menard also has the factor of a battle-tested district in their favor. Of the six teams in District 8-2A DII, five were playoff teams a year ago meaning Menard will have to bring their A-game each week and every play. Since iron sharpens iron, that schedule could mean the Yellowjackets will be ready to make their deepest run in playoffs since 2001.
6. Ozona Lions (2017: 6-5, Bi-District Finalist)
Head Coach Kyle Freeman is likely ecstatic with the group he's got back for 2018. With 17 returning starters, it's hard not to buy in to what's going on out in Crockett County. Last year, Ozona's season was ended by a tough Post squad. This year, the Lions are poised to make a run in the playoffs with quarterback Alec Lara and running back Sebastian Delacruz returning to their backfield. Last year, Lara posted 1,814 yards and 18 touchdowns as a sophomore. Delacruz posted 78 carries for 734 yards, which was second behind Kobe Rodriguez, one of the seven who graduated for Ozona. But the biggest thing for the Lions is their nine returning defensive starters. After dropping their first three games, that defense became stout by allowing just 14 points per game and going 6-1 in their final seven games to close out the regular season. Delacruz will also be tasked with leading that defense after leading the Lions in tackles last year. Dario Rodriguez is also an integral part to Ozona's defense after forcing three fumbles last season from his linebacker position.
7. Winters Blizzards (2017: 5-6, Bi-District Finalist)
With 16 total starters returning, the Blizzards can count on that experience to take them further this year as they move up to Class 2A Division I. How far they go, however, will hinge on how Jovan Young directs the Blizzards. In limited action last year, Young posted 273 total yards and a pair of passing touchdowns. The front half of last season was bad for Winters who dropped five of their first six games before winning their final four regular season games to secure a playoff berth out of a tough District 6-2A DII. It should be expected that experience will carry over into 2018 for Winters.
8. Reagan County Owls (2017: 5-6, Bi-District Finalist)
The Owls suffered three straight losses to end 2017. This year they return seven starters on each side of the ball in District 1-3A DII which features four teams. However, the Owls lost both of their leading rushers from a year ago with the graduation of Alex Chavez (1,123 yards, 11 touchdowns) and transfer of Sam Goodloe. That means senior Nathan DeLeon will have to step up and shoulder the load for Reagan County's run-heavy offense. It will be interesting to see how that plays out in 2018.
9. Lake View Chiefs (2017: 0-10)
The Chiefs enter the second year of the Hector Guevara era and there's a lot of positivity coming from the Lake View camp, which is sitting on an 17-game losing streak. They return half of their 22 starters from last year as they make the move down to Class 4A Division I. Kendall Blue will take the reins as the quarterback for the Chiefs and Guevara is excited about that. The Chiefs, thanks to the UIL's realignment in February, are in the playoffs from District 2-4A DI which features four teams. But that didn't stop Guevara and co. from scheduling seven non-district games that will help grow the Chiefs in 2018. Of those seven teams, three of them made an appearance in the playoffs last year, meaning there's plenty of experience, while the combined record of 27-46 means Lake View can be competitive in these games, something missing from their games in 2017.
10. Brady Bulldogs (2017: 0-10)
After making a trip to the Texas State 7-on-7 tournament following their first winless season since 2005, things are looking up for the Bulldogs. Out of all teams in the Concho Valley, they return the most starters with a combined 20 starters back in 2018. That group includes running back Ryan Decker who racked up 1,016 yards and 10 touchdowns in a dismal year for the Bulldogs. Things should be much better for the Bulldogs, but the question is how much better? Dave Campbell's Texas Football Magazine picks the Bulldogs as fifth in District 13-3A DII, the same district as Sonora.
Fans should also keep an eye on the likes of Christoval and Eldorado from District 8-2A DII as well as Ballinger and Grape Creek from District 4-3A DII. Those are teams that could see great seasons in 2018.
Get more stories like this by
signing up for our daily newsletter, The LIVE! Daily
.