In Region they Value, Alabama's Nick Saban and Texas Tech's Kliff Kingsbury Speak
SAN ANGELO, TX-- Alabama head coach Nick Saban and Texas Tech head coach Kliff Kingsbury spoke in the Concho Valley on Wednesday.
Kingsbury spoke to the Red Raider Club and Alumni Association at Zentner's daughter and had high regards for San Angelo.
"We haven't been down here in a couple of years and I'm sorry for that," Kingsbury said to the crowd before praising them for their help and support of Texas Tech.
"We've kind of been on a west Texas tour," Kingsbury said after the luncheon. "We have such a great fanbase and support in this area. We've been getting out and thanking people for their support."
Tech is currently pursuing Central quarterback Maverick McIvor and fans in attendance wanted to know where the recruiting stood. Kingsbury and his assistant coaches weren't allowed an answer due to certain laws in place.
"The passion that all Texas Tech fans have, the desire to be great, is phenomenal," Kingsbury said of being asked tough questions by fans. "It's what inspires us and pushes us. It's good to get out and hear from them."
Kingsbury did mention having young guys at the quarterback position and how they will rely on their ground game more than in the past. The Red Raider head coach also discussed former Central Bobcat Eli Howard and his play for Texas Tech this past season.
"I don't know why we waited that long to put him on scholarship," Kingsbury said to the crowd. "I'll take the blame for that one."
Kingsbury and his staff were also part of a Q&A session at the Angelo Football Clinic where defensive coordinator David Gibbs spoke prior to the Q&A.
Also at the clinic was a packed house on hand to listen to defending national champion Nick Saban, head footbal coach at Alabama, who was called "a good friend to the clinic" by Jim Hess.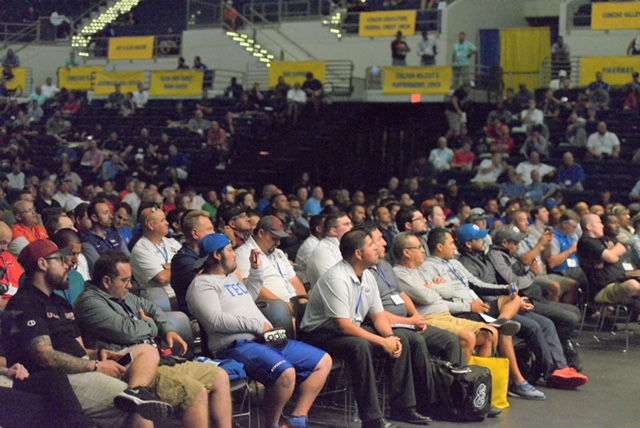 Above: Coaches in Angelo State University's Junell Center listen to Nick Saban. June 13, 2018 (LIVE! Photo/Sam Fowler)
The West Virginia native was there to speak about the 3-4 defensive scheme and coaching today's athletes.
Saban opened with a few anecdotes of his previous experiences in the coaching field where he's seen plenty of ups and downs.
"I understand the pressure we're under to win," Saban said to the crowd.
"When I first got to Alabama, we lost to ULM. Do you even know what that stands for? The University of Louisiana-Monroe...You've got to go to the press conference after and answer why what you're responsible for was so poor. Then you've got to go into the recruiting room and talk to the recruits. Before that, you've got to talk to your team and get them back...Worse than that, I had no gas."
Saban would go on to tell the story of how he went to get gas while wearing his National Championship ring from his time at Louisiana State University, or LSU.
"I went in to pay and the attendant asked 'what's that?' I told him it was a National Championship ring and I thought we'd be able to do the same thing at Alabama. He said 'Not as long as that Nick Saban guy is there."
After showing the coaches on hand he was able to truly relate to them, Saban went on to praise the state of Texas and its high school football programs by listing his players who are natives of the Lone Star State.
"We've had a lot of players that have done a great job for us because you guys have great programs here, you've done a great job of developing players," Saban said inside Angelo State's Junell Center. "And I can't tell you how much I appreciate you for what you do to develop a player."
Saban then recalled being asked what it takes to win and, while he admitted there are numerous factors to winning, he thought of one main reason.
"I think the most important thing is you have to develop the right mindset on your team," Saban said. "I think that's becoming more and more difficult in this day and age because there's a lot of information. Kids are affected by a lot of things. But really, when it comes right down to it, everybody wants to succeed. But I think to have the right mindset on your team, you've got to have what's your goal, what's your vision for your program and what's the goal and what's the vision for each one of your players.
"Sometimes you've got to sit down and talk with them to find out. Then is their behavior reflecting what they want to try to accomplish?"
This was Saban's fourth time headlining the Angelo Football Clinic.
Get more stories like this by
signing up for our daily newsletter, The LIVE! Daily
.