Angelo State's Rambelle Softball Team Heads to the College World Series
SAN ANGELO, TX — Tuesday, the Angelo State University Ram Family met outside of the Junell Center to send-off the ASU Rambelle Softball team to face Humboldt State University Thursday in Salem, Virginia. The Rambelles finished first in their division going into the NCAA DII College World Series.  
Members of the Ram Family were holding signs and chanting ASU's fight song as the Rambelles came to meet their biggest fans.  
Head Coach Travis Scott thanked the crowd for their support and encouragement throughout the season.
"The people are what make [ASU] a great place for [athletes] to go to school," Scott told the crowd. "[You won't find] more polite, and respectful people across the country."
He said there is one distinct difference between ASU and Humboldt, and that is showing respect for each other. Both teams were offered to share a charter bus heading to Virginia, however, Humboldt refused the offer.
"We are going to see what we can do about that on Thursday," Scott said. "We will see you guys Tuesday with another trophy in hand."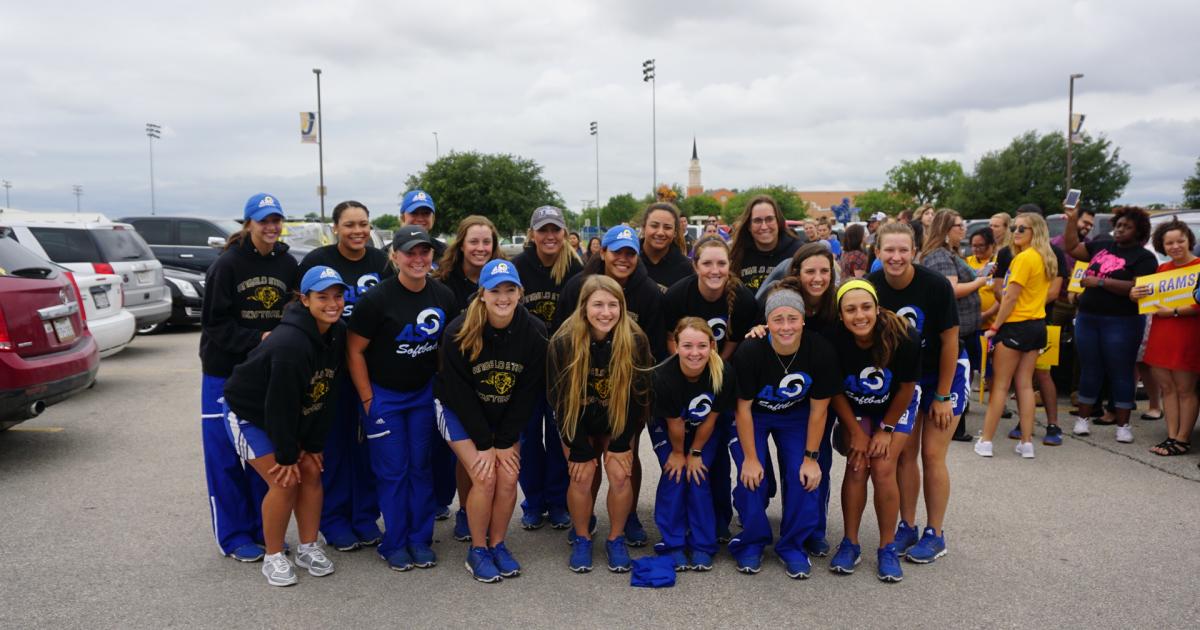 Above: Rambells softball take a group photo, (Front L to R) Katlyn Herzog, Morgan Hill, Megan Gordon,Heather Ratherford, Tegan Kirk, Baily Wallace. (Center L to R) Karina Rocha, Kelly Johnson, Brook Mangold. (Back L to R) Megan Hill, Alexis Evans, Madison Greenwell, Kenedy Urbany, Jacqueline Montejano, and Becky Wilhelm. (LIVE! Photo/Cameron Niblock)
One fan, Joe Atkenson, 71, wrote a song for Rambelles softball naming it "The Bells of 17." He's been following ASU sports since 2008 and graduated from ASU in 2015.
After working at the Junell center for a year, he has met all the coaches for ASU sports and enjoys supporting them.
"Softball is one of my favorites," Atkenson said.
Being a lifelong musician and song writer, he felt it was appropriate to write a send-off song for the 2017 Rambelles as they prepared for the big game. At the end of the song, he names each Rambelle softball player.
"I was inspired by them and really enjoyed getting to follow the team," Atkenson said. "I tried to go to every game that I could."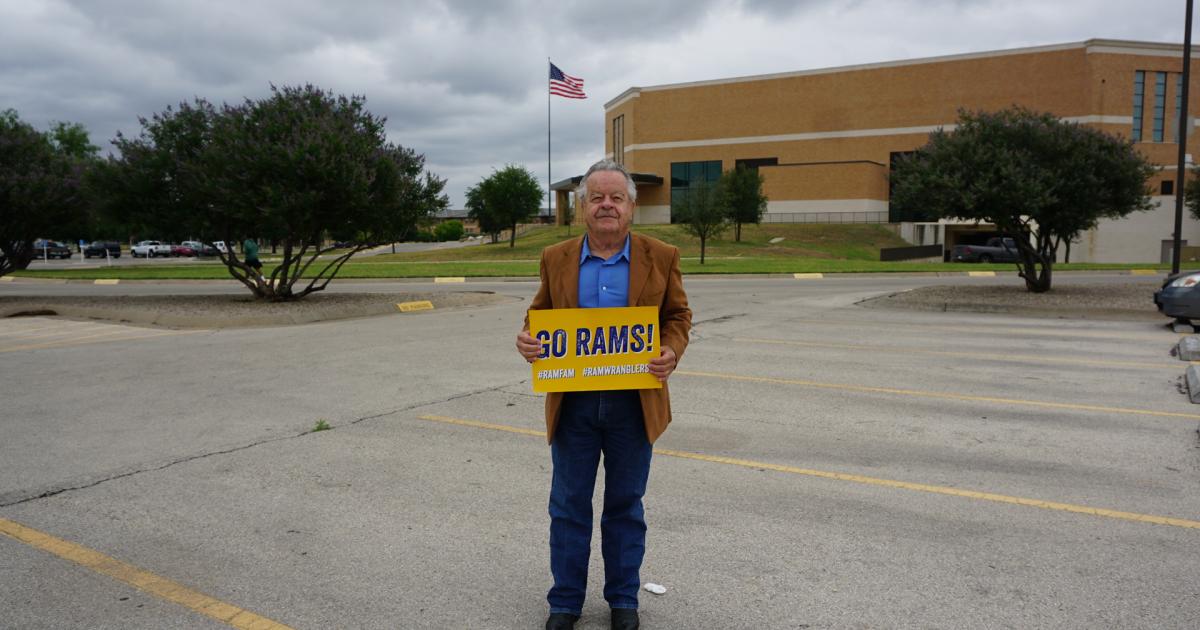 Above: Joe Atkenson, 71, holds a sign supporting the Rambelles. (LIVE! Photo/Cameron Niblock)
Atkenson wishes he could go to support the team in Virginia, however, he hopes the song will provide them his support.
"They are great team, and a great group of girls," he added. "I hope they win it all."
Rambelles have an overall record of 57 wins and five losses so far this season. Click here to follow the Rambelles during their rise in The World Series.
Get more stories like this by signing up for our daily newsletter, The LIVE! Daily.