SAN ANGELO, TX — The American Legion Post Smith-Bryant Post 572 volunteered to place flags at the graves of veterans. For Post Commander Jeff Meurer, this is his final weekend in that position. Kristi Young will assume command on June 1. Meurer isn't going away, however. He was elected District 21 commander and will oversee American Legion posts from Del Rio to Ballinger and Kerrville to San Angelo.
The American Legion places flags at the Belvedere Memorial Park, 3504 Arden Road, and at the Delta Memorial Park, 3500 Arden Road, every year. About 30 volunteers arrived at around 8 a.m. to stake flags at veterans' graves. San Angelo Chamber of Commerce President and CEO Walt Koenig and City Councilman Larry Miller were there.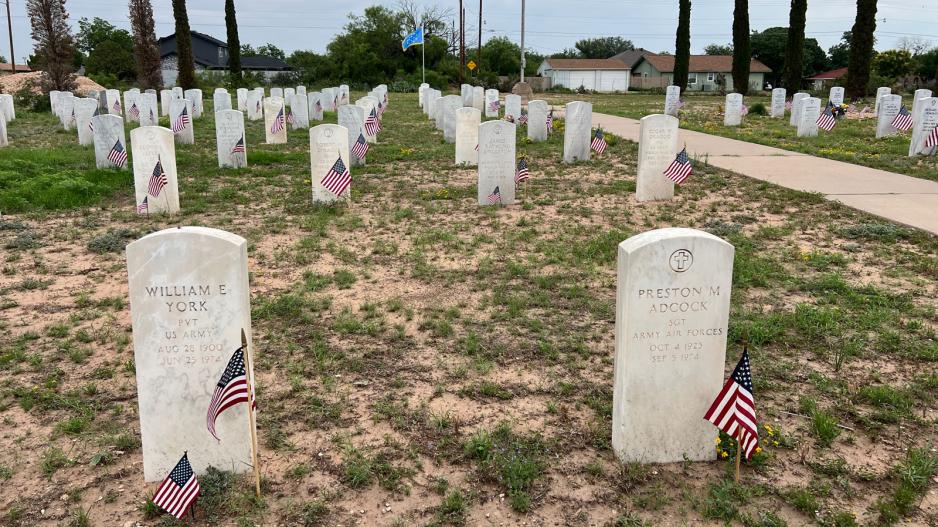 Belvedere Memorial Park is home to veterans spanning wars from the Civil War and the Spanish-American War until today. Notable veterans buried there include Medal of Honor honoree, Platoon Sergeant Finnis Dawson McCleery.
In the Vietnam War on May 14, 1968, McCleery was in an assault of North Vietnamese positions "17 miles west of Tam Ky. As PSgt. McCleery led his men up the hill and across an open area to close with the enemy, his platoon and other friendly elements were pinned down by tremendously heavy fire coming from the fortified enemy positions. Realizing the severe damage that the enemy could inflict on the combined force in the event that their attack was completely halted, PSgt. McCleery rose from his sheltered position and began a one-man assault on the bunker complex. With extraordinary courage, he moved across 60 meters of open ground as bullets struck all around him and rockets and grenades literally exploded at his feet. As he came within 30 meters of the key enemy bunker, PSgt. McCleery began firing furiously from the hip and throwing hand grenades. At this point in his assault, he was painfully wounded by shrapnel, but, with complete disregard for his wound, he continued his advance on the key bunker and killed all of its occupants," according to the medal's citation.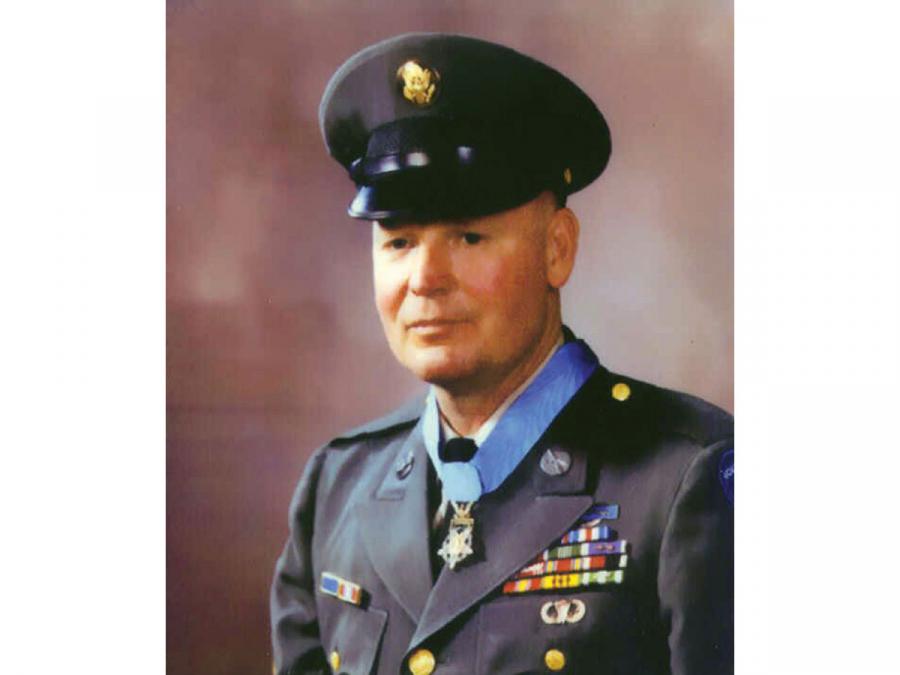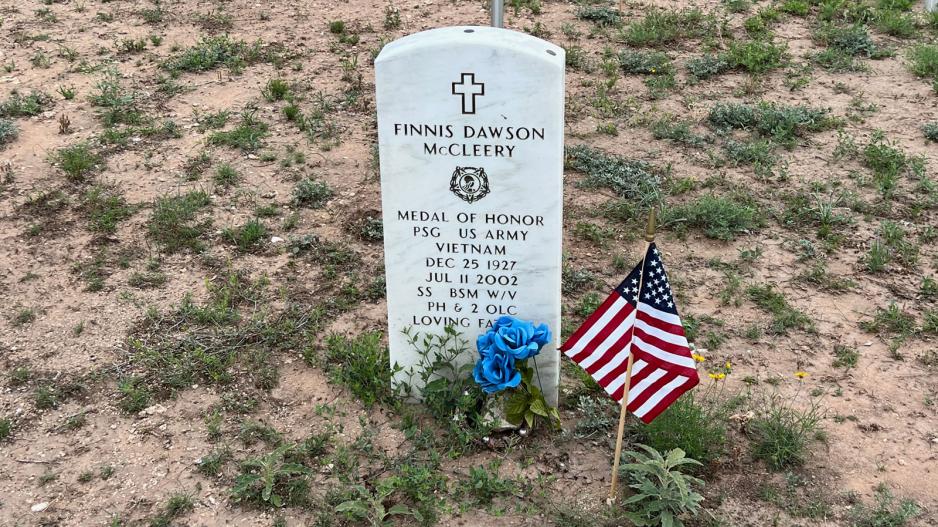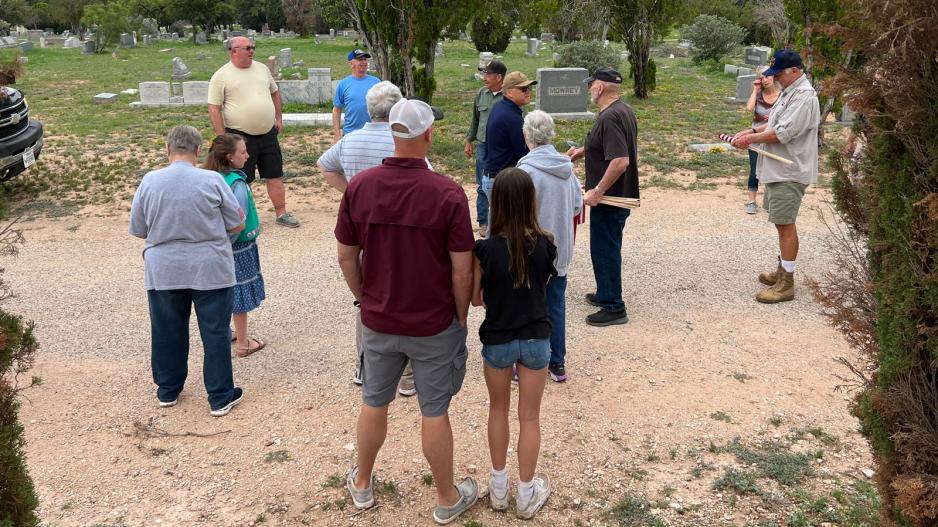 President Richard Nixon presented the Congressional Medal of Honor to McCleery in 1971 at the White House. McCleery was married to Lena Mae McCleery and had seven children, Jack Hollis, Roger McCleery, Curtis McCleery, Lisa Power, Donna St.Clair, Deena Moore, and Darla Piper. He was a grandfather and great grandfather at the time of his death on July 11, 2002.
On December 7, 1941, San Angeloan Gunner's Mate First Class Ernest M. Shawn dove off the burning U.S.S. Arizona in Pearl Harbor, Hawaii and swam to safety. He survived that day and the rest of World War II to return to San Angelo where after he died he was interred at Belvedere in 1998.
Veterans and volunteers spread out efficiently and placed U.S. flags at all veteran graves so marked, to include placing U.S. flags on graves of veterans of the Confederacy. The operation took about an hour and a half. The group will reconvene Tuesday morning to remove the flags and store them for next year's Memorial Day weekend.
The All Veterans Council of San Angelo organized a similar flag placement ceremony at Johnson's Lawnhaven Memorial Gardens, 4989 FM Highway 1223. At that cemetery, most veterans are laid to rest in a separate veteran's area.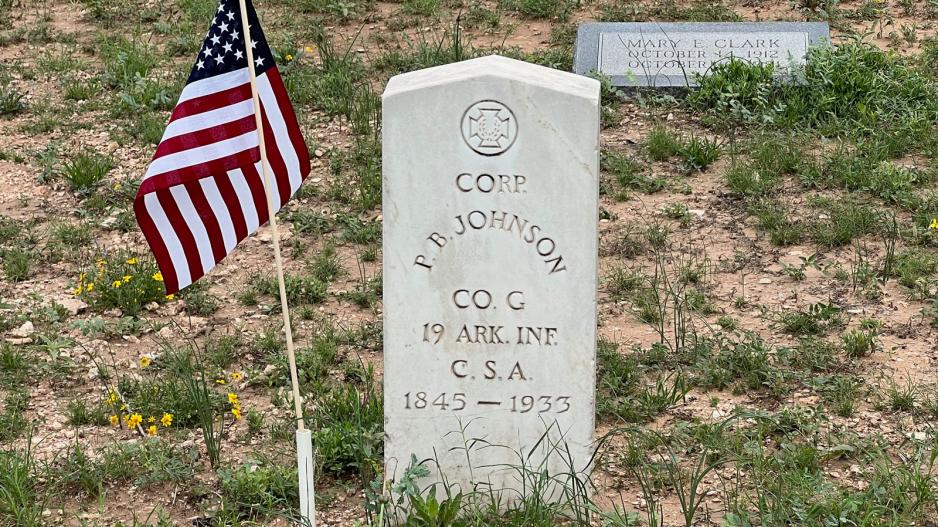 Most Recent Videos