SAN ANGELO – Construction crews are working on the railroad crossing near the end of Southwest Blvd. near Lamar Elementary School Monday and officials are advising motorists to be aware of lane closures.  
The railroad crossing near Dominion Ridge on Southwest Blvd. is being rebuilt as part of the complete reconstruction of Southwest from Twin Mountain Lane to loop 306.  
The work included rebuilding all the intersections and repaving the roadway.  Most of that construction has now been completed.  
Watch video below from the railroad crossing construction site: 
According to information from the City of San Angelo, the outside lanes of Southwest Blvd. at the railroad crossing by Lamar Elementary will be closed Monday as part of the reconstruction of the crossing.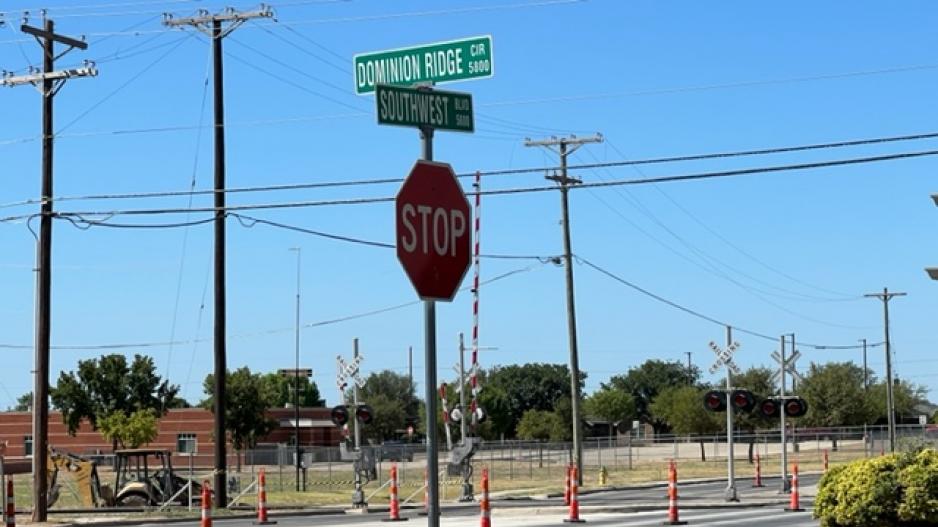 The San Angelo City Council Tuesday is expected to approve a Memorandum of Understanding with Texas Pacifico, which owns the railroad, for the railroad company to perform the needed work.  
As part of the Southwest Blvd. rehabilitation project, improvements to the railroad, operated by Texas Pacifico Transportation, are necessary to appropriately tie into the rehabilitated roadway and to provide additional pedestrian elements to provide safe passage of pedestrians across the roadway. 
The planned improvements include a new pedestrian crossing and gate across the railway on the west side of Southwest Blvd.  Since the improvements are within the railroad right-of-way, it is necessary for Texas Pacifico to design and build the improvements.  
The improvements are at the request of the City with the primary intent of providing safe passage for students to and from Lamar Elementary. 
The MOU will allow the City to reimburse Texas Pacifico for the cost of the construction.  
The cost of the project is estimated at $100,000.  
Most Recent Videos