SAN ANGELO, TX — When Reverend Charles Smith delivers a traditional Easter sermon early on Sunday morning atop Willeke Hill located southwest of San Angelo, it will continue a local tradition since 1959.
The nondenominational Christian service is organized by the Businessmen's Bible Class that has met in San Angelo since 1928. The Bible class, broadcasted continuously on KGKL 960 AM for almost as long, is likely the longest-running religious broadcast in the country, said T. Gozney Thornton, a member of the group and key organizer for the Easter Sunday hilltop service.
About 200 worshippers are expected to attend the annual event on Sunday, April 17, 2022, Thornton said. His band, The Old Hat Band, rebrands itself as "Proof of Grace" when performing Gospel songs. Proof of Grace will lead the worshippers in music before and after the sermon. The event is scheduled to begin promptly at 7 a.m. and will end by 8 a.m.
KSAN TV and KKSA 1260 AM radio will broadcast the service this year, Thornton said.
"It's a wonderful way to celebrate Easter, with the beautiful sunrise rising right behind us," Thornton said.
In the photo attached to this story, you can see a 40-foot cross. Thornton said the cross was fabricated in 2000 and has become part of the traditional service. The cross was built by the Businessmen's Bible Class with the help of Thornton, George & C.J. Poulter, Dub Izzard and Dr. John M. Lewis, M. D. Reese Albert donated the foundation for the cross.
Boy Scout Troop 7 directs the traffic, hands out the programs, and sets up the seating every year. The Dove Creek Volunteer Fire Department will be at the entrance on US 67 directing traffic onto the grounds.
All are invited to experience the unique San Angelo Easter Sunday service. To get there, take U.S. 67 W towards Mertzon. The marked entrance to the Chapel on the Hill is exactly 1.1 miles west beyond Sam's Club on the left (south) side of the highway. Here's the location on Google Maps.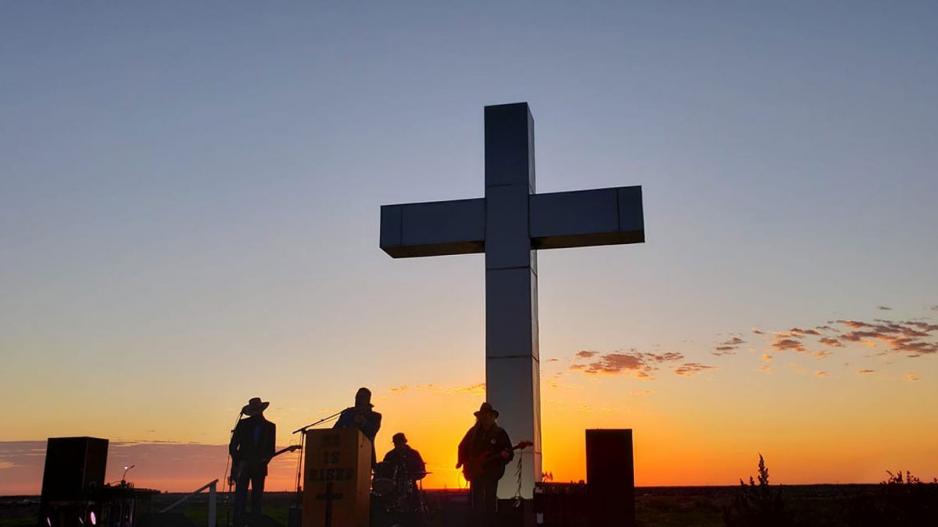 Most Recent Videos