'Back the Blue' March Set for Saturday in San Angelo
Press Release
SAN ANGELO, TX – There is a Back the Blue walk to show support for law enforcement officers in San Angelo Saturday morning.  
According to the organizer, David Nowlin, the event will be held to show support for law enforcement.
Those wanting to participate are asked to congregate within the one-mile stretch around southwestern San Angelo. The route Nowlin has chosen is from Southwest Blvd. on Sherwood Way to Sunset Blvd. then down Sunset to the access road on the Houston Harte Expressway.  The route continues down Houston Harte to Southwest Blvd. and then back to Sherwood Way. Participants will walk approximately 1.4 miles.
Nowlin says that there will be no initial starting point but instead "just find a place to park and walk the route. There will probably be a lot of people congregating along Sherwood Way for those that don't really want to walk."
The arrows on the map direct participants to walk east down the Houston Harte Expy, south down Southwest, west on Sherwood Way, and then north on Sunset. This means that citizens will be walking with the flow of traffic which is illegal.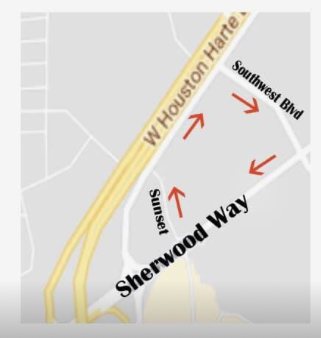 The rally will begin at 9 a.m. and will end at 10 a.m. According to Google Maps the walk takes 28 minutes. 
Here are the Dos and Don'ts of the Back the Blue Rally: 
Please DO
1. Carry a flag or homemade sign. 
2. Walk in a clockwise direction. 
3. Maintain social distancing. 
4. Try to stay on the sidewalk or grass. 
5. As much as possible, walk in single file or at least avoid large groups. 
Please DO NOT
1. Leave ANYTHING behind. 
2. Impede traffic. 
3. Congregate in large groups.
4. Carry weapons. This is a show of support for our Police Department. The 2nd Amendment rally is for another day, Nowlin said. 
Stationary supporters are asked to park on the west side of Sherwood way between Sunset and Southwest. Weather Underground reported that the temperatures will be in the 80s by 9 a.m. Saturday. Masks are encouraged but optional since the event is outdoors. Nowlin said to wear a blue shirt if able.
Get more stories like this by signing up for our daily newsletter, The LIVE! Daily.