Human trafficking is a problem that communities all around Texas face day-to-day. It happens everywhere, but there is a dedicated workforce working tirelessly to prevent and help victims.  
Yesterday, about 120 people came out to the ASU LeGrand Alumni and Visitors Center to hear guest speaker Nicole Levy-Nale discuss the topic of human trafficking. The Texas Exes San Angelo Chapter, an alumni association for the University of Texas at Austin, organized the presentation.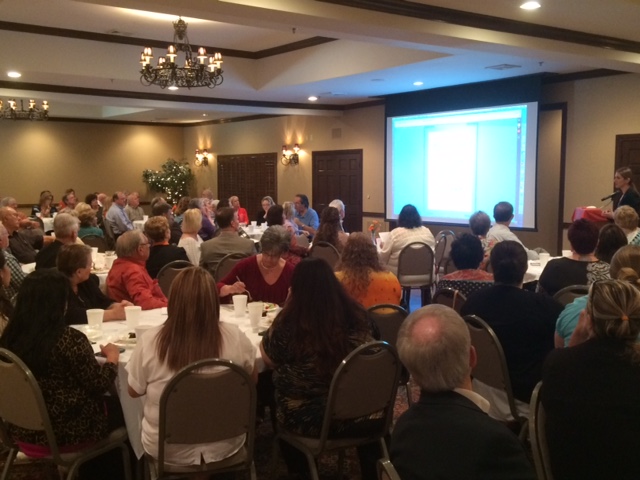 Levy-Nale graduated from UT and now works as a Research Project Director for the Institute on Domestic Violence & Sexual Assault Center for Social Work Research at the university. 
"As a research team, we try to better understand the data around the issue so we can find better solutions, and things can be developed to help prevent the problem of human trafficking," Levy-Nale said to begin her presentation.
There are different kinds of human trafficking, such as labor trafficking and sex trafficking, she explained. Labor trafficking occurs in context and includes all forms of labor and services such as domestic servitude, sweat shops, and farm labors forced to work without pay. Sex trafficking occurs in contexts that encompass commercial sexual exploitation of children as well as adults. Simply put, sex trafficking is compelling someone to work, provide services or engage in a commercial sex act.
"We are the only research institute in the nation that approaches research about interpersonal violence from a multi-disciplinary focus," noted Levy-Nale This is true because many individual colleges with UT work together to do research and collaborate, like the School of Social Work, School of Law, School of Nursing, and the Bureau of Business Research.
Texas is often referred to as a hub for human trafficking, but the statistics can be a little bit misleading.
Levy-Nale said, "I am constantly learning, as a researcher, about the continuous issues of human trafficking. Though all kinds of human trafficking is around, I will focus on sex trafficking and the children because that is what I have heard most since I have been here."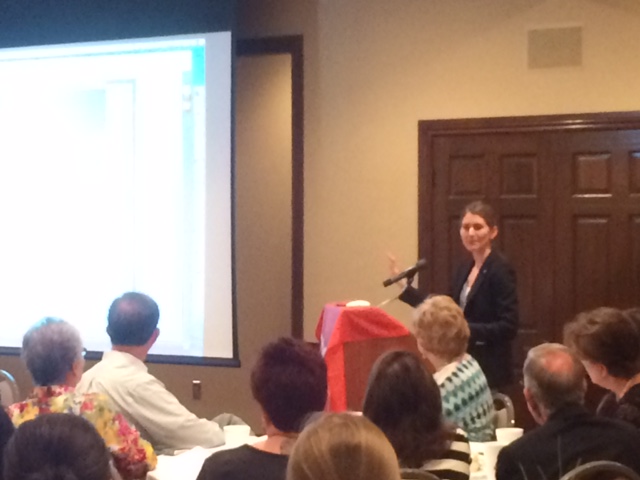 According to the University of Texas Social Work website, "Accurate rates of human trafficking continue to be elusive because of the hidden nature of this crime." Levy-Nale also informed that the research of stakeholders, who are involved in anti-trafficking efforts, believe that known cases of trafficking is just a fraction of the problem.
There is an estimated 27 million adults and children who are victims all over the world, and together, they assimilated $150 billion in illicit profits for those who exploit them.
The existing information that researchers like Nicole have focuses almost exclusively on identified victims. So, the ones who are unknown are in the dark.
The idea Levy-Nale focused on most during the luncheon was awareness. San Angelo has many groups of people working to fight this problem. The Concho Valley Rape Crisis Center, Child Advocacy Center, San Angelo Police Department, Homeland Security Investigators, and more are here to reach out to if people see problems like human trafficking in San Angelo.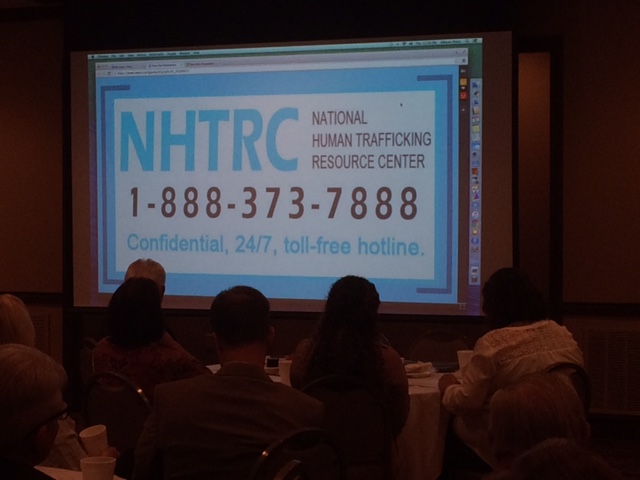 Levy-Nale added that there are some "red flags" to look for when someone is being trafficked. Some of these abnormal behaviors that victims would have are fear, anxiety, depression, submissiveness, tense, or paranoid behaviors. A victim might show fear or be anxious at any reference to law enforcement. Victims might also try to avoid eye contact and exhibit a flat effect. Victims might not be able to explain any new injuries or look malnourished. In some cases, a victim could even be "branded" with a tattoo or a trafficker's name.
"As a state, Texas can do better at working together to stop human trafficking," Levy-Nale concluded.
Heather Ward, from the Children's Advocacy Center, said, "I came today to raise awareness about human sex trafficking, and listening to Nicole helps to encourage us and continue our good work."
Special Agent Diana Finley, a Homeland Security investigator, added, "I think our community should be more aware of this problem because I don't think many people realize this problem is around us. We see roughly four to five referrals a month regarding human trafficking, so it is something we all need to raise awareness for."
Raising awareness about this issue is a step towards getting victims of human trafficking the help they need and can lead to prevention.
Most Recent Videos