ARLINGTON, TX — As the dust settled inside Globe Life Field at The American Rodeo, powered by Teton Ridge, on Saturday, March 11, less than 10 seconds across two disciplines turned into the biggest single-day payout for breakaway roping winner Jackie Crawford and tie down winner Ty Harris who is from San Angelo.
"You can play out a million different scenarios in your mind, but the odds of it coming true just always seem so far," Crawford said following the nationally televised western sports event. "We prepare for it, we work for it, and we are just thankful for the opportunity that has been given to us and to be able to capitalize on it, I truly cannot believe that this just happened."
Flashback: Ty Harris' Debut in San Angelo at the 2017 Cinch Chute Out. An incredible story.
Sharing the winnings was 24-year-old Ty Harris, a San Angelo native, who recently finished 11th in the tie down roping world standings and qualified for his fourth straight NFR. This is his first American Rodeo win.
Hailing from Stephenville, breakaway roper Jackie Crawford is no stranger to world titles in the rodeo world as the second most decorated member in the WPRA and now two-time American Rodeo breakaway roping winner. But this is her first time taking home a winning title as a contender at The American Western Weekend – and the first time a cowgirl has also carried the title. 
Celebrating its 10th year, The American Rodeo featured competitors in all eight traditional rodeo disciplines: barrel racing, breakaway roping, steer wrestling, team roping (heading and healing), tie down roping, bareback riding, saddle bronc riding and bull riding. Fans could root for the underdog "Contenders" chasing a $1 million bonus or the professional athletes defending their champion status in the ultimate high-stakes showdown.
Other champions from The American Rodeo 2023 included: Stetson Wright (bull riding and saddle bronc (see interview here); Kaycee Field (bareback) ; Tyler Waguespack (steer wrestling); Kaleb Driggers and Junior Nogueira (team roping); and Lisa Lockhart (barrel racing).
For the first time ever during The American Western Weekend, the top five year-end money earning professionals from the NRCHA, NCHA and the NRHA came together for The American Performance Horseman inaugural event on Friday, March 10. The competitive exhibition format fused the elements of history and competition in an ode to the past, present and future of western performance horse sports. The Royal Blue Team, as drafted in early February, of cutter Adan Banuelos, reiner Fernando Salgado and reined cow horse professional Sarah Dawson, swept the night.
The American is an annual Western sports and entertainment experience that occurs each year at Globe Life Field in Arlington and represents the richest single-day event in all of western sports. Over the course of qualifier events across the country, competitors will all battle for what could be the biggest single-day paycheck of their careers.
Owned by Teton Ridge, The American is a true open competition in format, the iconic event brings together top professional rodeo athletes and honest, hardworking cowboys and cowgirls in a winner-take-all showdown, meant to crown the finest talent the world has to offer.
The American Western Weekend March 8th-11th, 2023 at Globe Life Field in Arlington featured four nights of action-packed entertainment, world-class talent and western sports that culminated with The American Rodeo. Hailed as The Crown Jewel of Rodeo™, The American Rodeo is an unrivaled celebration of the pioneering spirit of the American West. The national sporting event offers fans a unique choice - to cheer on western sports' finest, champion athletes, or root for the underdog "Contenders" chasing a $1 million bonus – through every rodeo, roping and riding effort.
For the first time ever, a new competitive exhibition called The American Performance Horseman brought together the western equine sports disciplines of reining, reined cow horse and cutting for a $1 million prize.
It was combined with star-studded music, a western festival and more. Acquired by Teton Ridge in 2021, The American Rodeo is an annual western sports and entertainment celebration that matches professional rodeo's top athletes against the world's most aspirational cowboys and cowgirls, who have put up their own money to bet on themselves in this high stake's showdown.
Many of these athletes, including Ty Harris, will be performing at the San Angelo Rodeo that starts March 31, 2023. San Angelo LIVE! will have wall-to-wall coverage.
Watch "San Angelo's Rodeo Man: Ty Harris" from the 2020 San Angelo Rodeo season: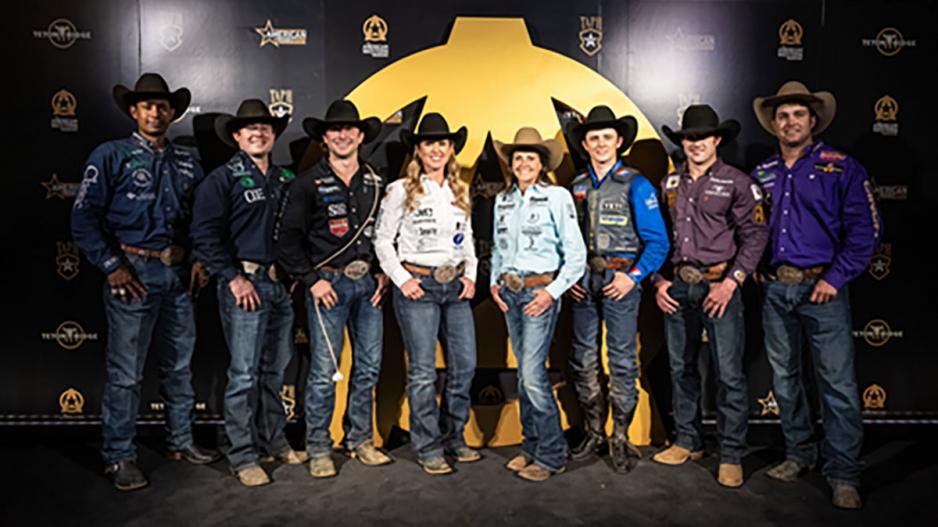 Most Recent Videos