WATCH: The Most Dramatic Story of the Entire 2017 San Angelo Rodeo
SAN ANGELO, TX — Most of us cannot really put ourselves in his boots. That's because most of us are not trained from the time we can walk to be a specialized athlete, with a guiding parent as our coach who has already been there.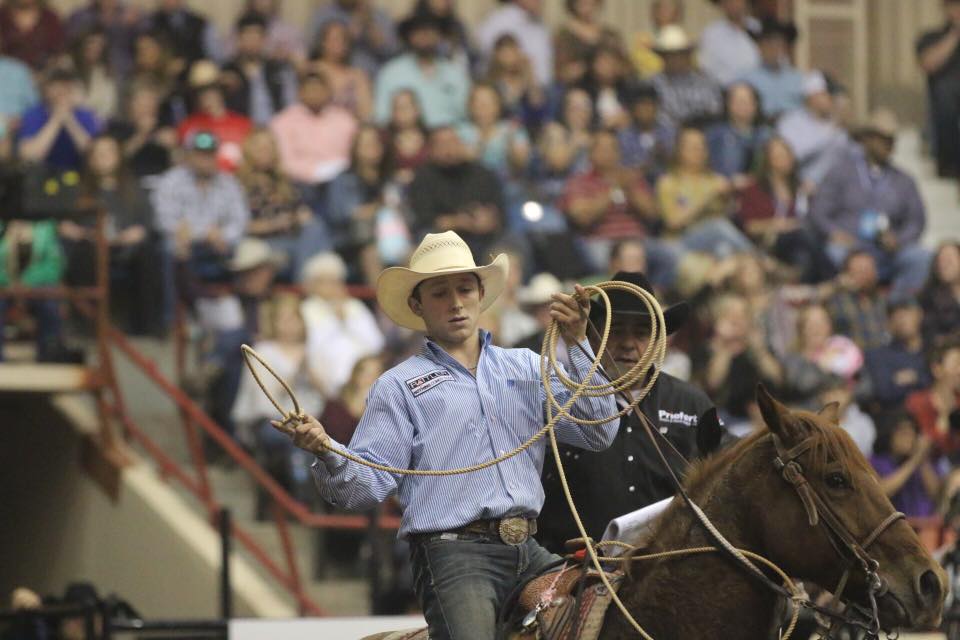 Above: Ty Harris of San Angelo, Texas. (LIVE! Photo/Rodney Fleming)
Some of us had dads who played football or baseball, and they may have given us helpful guidance or coached our teams. But tie-down roping requires more than pigskin or a mitt. The right horse, the right technique, an arena to practice, and the mental focus to perform a complicated series of movements in precious few seconds. You have to be able to perform with the precision of a gymnast, the speed of a wide receiver, and the strength of a wrestler. 
Many of us grew up with a pursuit and we were passionate about the heroes that were larger than life to us. We could only hope to be in the same room with them, but our best hope and to see them in an autograph line.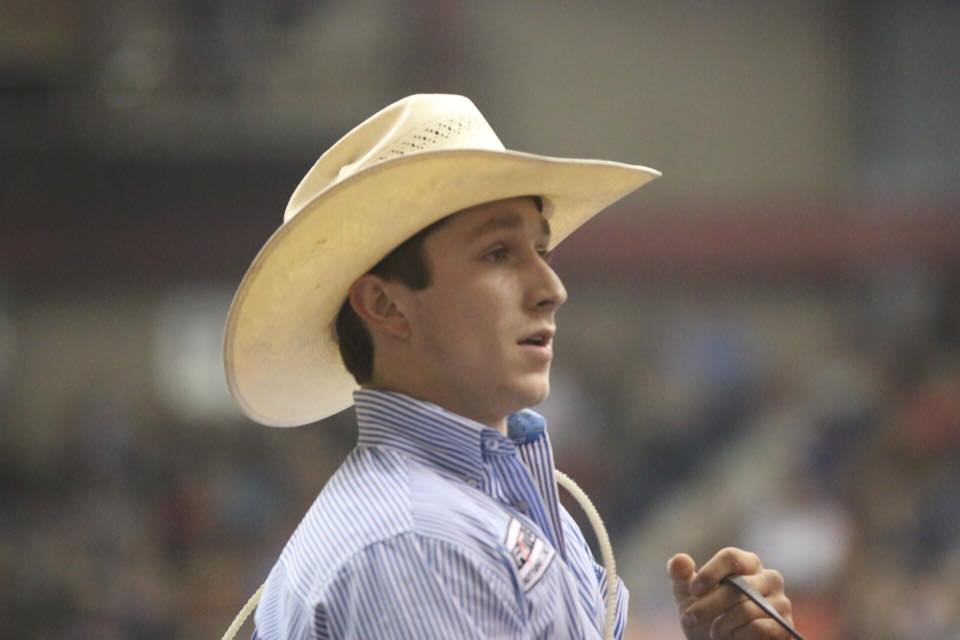 Above: Ty Harris of San Angelo, Texas is the tie-down roper who almost won it all at the 2017 Cinch Shoot-Out of the  San Angelo Stock Show and Rodeo. (LIVE! Photo/Rodney Fleming)
Try to imagine what a young man from San Angelo, 18-year-old Ty Harris, was thinking at the Cinch Shoot-Out last Saturday night.  He wasn't there to rub elbows. He wasn't hoping to meet the legends of the sport he had been training for most of his young life.  He was there hoping to best them, his heroes. Every person he knew was watching; thousands he didn't were screaming his name, too.  He knew full well that everyone connected with rodeo was going to know if he did well or if his invite into the arena for the rodeo's final night was premature. 
Saturday night, amid the pyrotechnics and roar of the crowd with announcers Boyd Polhamus and Bob Tallman telling his story, a local kid took his shot. And he made us proud to be from San Angelo, home of Ty Harris. 
Watch:
The Cinch Shoot-Out, in its sixth year at the end of the annual San Angelo Stock Show and Rodeo, is still a new concept in the sport. It is one night of competition with a big payout, and it's by invitation only.
The five Shoot-Out events included are Tie-Down roping, Bull Riding, Saddle Bronc Riding, Bareback riding and Women's Barrel Racing. Eight top picks are in the first go round, and then whittled to four in the first round elimination.  Then contestants are eliminated to just one winner in the second go round.
Even for veteran rodeo fans, the quality, the skill, and the pace are exhilarating. There is no time to acclimate, and no room to find your footing. It is saddle up and go, or go home. For spectators in the stands, there isn't an obvious time to go get a beverage. You take care of your natural needs before you get seated, because the next two hours fly like a guy jumping over a charging bull. 
Harris is well accomplished for his 18 years, and has already made a name as one to watch. His outstanding record in the Junior Rodeo circuit, his 2015 SASSRA Young Guns Championship, and his past performances at the SASSRA/Cinch Roping Fiesta, made him a favored choice for those selecting the invitations to this year's Shoot-Out. It was a matter of giving the local kid his shot. Fans would enjoy it, and all agreed he'd be good.
Subsequent to his invitation, he had finished strong enough to qualify to rope in "The American" on Sunday, Feb. 19, where he would compete for nearly a million dollars. 
On Saturday night, rounding out the eight invitees were legends of the sport of Tie Down Roping, like Tuf Cooper and Trevor Brazile. Their accomplishments are as great as the Rodeo world has ever seen. Also on hand were the current red-hot stars like Marty Yates and Shane Hanchey.  
With all of these fierce competitors waiting right behind him, Harris, the rookie, had to go second. 
The first rider, Marcos Costa, set a strong pace, but his calf was able to kick free prior to the 6-second minimum tie-down rule resulting in a No Time score. 
Then Ty shot out of the gate and delivered. A 7.25!  
To put this in perspective for those of us who don't speak rodeo fluently, at the 2016 Cinch Shoot-Out, winner Tuf Cooper led the four who advanced to the final round with an 8.03-second run.  Legend Cody Ohl advanced to the final round last year with 10.76 seconds in the fourth hole.  Cooper went on to win the big money in 2016 with a ride of 7.18, and that was the only time less than 8 seconds.
The PRCA world record was set recently at 6.3 seconds.  Prior to that, the record was 6.5, and no one was that fast until Cody Ohl in 2003. Since then, only one cowboy has been that fast and only one faster.
Saturday night, the San Angelo boy set the pace, and the pressure was on the veterans. None could catch him: Marty Yates 7.47, Hanchey 7.59, Cade Swor 8.32, Tuff Cooper 7.58, Trevor Brazile 10.46 and Caleb Smidt 8.49.  At the end of the first round, the local boy was top of the board.
 Even with the furious pace of events, it must have seemed an eternity for Ty and his family, waiting in the wings for the final round. 
 And now, by virtue of leading the pack, Ty would have the benefit to go last.  He would know what he had to beat, no guesswork, he would know what the time would be to close the door. 
Hanchey set the pace in the final round with a stunning 6.77!  A top tier time rarely seen…except there it was again with Tuff Cooper 6.77 in a tie! There was no break to research if these times were Shoot-Out records before Marty Yates sped out and raised his arms for a 6.68.
Then it was...all on Ty. 
Watch:
On the one hand, I'd love to tell you he won it all.  He didn't. And, in the long run, who's to say it isn't better for the young cowboy that way? He still has much to strive for, room to grow, and goals to achieve. 
Had he won, how many would have seen it as greatness, and how many would have written it off as rookie luck? 
 What really matters is what Ty did. It tells you everything you need to know about him.
He went for it all.  He pushed himself.
People with real expertise, starting with announcers Boyd Polhamus and Bob Tallman, exclaimed as much immediately after his unsuccessful ride for it all. They will tell you he did not try for a "respectable finish". He didn't stay in his comfort zone and hope for a personal best. He went for the whole enchilada. And he missed, but so what? Who struck out more than Babe Ruth?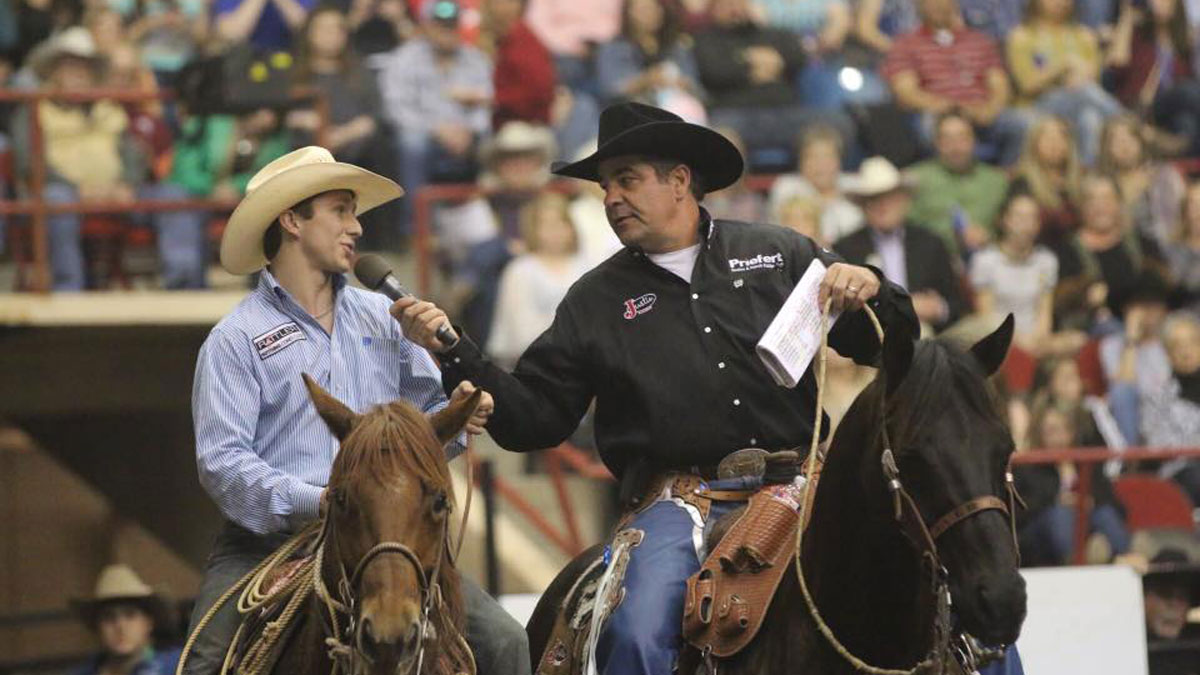 Above: Ty Harris speaks to rodeo announcer Boyd Polhamus at the 2017 Cinch Shoot-Out of the San Angelo Stock Show and Rodeo. (LIVE1 Photo/Rodney Fleming)
That is the beauty of being 18 years old. You are just getting started. If he was already there, if he had already proven that he will leap for the gold, what might we see him do next year... next decade? 
I can tell you what he did the next night at The American Rodeo.... finish... just... ever... so... slightly,  behind the four finalists that went for almost a million bucks. I'm told you can watch it on On Demand or when The American is broadcasted on RFDTV. 
Nothing will ever make you feel as involved as seeing it captured by his mom, on her phone, and the way her hand shakes with excitement when her son takes his ride.
Now, maybe at some point in the future, Ty Harris will decide he is more interested in something else. Whatever he does, I'd bet on him, and if he decides to stay with tie down roping, I'm buying my seats now!
Get more stories like this by
signing up for our daily newsletter, The LIVE! Daily
.