SAN ANGELO, TX – Here is the updated schedule for the 2021 San Angelo Live Stock Show.
The San Angelo Stock Show and Rodeo shook up the rodeo scene, on Dec. 8, after they announced they were moving the rodeo to April. For more see: Pandemic Delays San Angelo Rodeo 
Officials confirmed that the stock show will take place in February. and on Tuesday the association released the full schedule for the shows.
The livestock shows will begin on Feb. 3 and will continued until Feb. 21.
The premium sale has been moved to April 24, 2021.
This year the shows will kick off with the Wether Doe, Wether Dam and Market Goat shows. Then it's the Market Lamb and Boer Goat shows followed by the Jr. Breeding Heifer Show on Feb 11.
The shows will end with the Market Barrows, Rabbits, Longhorns and Llama shows.
This year the Robotic and Special Edition Show have been canceled. The Heifer Futurity is pending. 
This year the premium sale has been moved to April along with the Carnival, Rodeo and Beer Barn.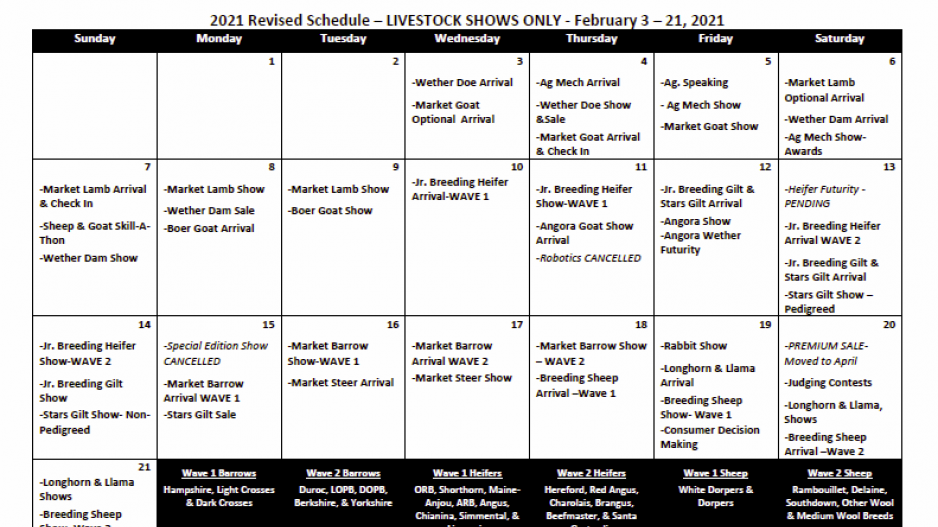 Wave 1 barrows include Hamshire, Light Crosses and Dark Crosses. Wave 2 barrows include Duroc, LOPB, DOPB, Berkshire and Yorkshire.
Wave 1 heifers include ORB, Shorthorn, Maine-Anjou, ARB, Angus, Chianina, Simmental and Linousin. Wave 2 heifers include Hereford, Red Angus, Charolais, Brings, Beefmaster and Santa Gertudis.
Wave 1 sheep include White Dorpers and Dorpers. Wave 2 sheep include Rambouillet, Delaine, Southdown, Other Wool and Medium Wool. 
Most Recent Videos